Ever thought of replacing milk in thandai? Then it's time you read this recipe.
Payal Kothari, an integrative nutritionist and gut health coach shares two healthy recipes for Holi.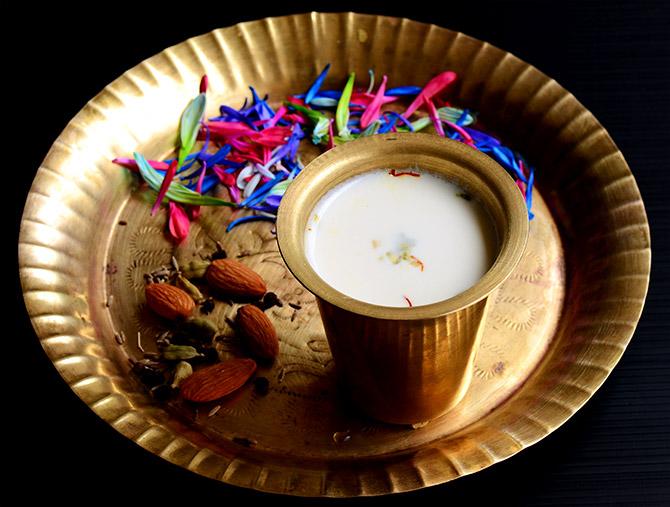 Kefir thandai
Ingredients:
1 glass of kefir (you can use kefir culture)
1 tbsp rose water
1/4 cup brown sugar
3/4 cup water (adjust accordingly)
For the thandai masala:
1 tbsp cashews
1 tbsp melon seeds (charmagaz)
1/2 tsp saffron strands
1/2 tsp cinnamon powder
1/2 tsp nutmeg powder
1-2 tsp rose petal spread (gulkand)
1/2 tsp fennel seeds powder
15 tsp cardamom powder
1/2 tsp poppy seeds
12 pieces almonds
15 pieces pistachios
3 pieces black peppercorns
Method:
Pour kefir culture in a bowl and soak saffron strands in it. Allow it to sit for 15-20 mins. Soaking saffron strands in kefir releases its color and flavor.
Stir it with a spoon and the kefir will have a beautiful pale yellow color. Set it aside.
Now let's assemble our thandai masala ingredients. Feel free to adjust the spices according to your taste. Powder all the nuts and spices separately in a grinder. Set aside. You can use a motor and pestle too.
Pour the kefir in a heavy bottom pan and turn on the stove. When it comes to a full boil, stir in the nuts and spices. Whisk well so that no lumps remain. Add sugar and keep stirring the liquid. Give it a good boil and take it off the flame. Allow it to cool completely.
Stir in the rose spread and rose water. If no rose spread is available, add 2 tbsp rose water.
Allow it to sit for a while (an hour or more) so that it can soak in all the flavors. Later sieve it through a strainer, add water and refrigerate this drink for at least 3-4 hours or until chilled.
---
Gluten-free jowar halwa
Ingredients:
2 cups jowar flour
1 cup pure ghee
1 cup brown sugar
6 cups water
1 tbsp raisins
1 tbsp almonds
Method:
Take a pan, add ghee and melt it on a high flame. Once the ghee melts, add jowar flour and mix well.
Turn stove on medium flame. Let the jowar roast on medium flame until it turns golden brown. Keep stirring to keep it from burning.
We can prepare the sugar syrup while the jowar gets roasted. Take another pan and add water. Turn the stove on high flame and bring water to a boil. On the first boil, add sugar and mix well. Turn off the stove. Once jowar turns golden brown, add raisins and almonds. Mix well. Add sugar syrup and mix well. You might see some lumps in the jowar after you have added the sugar syrup.
Mix well with a spatula to remove all the lumps. Let it cook and keep stirring until the water dries up. Once the water has dried, jowar halwa is ready.