Looking for a traditional, yummy, Holi recipe to entertain your guests?
Chetna Shukla shares her special recipe for mava and suji-stuffed Gujiya. Try it out and let us know how well it turned out.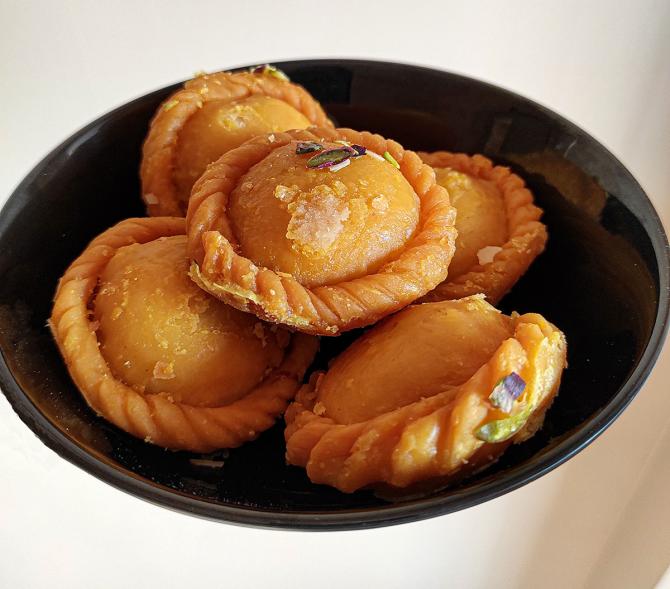 Gujiya
Servings: 30-35
Ingredients
1 kg maida or all-purpose flour + 1 tbsp extra for making a paste to seal the edges of the gujiya
110 ml clarified butter or desi ghee
500 gm grated or crumbled khoya or mava or milk solid, that can be purchased at a dairy or a sweet shop or made at home
150 gm rava or semolina
100 gm grated dry coconut
50 gm raisins
50 gm small, round, brown charoli (also called Cuddapah almond)
50 gm muskmelon seed kernels
5-6 green elaichi or cardamom, powdered
½ cup sugar, powdered, you can increase or decrease the quantity as per taste
Ghee or oil for frying
Gujiya mould, easily available in a local bazaar, optional
Method
Mix the maida with the ghee in a large bowl and knead to make a dough.
If the dough feels crumbly or is too tight, soften it by adding a little water.
Cover with a moist cloth and keep aside for 30 minutes.
Make paste with one tbsp of flour and little water for sticking the edges of gujiyas.
For the filling
In a thick-bottomed pan melt ½ tsp ghee and roast the mava on slow heat.
Keep stirring till it turns slightly brown in colour. Turn off the heat and let the mava cool.
In a thick-bottomed pan or kadhai, roast the rava, dried coconut, raisins, charoli and muskmelon seed kernels, one at a time.
Once all the ingredients have roasted, let them cool to room temperature.
In a mixing bowl, add the roasted mava and rava.
Add the powdered sugar and cardamom powder. Check the taste and add more sugar if you prefer.
Add the roasted seeds and dry fruits, and stir well.
To make the gujiyas
Take the dough and divide it into 30 or more balls.
You can also divide the dough into two parts, roll them into medium-sized logs and slice it into equal parts.
Using your palms, flatten each ball to make small puris.
Place one tbsp of filling on one side of the puri, and carefully fold it by bringing the edges together.
Seal the edges with paste. You can also use water to seal the edges.
Make sure you press the edges together well, so the filling does not come out while frying.
If using a mould, stick the puri to the edges of the mould, place the stuffing on one side, and shut the mould to seal it.
On opening the mould, you will have a perfectly shaped gujiya.
You can twist and fold the edges to make a pleated design.
This will also help the filling stay intact when the gujiya is being fried.
Cover the gujiya with a moist cloth and when the whole batch has been made, fry them on medium heat.
To fry the gujiyas, heat the ghee or oil in a deep pot or preferably a kadhai or wok over medium heat.
When the ghee/oil becomes hot, fry the gujiyas until golden brown.
Fry them in batches of three or four so that they fry evenly.
Drain the gujiyas from ghee/oil with a spatula or slotted spoon and place them on a plate lined with tissue to drain off the excess oil.
Once cooled, store the gujiyas in an air-tight container.
If you are consuming it right away, serve them warm.
---
Have a Holi recipe to share? Maybe it was passed down to you by your grandma. Or it was something wonderful you invented.
Mail your recipes to getahead@rediff.co.in (Subject: Holi Recipes) along with your NAME and the place where you LIVE.
Please don't forget to share pics of your dish. And a video too, if you have it. We'll publish the best entries on Rediff.com.
Hurry and send us!