We'd asked you readers whether or not you support the breastfeeding campaign.
THANK YOU for your feedback.
Some more responses we received from you.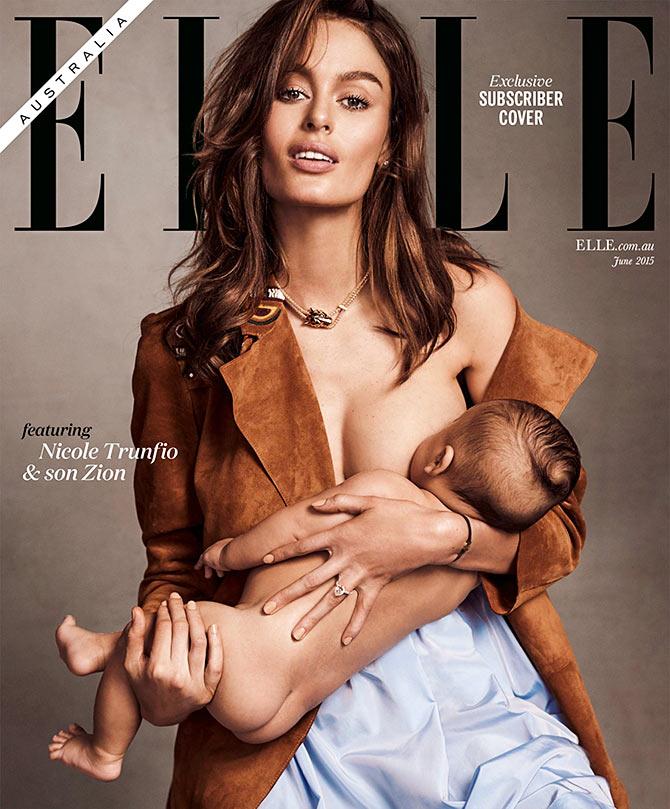 In 2015, Elle Australia was criticised for having a breastfeeding model on its cover. In March 2018, Grihalakshmi magazine featured a similar controversial cover.

I strongly support the campaign.
If we are ready to ask at least 10 young mother friends of ours about their experience, I am sure a lot of mothers will have delayed feeding their babies as they feel insecure feeding in public.
Please note that the pervert minds that try to peep into the flesh of the mother, will do it even if she covers her parts.
This campaign needs to be understood as a strong step to ensure that women can breastfeed their children in the open without any stigma.
Also, so that no more needy babies have to wait till their mothers find safe places to feed.
-- Ravi, Kerala
---
I don't see anything unobjectionable in the campaign. I believe it is every mother's right and every child deserves to be fed in a comfortable and hygienic environment.
So the campaign should emphasise on educating mothers about importance of breast feeding.
It should also call for necessary facilities in every public place to have a designated area to help mothers feed their babies.
-- Ashish Upadhyay
Some things looks good when done in private. Breastfeeding is one of them.
Breastfeeding is not only necessary for the development of child but it also strengthens the relationship between mother and child.
However there is no necessity for the mother to go public and bare herself to support breastfeeding.
It is uncomfortable for some men as well but a pleasure for few, though.
Getting published in a magazine cover by baring it all is a cheap publicity stunt.
I appreciate that the model did not accuse a male for sexually assaulting and use social media to gain mileage.
-- Siddhartha Raj Guha, 43 years, Kolkata
---
This campaign is a good awareness for mothers who avoid breastfeeding to their newborns. Especially celebrities, who are always concerned about their physical appearance as compared to the health of self and the newborn.
I support breastfeeding, but, in India, we have very different kind of people living with versatile kind of nature and social values.
In public, we speak differently, but, at home we are different.
I support breastfeeding. It's a right of every newborn to have that nutritional content which protect them for minimum for six months.
By that time, the newborn is strong enough and intakes outside food.
All people will not be the same. I have seen many women who dislike other mothers while breastfeeding. They'll say, kuch sharam waram hai ki nahin, aise khule aam...(don't you have any shame?).
I suggest mothers with newborn, who are travelling, must plan the time and location of breastfeed so they can keep the dignity of their bodies while breastfeeding.
-- Haresh Gianani, 41, Kalyan, Thane
---
Please note this is a good campaign to start with. It is good for the child also, health wise.
But why on earth should you show your assets while feeding?
You can very well cover with any cloth available. You are not always semi-nude in public; that is also wrong.
You can go to a corner and start feeding. All Indianwomen do this with their pallu.
Some celebrities do it in public for cheap publicity and we follow blindly.
For all the wrong things, a sweet name is given and it becomes a campaign.
--Abhay Kohirkar, 50, Daman
---
It's really sad that in the 21st century we have to discuss and support such an important part of human life -- breast-feeding.
When a child is born, an infant needs her mother's milk and nothing else. It's every infant's right.
Instead of having a broad mind and being modern with time, we have become more narrow-minded.
About 30 to 35 years ago, when women were so restricted and considered backward, homely, uneducated, they used to feed their babies in public.
It did not matter how shameful they might have felt, how many stares they got. Their first concern was to feed their baby.
In today's world, if a woman is not feeding her baby only because people stare at her or that she feels awkward, then she shouldn't become a mother in the first place.
Mothers are selfless, they must think of that little angel in their hands who need their soulful care.
It's a shame if people stare at a mother when she is breast feeding her child.
We are sex starved country and we only think about one thing in life and that is sex.
This should change now, women must feed their children without shame, fear and awkwardness.
--Sudhir
---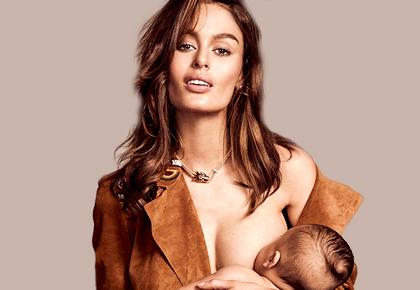 Dear readers, do you support the idea behind the breastfeeding campaign? Or do you think it is a bad idea to feed your baby in public?
Dear mothers, have you breastfed in public? Did you face any criticism? How did you deal with it? Tell us.
If you support this campaign, you can share a photograph of you breastfeeding and share your views.
If you disagree, you can also tell us why and what is the appropriate way to do it.
E-mail us your views, photographs and suggestions on getahead@rediff.co.in (I support Breastfeeding) along with your NAME, AGE and LOCATION. We'll publish the best responses right here on Rediff.com