We'd asked you readers whether or not you support the breastfeeding campaign.
THANK YOU for your feedback.
Some more responses we received from you.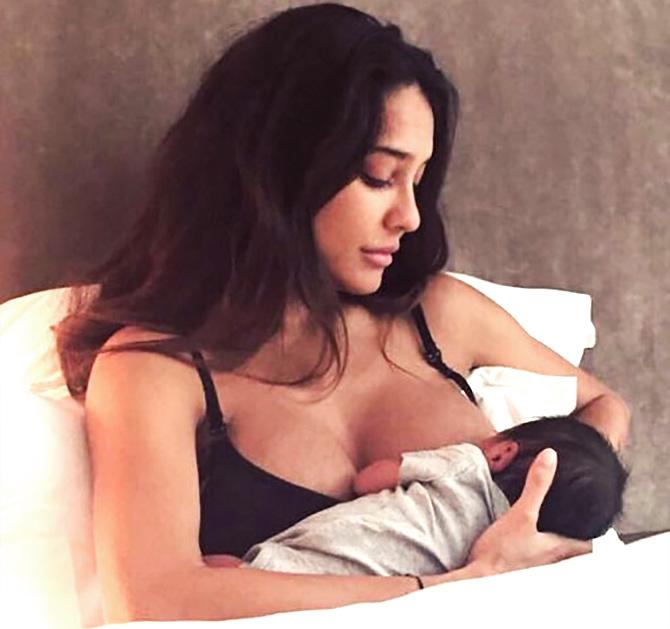 Beauty lies in the eyes of the beholder.
If somebody sees something malicious or objectionable in the beautiful portrait of a mother breastfeeding her child, so be it.
Let him file complaints at all police stations of the country. Let him knock on the doors of all the courts in the country. The breast feeding campaign must not stop.
As humans, we must see the love and relationship being built between a mother and her offspring.
Someone who is preoccupied with sex and sexuality will see the curves of the organ and not the love flowing from it.
As Sigmund Freud has rightly said for such genre of persons " Everything reminds me of sex".
Such campaigns will definitely help in promoting the cause of breastfeeding. People who are not aware of the benefits and are not taking it seriously will definitely look in to it.
-- Bharat Dayaramani, 50, Thane
---
Among mammals, breasts are nectar to human life, the world and humanity.
Baby feeding is must and should be performed in healthy way. It is very necessary to feed a baby at his need at any place.
But breast feeding does not mean you should feed the baby by exposing yourself at any place like animals do.
It should also not be done to examine the integrity of a man. While you are feeding, the body may be exposed due to wind, if the baby slips, cries etc. But exposure should be avoided.
There are health reasons too It is for the sake of baby health and mother. Feeding in open invites dusts, flies which can easily affect the baby's health and cause allergies to mother's breast skin.
When feeding, a mother's mind is focussed on keeping her baby comfortable rather seeing how a man is staring at her breasts.
You can understand the plight of a lady who is feeding her baby in an open exposed way, examining people's eyes. All ladies understand their privacy.
The slogan 'I support Breast feeding' is to promote mother's milk to babies and not to be dependent on commercially produced artificial/powdered milk, as some of the modern, figure conscious ladies are
avoiding breast feeding to their 'own child'. This is resulting in physically and mentally weak baby, poor growth and poor generations also.
-- SC Sharma, 60, Uttar Pradesh
---
I support breastfeeding. It is a beautiful picture of nature in love -- motherly and innocent love.
We are all taught that tiny tots are God's own creation. Some say that the tiny tot is God himself.
Even God is not above mother; mother is above all. Therefore that is a beautiful sight of the little one playing and having milk staring at the mother innocently and sometimes smiling.
Also the sight of mother enjoying feeding milk to her little one, is a feeling of love. It should be felt with a true loving heart. Only those who are in love with nature can understand this love.
To publish such photographs on magazine cover or inside, is truly not advisable. If such photographs fall into wrong hands, young girls and old weak women become ultimate victims of sex perverts, hence we should be careful.
I have seen the photographs (Anoushka Shankar and others). They are all very beautiful.
-- Bhaskaran Praveen
---
This exposure has delivered both negative and positive messages simultaneously to the society. The model could successfully strike a balance between the stigma and vulgarity associated with breast feeding in public places.
Since the photography involves partial nudity, the conveying message captured immediate public attention not only locally but internationally too.
BBC reported the incident as 'India breastfeeding magazine cover ignites debate.'
This is not the first time that activists have posed nude for a public cause.
Definitely this renewed vigil will forbear the perverts from staring at mothers while feeding their babies. Instead of calculating the percentage of nudity precisely, try to understand the message accurately.
However, the inherent marketing strategy behind the exposure cannot be ignored especially when promoting a product while keeping one of the most advanced states of India in poor lights.
Creating controversy first and market the product later successfully is the new marketing mantra.
Recently Kerala was in the limelight with the wink sensation Priya Prakash Varrier.
-- Girish R Edathitta, Kerala
---
I think breastfeeding is the first and strongest way of communication between a mother and her child.
We all know the benefit of breast feeding to the mother and to the baby also.
Do I support breastfeeding in open, in public?
I feel every mother must have come across this problem at least once in her motherhood.
And I've observed that many times it hardly mattered to a mother that her child needs to be fed now.
We always consider a mother the most respectable and powerful unit of the universe, irrespective of religion, caste, race, or nationality.
We must not compromise her dignity. Feeding a child is one of the most sacred acts in the world and it should be seen like that only.
A mother always knows how to do it in public when it is required. Even our mothers did it.
About feeding in public, I think we are shamelessly asking the question. A mother should maintain her dignity and not do it in public to create some interesting moments for some perverts who always wait for such things.
--Manoj Bharti, Ahmedabad
---
First of all, let's agree that our society hasn't grown so matured and forward in thoughts. So definitely this topic is still a taboo.
On the other hand, I feel we have lost focus here. The prime focus should have been on breastfeeding and not on the method!
Breast feeding is key in a child's well-being and development. Our mothers and grandmothers devotedly followed it without worrying about losing their perfect figures or charm.
But these days it's become more of an option than a need. And if at all people breastfeed, they don't do it long enough that a child needs it and stop it on people's advice for numerous reasons. That's a different topic altogether.
Coming to the methodology, it's always linked to your principles and morals.
Most ladies aren't comfortable exposing their bodies and this holds good for breastfeeding as well.
Why would one indulge in doing an act publicly that makes them uncomfortable!? Nobody would.
Our mothers and grandmothers didn't, and so wouldn't I.
But in the so-called modernised society, people are not apprehensive about showing off their skin and feel it's their right.
My question to all those people is: Weren't you even 1 per cent disturbed by the reactions it brought in? Or the attention it grabbed?
If the answer to this question is yes... Then we have the solution automatically.
But if you feel you were not disturbed at all by breast feeding in public, by the on-lookers etc, then I think you should stop being bothered about people's reactions, changing society etc.
Just focus feeding your baby. Do what you feel is comfortable to you!
No one can deny that most ladies would feel comfortable only when left to do so in their own privacy!
--Shirly, 34, Coimbatore
---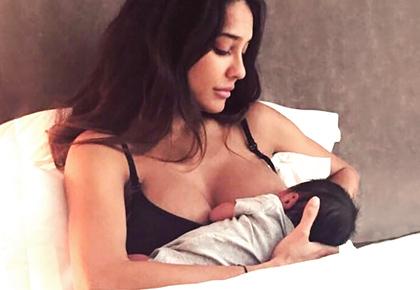 Dear readers, do you support the idea behind the breastfeeding campaign? Or do you think it is a bad idea to feed your baby in public?
Dear mothers, have you breastfed in public? Did you face any criticism? How did you deal with it? Tell us.
If you support this campaign, you can share a photograph of you breastfeeding and share your views.
If you disagree, you can also tell us why and what is the appropriate way to do it.
E-mail us your views, photographs and suggestions on getahead@rediff.co.in (I support Breastfeeding) along with your NAME, AGE and LOCATION. We'll publish the best responses right here on Rediff.com