Rediff reader Sudhir Pawar shares his diet plan, fitness strategy and more.
You can share your weight loss journey too.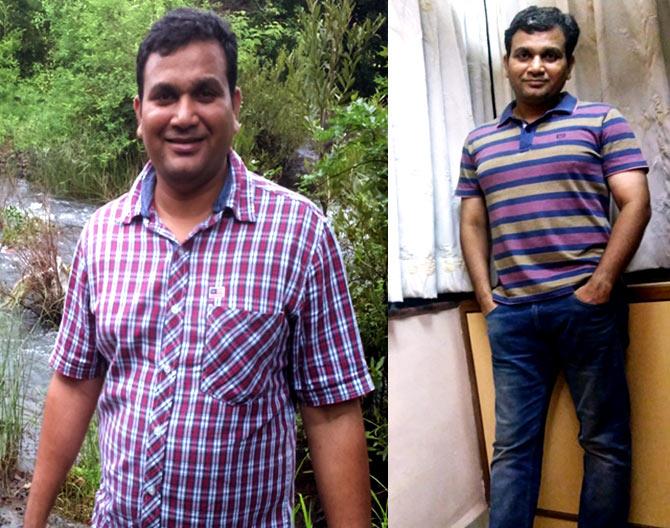 I work in the IT sector and my work is mostly sedentary.
Over the years, I started eating at irregular intervals. I had stopped going to the gym too.
This continued for 3 to 4 years. Gradually, I started gaining weight.
Motivation to lose weight
In February 2017, I went to Aurangabad to attend a family member's wedding.
That evening at the marriage hall, the way people looked at me, I realised that I had put on a lot of weight.
The past 3 to 4 years flashed in front of me, taking me through my journey from being fit to fat.
My waist size had gone from 32 inches to 36. My shirts had become tighter around the belly.
From 72 kg, I had touched 87 kg in three years.

My weightloss journey
Once I was back home, I discussed the incident with my wife.
My wife laughed and said, 'I have been telling you to do something about your increasing weight. But you kept ignoring (me). You must do something about it now.'
A week passed by. Nothing happened.
On February 12, my wife got up early as usual and got our daughters ready for school.
She then turned to me and said, 'From today we will go for a walk. I will not listen to any excuses.'
We walked together for thirty minutes. That half an hour walk changed me.
I felt refreshed and decided to continue. At the same time, I also wondered what I could do to shed those extra kilos.
February 13 was Mahashivratri and it was one of the 3 to 4 occasions in a year when I fasted.
On Mahashivratri, I woke up early, walked for half an hour and fasted the whole day.
Next, I went on a crash diet.
Many feel it is not a good idea to go on a crash diet. But I thought I must try.
I made my own action plan.
Diet plan
Breakfast:By 9 am, two glasses (250 ml) of fruit juice, one glass before walk and one after a walk.
Two glasses of water, a plate of fruits (pineapple, muskmelon, watermelon), two boiled eggs or one bowl of sprouts and a cup of coffee.
Lunch: I changed my lunch time from 1 pm to 11 am.
At 11 am, I'd have 2 chapattis, any sabji, little rice with dal, one spoon homemade ghee, veg salad (tomato, cabbage, onion, cucumber, raw mango) and a tablespoon of a mango or lemon pickle.
Snacks: I gave up eating evening snack.
Dinner: I replaced dinner with a plate of fruits (pineapple, musk melon, watermelon).
From second month, I added one or two cheat meals a week. This included having dinner or non-veg food on weekends.
Lessons learned
The first few days I struggled to keep this diet plan on.
Within a week I lost 3 kg.
Due to my crash diet and sudden weight loss, I started getting cramps for a week. But I continued my diet plan. Gradually, things worked out for me.
I lost 4 to 5 kg in a month.
My weight dropped from 87 to 83 kg. Except for cramps, I had no signs of weakness.
I felt lighter and the weight loss helped boost my morale to continue with the plan.

In the second month, I gradually increased my walking from 2 km daily to approx. 3 km and to 4 km in the third month. I stuck to the same diet plan.

At the end of second month, I lost approx 5 kg and my weight came down to 77 kg.
Now, I was stuck in a weight loss plateau. I gave up on cheat meals, became more persistent and continued with the plan.

At the end of May I weighed 72 kg. I had lost almost 14 kg in over three months.

I don't know whether my diet plan is good or not, but it has definitely helped me lose weight.
I may have also lost some muscle weight.
But I never felt weak or low on energy. I ensured to include sufficient carbs and proteins to my diet plan.
My target is to reach 70 kg.
Earlier in this series: This foodie lost 21 kg in 7 months
---
Reader Invite
Have you recently lost weight? We want you to share your weight loss story with us.
Share your detailed diet plan, tips and advice with our readers.
Write in to getahead@rediff.co.in (subject line: 'Fat to Fit'), with a before and after photograph, if possible, and we'll feature the best entries right here!