One secret that all the models and beauty queens swear by is to start the day with a fulfilling breakfast and end with the lightest meal possible, says Nmami Agrawal.
Working in the glam world comes with its own perks.
But it is also a highly demanding industry as one needs to maintain poise, confidence and a fit and healthy body in front of the camera.
Needless to say, a healthy diet and an intense workout regime becomes integral companions to the ones scaling the peaks of this industry.
If you ever wondered what these models or beauty queens eat to stay fit and healthy, we have got you covered.
Here are some simple-to-follow and easy-to-adapt lifestyle and dietary tips and tricks that would ensure you stay best in shape like that top-notch beauty queen you secretly consider your role-model.
Start early, start fresh
The very first thing to adapt from the lifestyle of a beauty queen or a successful model is to abide by an everyday discipline.
Not just a pitch perfect diet regime, but also the maintenance of daily routine is a must.
Mornings are the best time to indulge in a regular physical activity and plan your whole day.
Don't skip the breakfast
When you try to lose weight especially to achieve a desired body, it seems really tempting to give up the food in order to achieve quicker results.
But doing so in turn can slow down the metabolism and will make weight loss even more cumbersome, more so if you skip your breakfast.
This will also lead to intense cravings throughout the day and you may bet no one wants that!
Rely on whole fruits, not fruit juices
Packaged fruit juices might seem an easy way to consume fruits but they are nothing better than consuming a fibre-less sugary meal.
The packaged juices are stripped off the healthy pulp which is full of fibre and vitamins. So, instead of a tetra-pack, grab some whole fruits wherever you go.
Smart snacks to the rescue
The lifestyle of models and beauty queens is such that they need to travel extensively on a frequent basis. So, home cooked food is a meagre possibility.
To ensure the metabolism stays atop, they must carry smart snacks with them always.
These can be roasted black grams, pumpkin seeds, almonds, chia seeds, foxnuts, hemp seeds, dried goji berries or walnuts.
Hydration is the key
Frequent travelling in flights or changes in the time zone can literally leave your skin and body de-hydrated and no one can understand it better than those working in the glam-industry providing the hectic shoot and travel schedules.
Water is one of the most essential nutrient that gives you an inner glow which shows.
It helps detoxifying your body naturally and helps maintaining an optimum weight.
The target should be drinking at least 2.5 to 3.5 litres of water every single day.
End the days on a lighter note
One secret that all the models and beauty queens swear by is to end up the day with the lightest meal possible.
This is because the digestion capacity of your body hits rock bottom as the day ends and a heavy meal can result in indigestion, bloating and weight gain. But skipping the dinner is also not a good idea.
The best thing to do is consume a low-carb dinner with some protein like- quinoa egg soup, chicken and rice noodle soup, vegetable stir fry, or tofu scramble with kale.
Pre and post workout meals are essential
Workouts are really crucial if you need to maintain an ideal body weight as per your body type.
But the entire fitness game can change if proper pre- and post workout meal planning is not done in the right manner.
The beauty industry heavily relies on essential nutrient intake before and after workouts to boost performance and upgrade weight loss.
Fruits with Greek yogurt, sweet potato sticks or a banana serves as really effective pre-workout meals, while a multigrain sandwich topped with mashed avocado or a chickpea quinoa salad are one of the best post-workout meal options.
These are the basic set of guidelines that should be considered if you want your health and fitness to be at its peak just like your favourite celebrity.
Apart from these, a regular sleep cycle of minimum 6 to 8 hours, and a healthy workout routine including both cardio and strength training must be done.
Also, stress management is equally crucial and don't expect overnight results because when it comes to prioritising health, wellness and fitness-consistency is the key!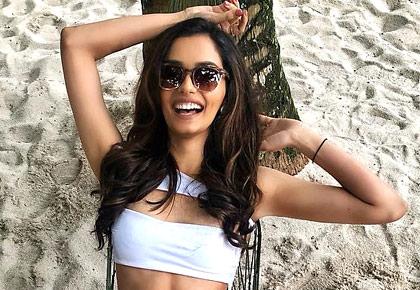 Nmami Agarwal is the founder and CEO of Nmami Life which is associated with former Miss World Manushi Chhillar and sportspersons like Gautam Gambhir and Michael Clarke for nutrition guidance.