'During my modelling days, people used to ask if I survived on carrot sticks.'
'I wanted to tell people that models don't follow fads; they enjoy healthy, delicious food.'
Shvetha Jaishankar tells you how you don't need to be a model to stay fit and gorgeous.
What do models really eat?
How do beauty queens and actors maintain their gorgeous figures?
Is it possible to eat delicious food and still not pile on the kilos?
Former Miss India International Shvetha Jaishankar's book has the answers.
Gorgeous is a cookbook where Shveta -- who besides being a model, is an MBA from the Indian School of Business, Hyderabad, and a doting mother to two daughters -- gets 28 of India's top actors and models to share their favourite recipes, their fitness routines and their food philosophies.
So you'll see names like Priyanka Chopra, Milind Soman, Sheetal Mallar, Madhu Sapre and Malaika Arora Khan in Gorgeous.
While Malaika flew down to Chennai on December 20 to release the book, Ujjwala Raut, Dipannita Sharma and Nethra Raghunathan -- who also feature in the book -- promoted it in Mumbai.
Putting together Gorgeous, Shveta says, was a "reunion of sorts" since she got to spend time with her buddies from her modelling days to understand their life routines better.
Shveta tells Rediff.com's A Ganesh Nadar more about her learnings while compiling the book and the secret to her fitness.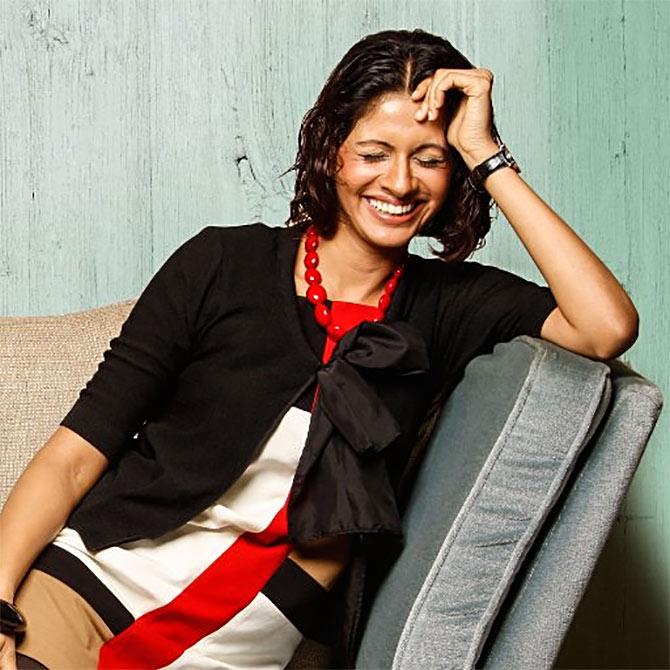 IMAGE: Shvetha Jaishankar was Miss India International 1998.
All photographs: Kind courtesy Shvetha Jaishankar/Twitter
What inspired you to write the book?
There was a time when I had a desk job. After coming home, I preferred to watch TV or spend time with the kids.
One day, I decided to change that. I decided to get up a little early and work out.
During my modelling days, people used to ask if I survived on carrot sticks. I wanted to tell people that models don't follow fads and they enjoy healthy, delicious food.
Why are young Indians gaining weight?
There could be various reasons. They are probably not understanding what suits their body; not getting enough exercise or are spending too much time indoors.
But I also see young and middle aged Indians taking to exercise in a new way.
What dieting mistakes do Indians make?
It's difficult to give up a food you have been having all your life, but some people do it.
I have friends who became vegans overnight; they gave up curd and milk. This lasts for two to three weeks and, if it doesn't suit them, they stop it.
It is good to try out something new when you want changes in the way your body looks.
At the same time, you should listen to your body and not what somebody else tells you.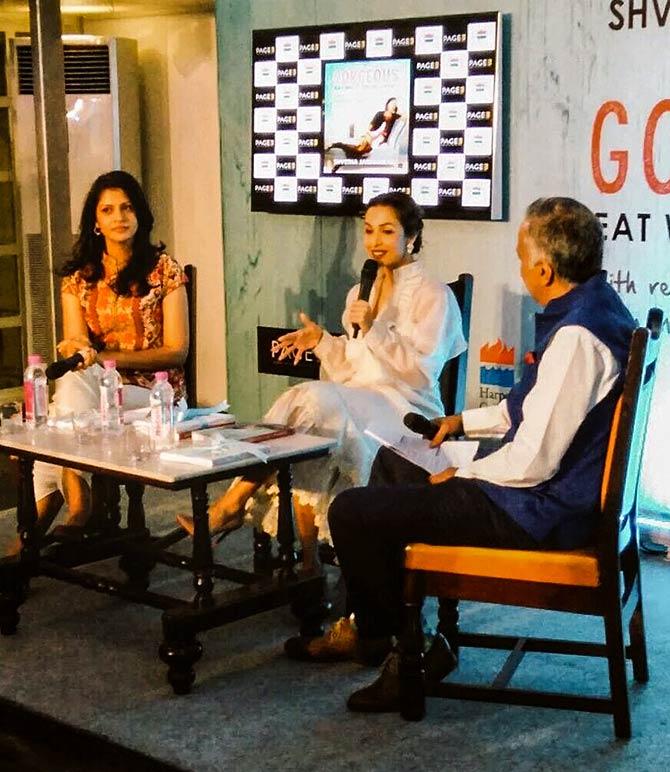 IMAGE: Malaika Arora and Shveta at the book launch in Chennai.
Is it possible to lose weight in a small period of time?
It is possible, but not advisable.
What is your advice to office goers to stay healthy?
Simple things like, when you are making a call, walk up and down a corridor.
Take the stairs whenever possible.
Try to wake up a little early and find time to exercise.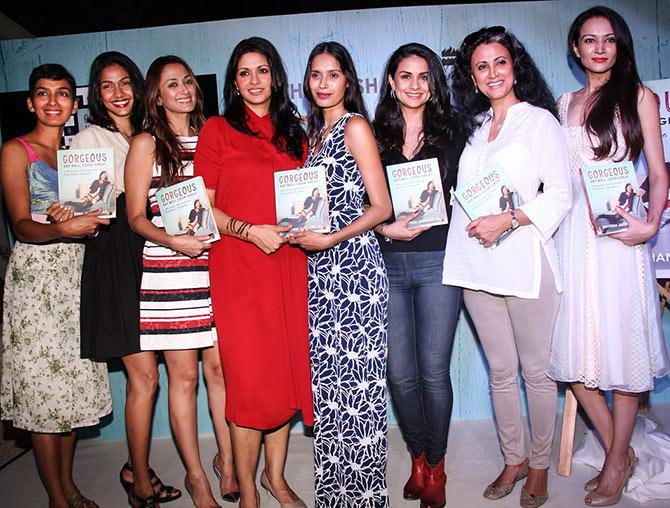 IMAGE: The Gorgeous girls at the Mumbai launch -- from left, Sampada Inamdar, Nethra Raghunathan, Gayatri Oberoi, Svetha, Ujjwala Raut, Gul Panag, Reshma Bombaywala Lezinska and Dipannita Sharma.
What are the foods one must include in a diet?
Lots of seasonal vegetables.
If you like fruits, then definitely fruits, rice, yoghurt; it's a simple rule across any cuisine.
Make sure that you are having natural food. It could be cooked; it doesn't have to be raw.
What are the foods one must avoid?
Sugary and deep fried foods should be avoided.
Are all fruits good for the body? Do you need to cut down on fruits as you age?
My whole premise is that one size doesn't fit all.
I like fruits and I don't shy away from sugary fruits like banana or mango. But I guess, for some people, it may be necessary to avoid them.
For instance, if you are diabetic, you must avoid fruits with a high sugar content.
IMAGE: Gorgeous is published by HarperCollins in India.
How do models stay so thin?
See when you are modelling, you are very young. You are 17, 18 and it is much easier to stay thin at that age.
You travel a lot, walk a lot and you are surrounded by people who are into fitness. So it's easier.
The challenge is to stay thin after you stop modelling or after you have been modelling for a long time.
How should one strike the balance between eating healthy and eating what you like?
I have a vague 80:20 rule. That is, 80 per cent of the time I eat healthy but tasty food and, during the rest of the time, I let go and eat what I like to eat.
Is the book named after you :)?
I was thinking about names for the book and it just struck me that it was the perfect way to encompass what I was trying to say, 'Eat well, look great, Gorgeous!'