Eat local. Move more, sit less. Have tea, not green tea.
See how Rujuta Diwekar's simple tips are helping Indians get fit, one inch at a time.
Rujuta Diwekar, right, has mentored many celebrities including Kareena Kapoor to eat healthy and stay fit the natural way.

Photograph: Kind courtesy Rujuta Diwekar/Instagram
On January 1, 2018 nutritionist, fitness professional and author Rujuta Diwekar announced the Fitness Project 2018.
It was meant to be a five-week programme where people could sign up for free and receive advice and guidelines on how to lead a healthy lifestyle.
In two minutes, 500 people signed on, and in 24 hours, over 75,000 people from 20 countries had joined the project.
The deal was simple. At the end of every week, each one had to record their results online via Google Docs (external link)
They had to rate parameters like change in sleep patterns, energy levels, exercise etc.
According to a report in The Hindu, "about 9,335 people reported losing 1 inch from their waist," within two months of signing up. The report adds that 3,227 have lost 2 inches and 848 people have lost more than 2 inches.
Want to know the secret?
"People are so confused because we don't value what comes from our own homes, and our own regions. But look at how turmeric is becoming a posh weight-loss agent in New York. And how five-stars in San Francisco are giving diners clarified butter instead of maple syrup on French toast," Diwekar told The Hindu.
"Farms, not malls; foods not fads; eat not consume" is Diwekar's ultimate mantra.
Here are some snapshots of the food facts Diwekar shared on her social media accounts:
It's okay to add sugar to your chai/coffee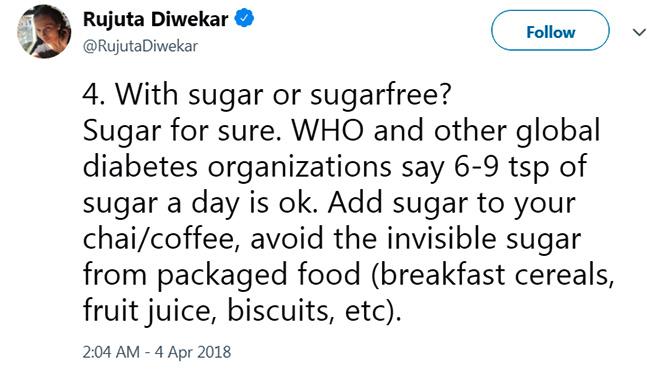 Cashew apple has more Vitamin C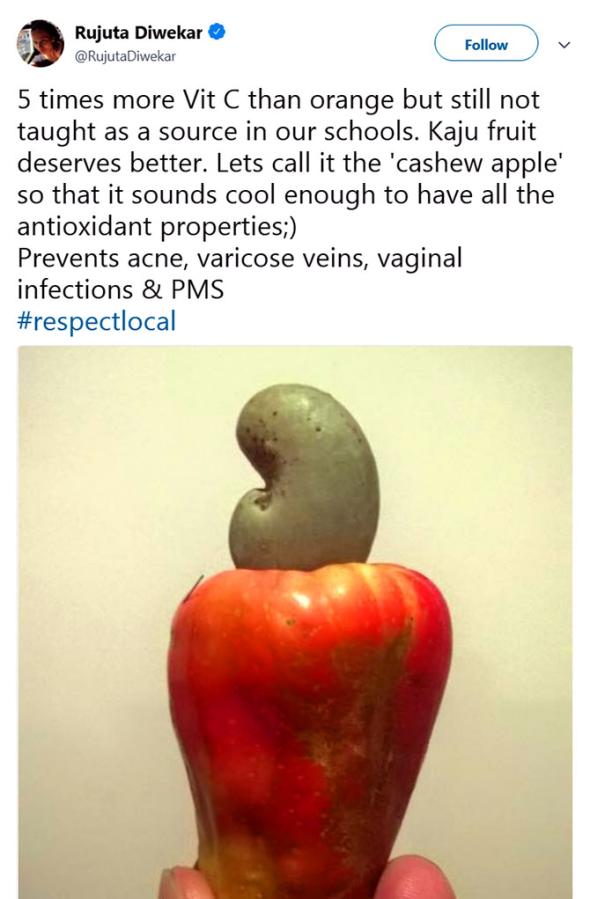 Food = happiness?

Rice (starch) is not bad at all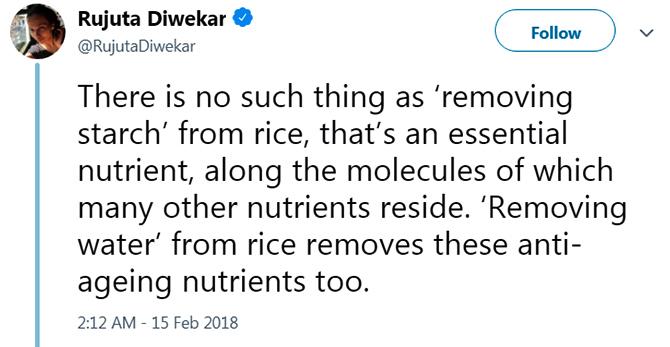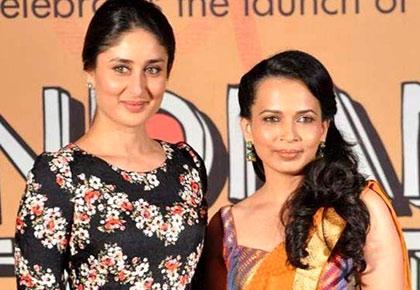 More health tips here!