We'd asked you, dear readers, to share your fitness stories.
Rediff reader Qamar Ansari, 46 from Gurgaon tells us how he lost 13 kg in 3 years and reclaimed his health.
I wasn't so keen about fitness for a long time. I never indulged in exercise or physical fitness.
In 2013, when I underwent a full body checkup, I found that my triglyceride was 676 -- (anything less than 200 is normal). I was also diagnosed with mildly fatty liver.
In 2016, I weighed 86 kg and had grade 2 fatty liver.
In December 2016, the film Dangal had released.
I watched it on the first day. When I came back and saw how actor Aamir Khan had transformed his body and lost weight, I was inspired too.
I did not hire any trainer or dietician. I consciously decided to reduce my food intake and give importance to physical fitness.
That's how I started working out three years ago. Since then, I have managed to lose 13 kg.
Diet
I start my day with two eggs, 3 slices of bread, rusk and tea.
For lunch, I eat whatever is available in the office cafeteria. I have non-vegetarian food three days a week.
I work out in the evening between 4:30 pm and 6:30 pm. I consume a lot of water.
For dinner, I eat whatever is available at home.
Work out
Every morning (5 days a week) I run 5 km, which I cover in 27 to 28 minutes.
In the evening (5 days a week) I work out in the gym. My routine includes 165 push-ups, 90 crunches on decline surface and skipping rope.
I also mix it with weight training for chest, shoulder, back, arms and legs.
The results
I lost weight and went from 86 kg to 73 kg.
I reduced my triglyceride(cholesterol) from 676 to 196.
My heart rate has come down from 115 to 76.
My blood pressure is under control and grade 2 fatty liver is back to normal.
I managed to do all this with zero medicines and almost no diet control.
In the last 6 months I increased my protein intake with whey protein, because I work out 2.5 hours everyday.
At the age of 46, I have learned to push my limits and it is working well for me.
Tips for readers
Don't overdo and get yourself injured.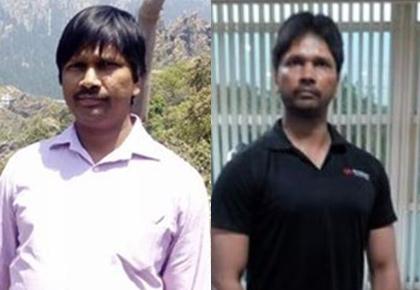 ---
Invite
Have you recently lost weight or survived a serious health condition?
We want you to share your story with us. Tell us how you lost weight.
Share your diet plan, exercise tips, learnings and more.
Simply write to getahead@rediff.co.in (My Fitness Story) along with your NAME, AGE, LOCATION, along with a before and after photograph of your fitness journey. We'll feature the best responses right here on Rediff.com.