Rediff reader Himanshu Patel from Anand, Gujarat shares his incredible weight loss journey.

My fitness journey began 10 years ago.
I was travelling to Panchgani via Saputara in my Innova.
My car's tyre was punctured near Saputara.
When I sat down to change the tyres, I fainted and remained unconscious for around 15 minutes.
Somehow I was able to change the tyre but that was the first warning.
When we reached Panchgani, I had a running race with my brother-in-law.
I fell on the ground with a bang; I was not able to control myself. This was my second warning.
I weighed between 85 to 86 kilos.
Few days after we returned home, I was inspired to take care of my weight.
I started waking up at 5 am. I'd jog six days a week.
Initially I was able to jog only 500 metres. Gradually I increased it to around 5 km per day.
In eight months, I was able to reduce my weight by (approx) 8 kg.
During this time, I was not following any diet plan.
I was eating what I loved to and was consuming lots of calories.
My weight was around 77 to 78 kg.
This continued for five years.
I wanted to reduce my weight further by 10 kg so I decided to cut down my calorie intake.
Here's the schedule I followed:
Running for 6 to 7 km running for six days a week
Breakfast at 7.30 am: Dry fruits, eggs and milk
At 10.30 am: A bowl of fruits
Lunch at 12.30: Dal, roti, vegetables, salad, rice, curd
Dinner: Very light dinner before 6.30 pm
Dinner was followed by power yoga at 9 pm for 30 to 45 minutes, four days a week. The remaining days I'd walk for around 30 minutes.
I'd go to bed at 10.30 pm.
This schedule helped me reduce my weight by 12 kg in six months. My weight is between 66 to 67 kg today.
I have reduced my running to two days a week.
I go for strength training, cardio, cross fit training or spinning on the rest of the days.
---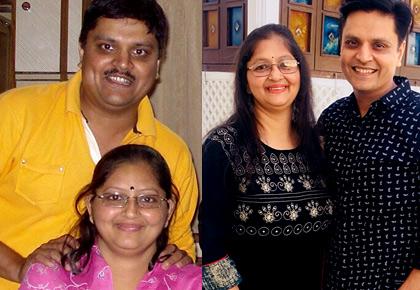 Dear readers, you too can share your weight loss story with us.
Who inspired you to lose weight?
Share your detailed diet plan, exercise and workout tips with us.
Write to us on getahead@rediff.co.in (Fat to Fit) along with your NAME, AGE, LOCATION and a before and after photograph of you, if possible. We'll publish the best responses right here on Rediff.com