Vamshi Krishna from Hyderabad went from 136 kg in June 2017 to 94 kg in December.
He tells Rediff.com how he did it.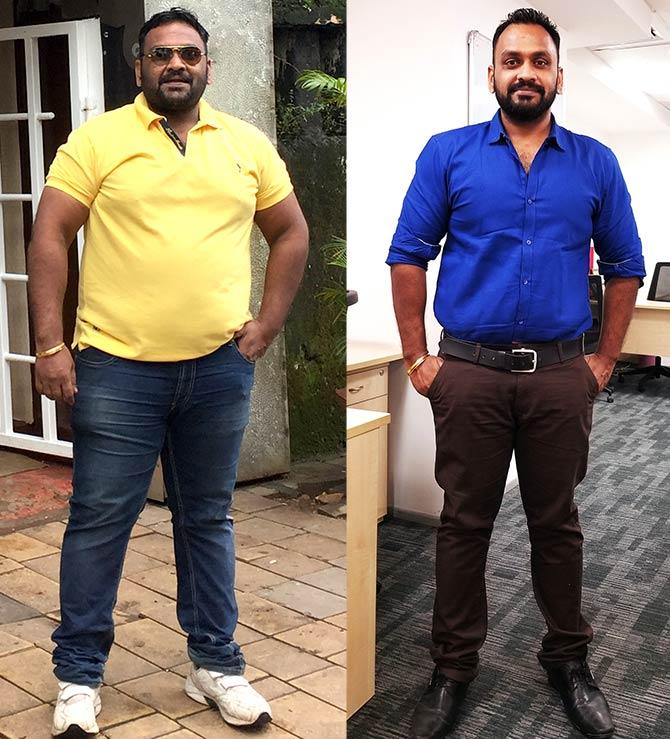 I am a software trainer and IT professional working with CGI Ind Pvt Ltd in Hyderabad.
How I gained weight
I was a gym freak during my college days and would regularly do heavy workouts. But I never really concentrated on my diet.
I would eat everything that was served to me. I'd find any menu enticing and sumptuous. I was a true foodie!
Looking back, I have to admit I had no control over my food intake.
I somehow managed to stay healthy until my marriage. Post marriage, with growing priority shifts and clashes of timing, I slowly stopped going to the gym.
Mind you, I still was a foodie, right? Sooooo, slowly the kilos started piling up.
Motivation to lose weight
In the early days of marriage, I felt lucky to have a wife who loved me unconditionally. On the downside, she did not pinch me about my weight.
My mother and brother would warn me that my steadily increasing weight could lead to many problems.
Finally, my wife joined in the chorus too.
I wasn't motivated until 2017, when my brother, my change agent, came from the USA on a vacation.
He was visiting India after three years in 2017.
He was shocked as I was in my worst shape. I was 136 kg.
He motivated me to get fit. He told me how my mother was not happy with my lifestyle and kept worrying about my health.
My brother said it would make my mom very happy if I lost weight. It would be my best gift to her, he said.
His words helped. I decided transform my body and lead a healthy lifestyle.
The transformation
I joined a local gym in January 2017 and began doing cardio and workouts. I felt better but nothing changed with respect to my weight in the first five months.
On the positive side, I had developed a routine of hitting the gym. But the foodie in me hadn't changed.
I was a little dejected but determined not to give up. I started consulting fellow enthusiasts and friends.
I met my friend Shylendra who works with Squats (a wellness organisation), which focuses on changing the human lifestyle.
Shylendra was my second change agent. Conversations with him revealed a lot of information.
I learned that I should follow a disciplined workout along with a diligent nutrition diet plan.
Through persistent workouts and a supporting diet plan, I reduced 42 kgs in six months.
Diet
I followed a low carb diet:
Breakfast: Five full eggs, one cheese slice + 200 gm spinach
Lunch: 100 gm paneer, 50 gm rice, 100 gm curd
Snacks (pre-work out): 20 nuts -- almonds, pista and walnuts
Dinner: 1 scoop whey protein, 250 gm chicken breast, lettuce, broccoli and keera salad
Workout
I do heavy lifting with high intensive training, concentrating one muscle part in gym for one and a half hours, six days a week.
I never concentrated on cardio, especially the treadmill, which results in muscle loss.
As per my understanding, weight loss is fat loss but not muscle loss. Heavy lifting gives you a toned body without loose sagging skin and loss of muscle.
I followed different diet plans and changed them after small intervals as your body metabolism should not get used to one specific diet.
If one gets used to a fixed diet, you'll hit a weight plateau. So you must keep alternating your diets.
I used to follow low carb diet for a month, followed by the Keto diet for 3 weeks. On some weekends, I used to do carbs loading.
The specific week wise plan depends on each individual and there are plenty of variations one can adapt too.
Lessons learned
Trust me, friends, diet plays a key role in any body transformation. Eighty percent comes from clean eating and remaining 20 per cent depends on your workout routines.
With a good combination, you not only get a toned body with fat loss, your breathing improves as your lungs become more powerful and your agility improves.
As a side benefit, the likes on your Instagram posts increase :)
Tips for readers
I define weight loss as fat loss, not muscle loss.
Stay away from crash diets using unfounded methods to lose weight.
Avoid shortcuts as they hurt the body and anatomy badly, particularly your metabolism.
Fat loss has to happen in a systematic way; your body has a great science in it.
Follow a nutritious diet and eat based on the number of calories required by your body.
Plan the calorie intake by using a BMR report -- before, during and after the journey.
Remember, a fit mind needs a fit body so continue the journey. Never stop.
Eating is a necessity but eating intelligently is an art. If I can do it, everyone can do it.
---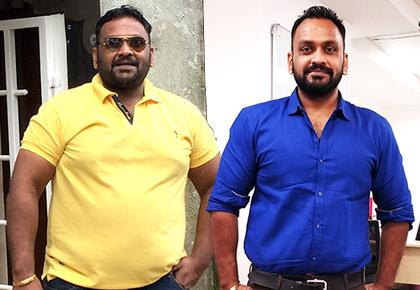 Reader Invite
Have you recently lost weight? We want you to share your weight loss story with us.
Share your detailed diet plan, tips and advice with our readers.
Write in to getahead@rediff.co.in (subject line: 'Fat to Fit'), with a before and after photograph, if possible, and we'll feature the best entries right here!
Earlier in this series: How Arpita Aggarwal lost 42 kg in six months