This binge season, include a spoonful of health to your daily diet.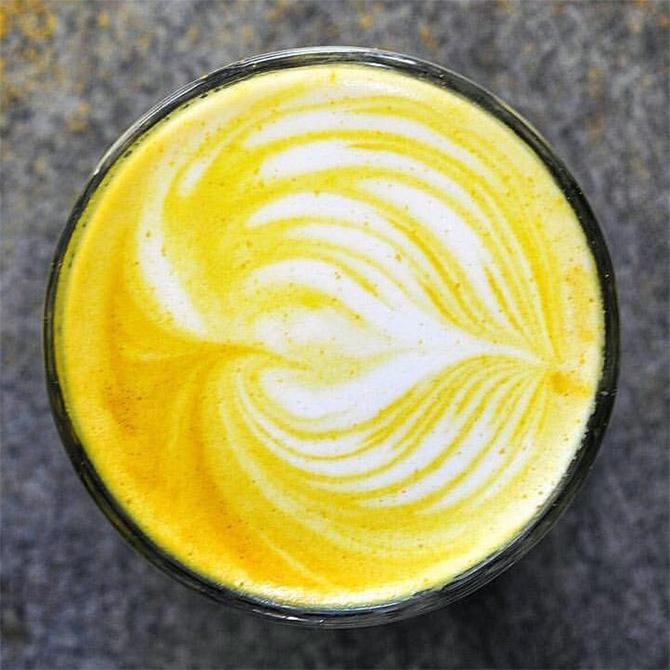 Begin your day with a hearty cup of haldi doodh or turmeric latte.

Photograph: Kind courtesy wunderworkshop/Instagram
Come winters, all of us go on a binge spree.
Add to this, common infections like cold and flu.
To make your winters less sinful, nutritionist Neha Ranglani recommends you to include these super foods in your daily diet.
Fresh turmeric
We all know haldi as a home remedy for common cold and flu.
Add half a tablespoon of turmeric to a glass of milk to get relief from cough and cold.
Turmeric is a natural antiseptic and anti-inflammatory spice which is effective for dry and painful cough.
Regular intake helps in repairing body cells during heavy winters.
Sweet potatoes
Famously known as shakarkand or rathaalu on the streets of India, is a great winter-time snack.
It contains vitamin A, potassium and is a high source of fibre, which helps you feel warmer.
Its regular intake builds immunity, minimises inflammation and cures indigestion.
Dates
This highly nutritious fruit is a must-eat for fitness freaks as it is full of natural sugars.
Dates help in maintaining your body weight by preventing silly sugar cravings during winters.
Walnuts
One of the common issues most people face during winters is dry, itchy skin.
Walnuts are rich in vitamin E which increases blood flow to the skin making it smooth and supple.
It's an excellent antioxidant to protect you from all cold related issues.
Regular intake of walnuts keeps your nervous system active, gifting you a healthy heart and body.
Bajra
Unlike rice, which is high on carbs, bajra contains rich protein and minerals.
Its high iron content is known to cure anaemia.
Regular intake of bajra during winter season will make your bones stronger.
Red carrots
Red carrots are packed with beta-carotene and are rich in vitamin A.
You can consume them raw or in the form of soups or stew to stay away from cold and flu.
Regular intake during winters will keep your respiratory tract healthy and protect you from infections.
Carrots also support skin growth.