The magazine's creative idea sparked a debate on social media.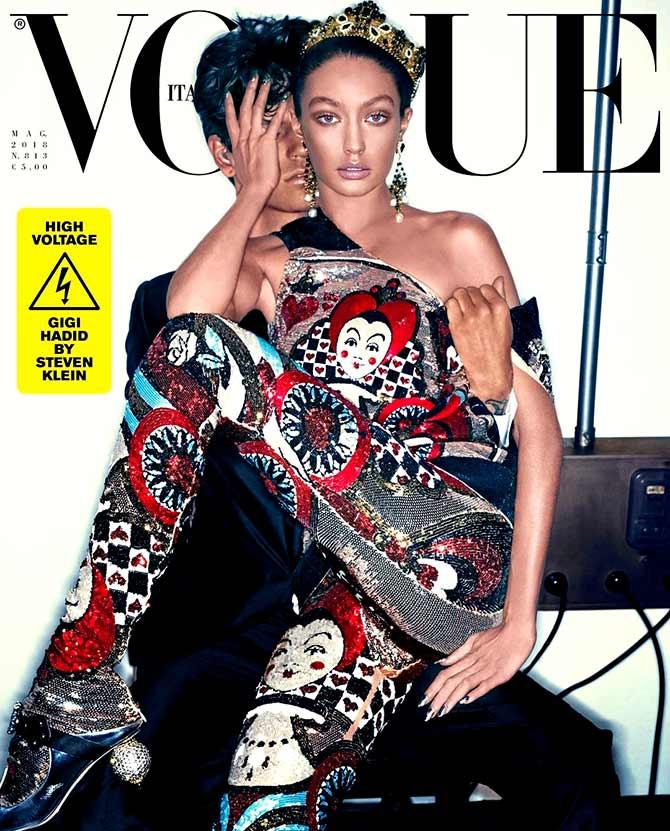 American model Gigi Hadid has apologised for her Vogue Italia cover, which has been slammed for using a 'black face' image of her.
The image, taken by photographer Steven Klein, shows a tanned Hadid donning a sequinned jumpsuit, along with model Justin Martin.
The 23-year-old took to Twitter to address the controversy, releasing a photograph taken of her on the same day when the cover was shot, reports E!Online.
"This is a photo of me returning home from shooting my Italian Vogue cover on April 3. You can see the level I had been bronzed to on set that day," Hadid tweeted.
She continued that the post production work in any modeling assignment is "out of my control fully."
"The bronzing and Photoshop is a style that S Klein has done for many years and I believe was what was expected from the shoot (to show me in a different way creatively), but, although I understand what Vogue Italia's intentions were, it was not executed correctly, and the concerns that have been brought up are valid," Hadid wrote.
"Regardless, I want to apologise because my intention is never to diminish those concerns or take opportunities away from anyone else, and I hope this can be an example to other magazines and teams in the future," she added.
On May 4, Vogue Italia shared a similar post on Instagram.
'Throughout its history, Vogue Italia has respected and encouraged the creative viewpoints of commissioned photographers.
'In our latest cover shoot by Steven Klein, the vision was to create a beachwear-themed story with a stylized bronzing effect.
'We understand that the result has caused some debate with our readers, and we sincerely apologize if we have caused any offence,' Vogue Italia wrote on its official Instagram account.