People are definitely not happy with the sisters posing naked.
Photograph: Pascal Le Segretain/Getty Images
British Vogue has lately been experimenting with their covers.
The campaign #NewVogue started sometime back in 2017, when it appointed Edward Enninful as its first black, gay editor.
Most of its covers since were a reminder of the many progressive things Britain is known for.
On January 30, British Vogue, editor-in-chief Instagram unveiled a photograph from its photoshoot for the March issue.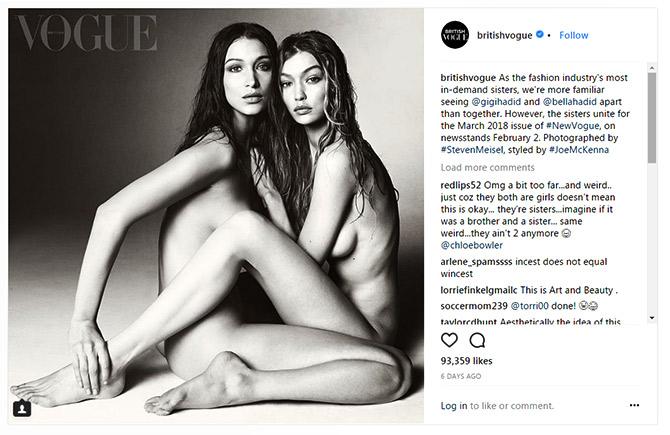 The photograph features models and sisters Bella and Gigi sitting facing each other, naked, interlocking their bodies.
"Sisters reunited. As the most in-demand sisters in the fashion industry, it's more common to see @bellahadid and @gigihadid apart. However, the sisters reunited for the March 2018 issue of @britishvogue cover story. On sale this Friday. Stay tuned for more exciting announcement," Enninful announced on Twitter.
On social media and elsewhere people are criticising the sisters and the editor for their sisterhood act.
"Omg a bit too far...and weird.. just coz they both are girls doesn't mean this is okay... they're sisters...imagine if it was a brother and a sister... same weird...they ain't 2 anymore," a user pointed.
Some others called it 'cheap' 'weird' and 'uncomfortable.'
Very few have good things to say about the photo.
'Nice photo. I don't see nothing wrong with it :)' a user wrote.
'It's art people! I think this photo is gorgeous :) it's not about them being sisters and that they shouldn't pose together like this! It's a form of art and more than just fashion,' commented another.