We can't help notice the uncanny similarity between the two looks.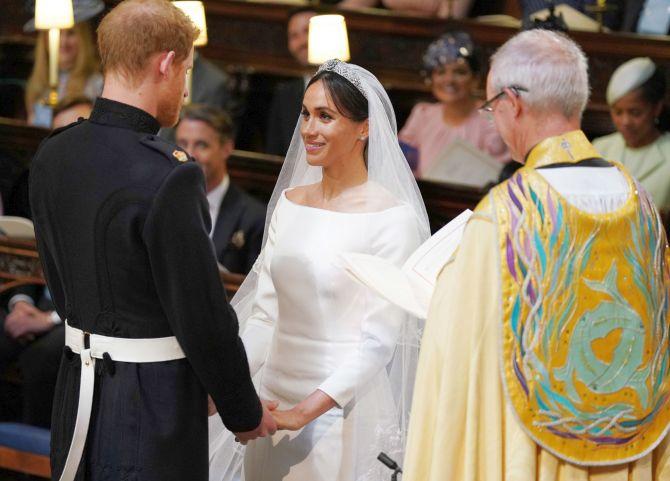 Meghan Markle now the Duchess of Sussex sparkled in a custom white bridal gown designed by Givenchy's Clare Waight Keller.
Designed to emphasise the iconic codes of the House throughout its history as well as to convey modernity through sleek lines and sharp cuts, the gown was simple yet stunning.
The boat-necked, sculpted white gown was made of pure silk and had a 15 feet veil embroidered with flowers and held in place by a diamond tiara lent by the Queen.
Markle met Keller earlier this year and the pair worked closely together on a design that Kensington Palace described 'epitomises a timeless minimal elegance', according to the official site of the British Royal Family.
The open bateau neckline framed Markle's shoulders and emphasised the slender sculpted waist of the dress.
The shape was achieved using just six seams, and the dress flowed towards a train at the back, cushioned by an underskirt of triple silk organza.
'It was beautiful to see her (Meghan) so radiant and in love having worked many months together to create this magical moment such an honour and privilege,' wrote the designer on Instagram.
'It will truly be the most memorable moment of my career. With love to #meghanmarkle,' she added.
However, despite the fact that the gown looked simply gorgeous, it is hard to ignore the uncanny resemblance it bears to a similar gown worn by singer Jennifer Lopez in The Wedding Planner.
Stunned? Scroll down to see the pic.
The similarity was first spotted by writer Amy Odell, who posted this pic, above, on Instagram.
'I didn't like Meghan Markles' dress as much as I wanted to until I saw this!' she wrote.