Here's what happened when Rediff.com's Anita Aikara caught up with the tennis star, who showstopped for designer Anushree Reddy.
Photographs: Hitesh Harisinghani/Rediff.com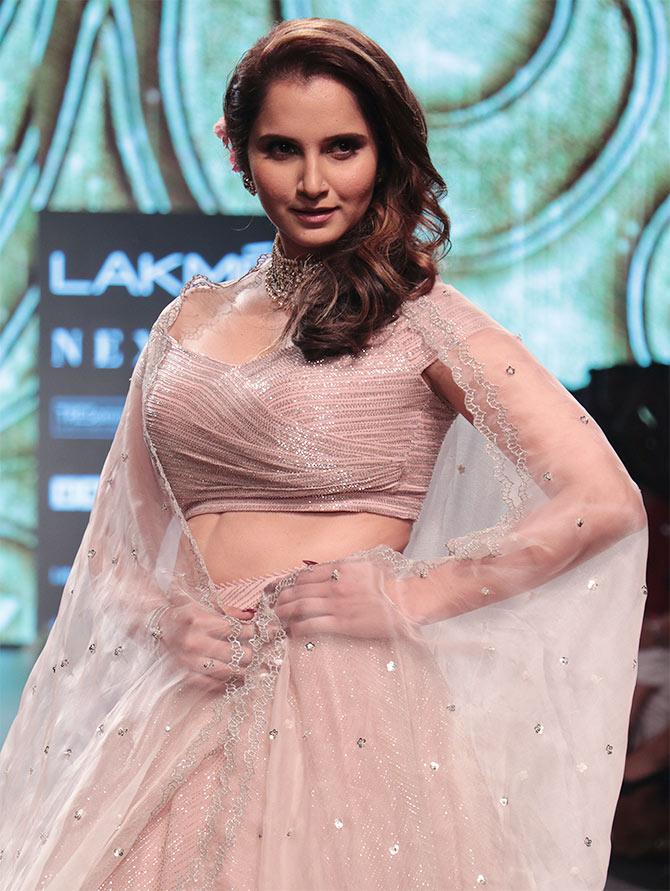 Walking the ramp is not something tennis star Sania Mirza does very often.
They make her nervous, which is why she forces herself to do them.
"I remind myself that I have to step outside my comfort zone, and I like doing that. That's why I agree to walk the ramp at this show, too," Mirza told Rediff.com after she walked the runway as showstopper for designer Anushree Reddy -- who also hails from Mirza's home city of Hydrabad -- on Day 4 of Lakme Fashion Week Summer/Resort 2018.
The champion, who had to sit out the recent Australian Open because of an injury, opened up about her personal and professional style, what she loves about Roger Federer beyond his tennis, and the hot topic of the day -- India's record fourth U-19 World Cup title.
India was just crowned Under-19 World champions! Do you have a message for them?
I watched the match while doing my make up today. I wish them all the best.
How was it being a showstopper for Anushree Reddy?
It's difficult not to feel pretty is such a beautiful outfit.
The outfit is not really as heavy as it looks. I must say that it is very comfortable.
As for the colour, even though I have never been a 'girly girl', I have always loved pink. While I was growing up, I have always been more of a tomboy. But I still loved pink. Wearing pink makes me feel beautiful.
Anushree is the most relaxed designer I have ever worked with.
I was a little nervous walking the ramp, because it is not something that I do often. But before each fashion show, I remind myself that I have to step outside my comfort zone and I like doing that. That's why I agree to walk the ramp at this show too.
What's your fashion statement?
I love comfort; it is something that is very important to me when it comes to fashion.
To be honest, I don't really understand much about fashion. I'm lucky to be blessed with a good team of stylists and designer friends.
So, for me, fashion is of course about looking good, but it is also about being extremely comfortable.
I love my white T-shirts; that's something I am dressed in all the time. But I also love dressing up and wearing lehengas like the one I am dressed in right now.
Fashion for me is not really about what your wear, or what you do, how fat you are… it is about how comfortable you are in what you wear.
Do you pay a lot of attention to style when you're training or on the court?
Not at all!
When I am training or playing a match, it is only about winning.
I think I look my worst when I am playing. When I win, the victory and that feeling takes over everything else.
But outside, I agree I have been one of the few athletes who has put that effort into looking nice.
Who according to you is the most stylish Indian celebrity?
When you talk of fashion in India, the first person who comes to my mind is Sonam Kapoor. That's something I think is unanimous.
And who do you think is the most stylist sportsman?
That is a really tough one. But I think Roger Federer is really stylish.
He has got that whole perfection going really well, and I really like that kind of style.
What's your fashion mantra?
Just embrace yourself and love yourself.
FULL COVERAGE: Lakme Fashion Week Summer/Resort 2018
---
The 'Pink' collection
Anushree Reddy has a longstanding love affair with the colour pink.
It almost always finds a way into her designs, but when she realised that it also almost always finds a way into her personal style, she decided to dedicate an entire collection to the colour.
The new collection, which she debuted at the Lakme Fashion Week Summer/Resort 2018, is titled 'Pink -- the navy blue of India'.
Reddy told The Hindu that, 'The inspiration for this line came from a statement by Diana Vreeland, former editor of Vogue, who declared in 1962: "I adore that pink! It's the navy blue of India".'
Reddy added in that interview, 'Everyone looks good in some shade of pink or the other.'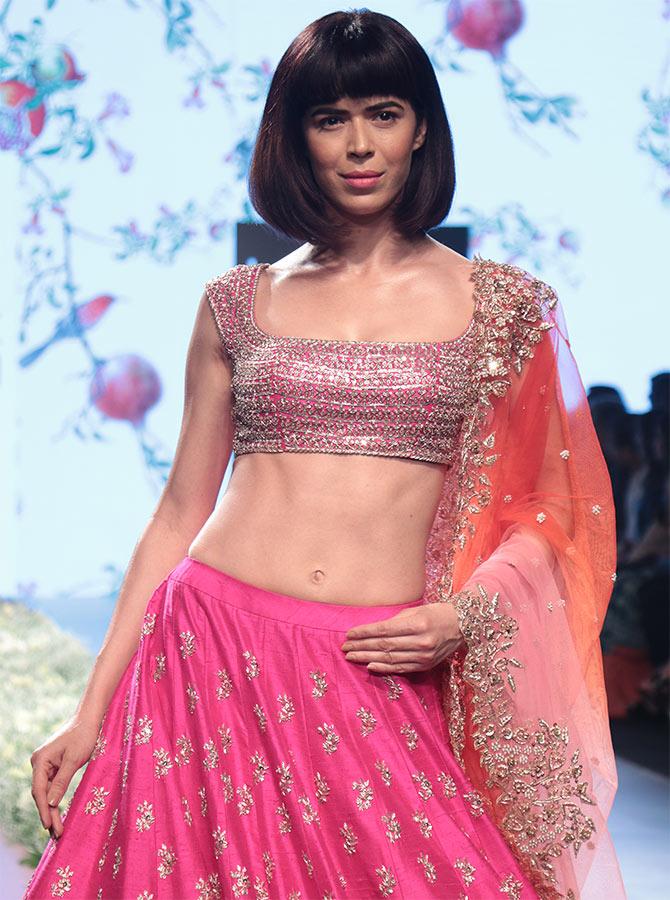 Anushree Reddy showcased a line of 21 ensembles featuring kalidaar kurtas, anarkalis, palazzos, skirts and peplum tops.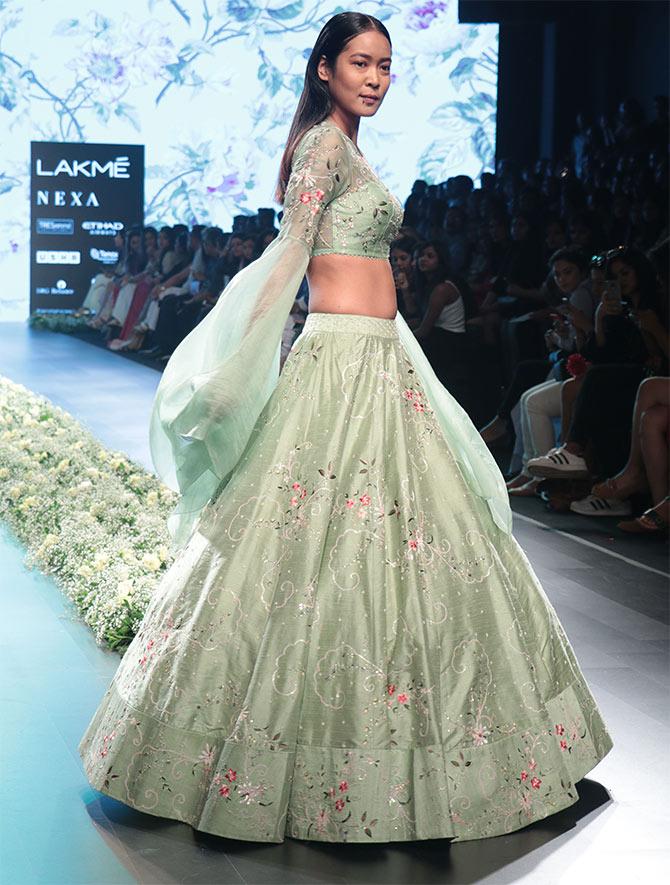 She used chiffons, organzas, mulmul, fine silks and khadi, and explored the entire spectrum of the pinks.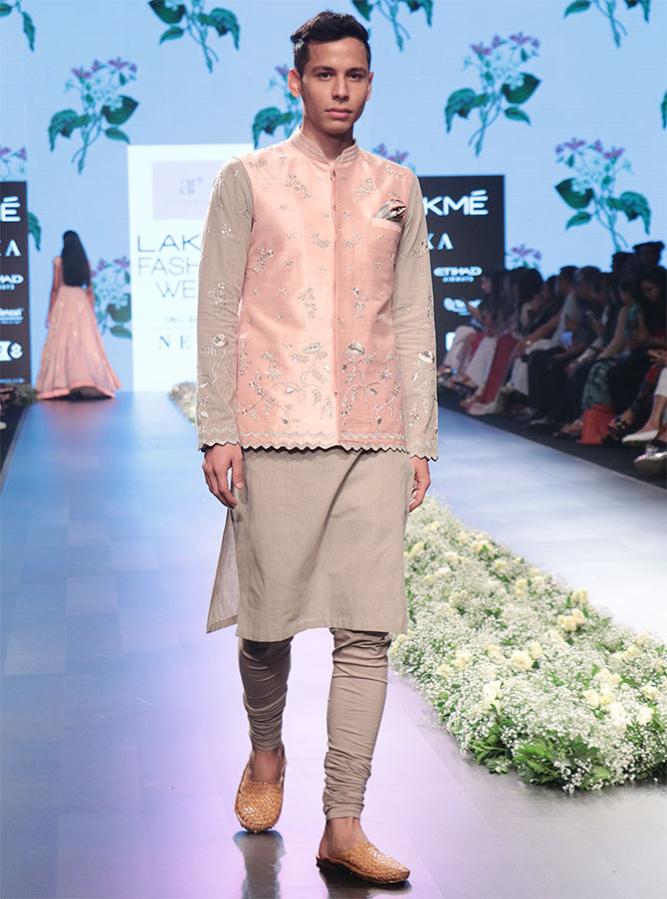 Anushree Reddy's men's line was created in khadi.
The designer chose 'brown-pinks' for the men's ensembles with threadwork embroidery, and pearl and zardozi detailing.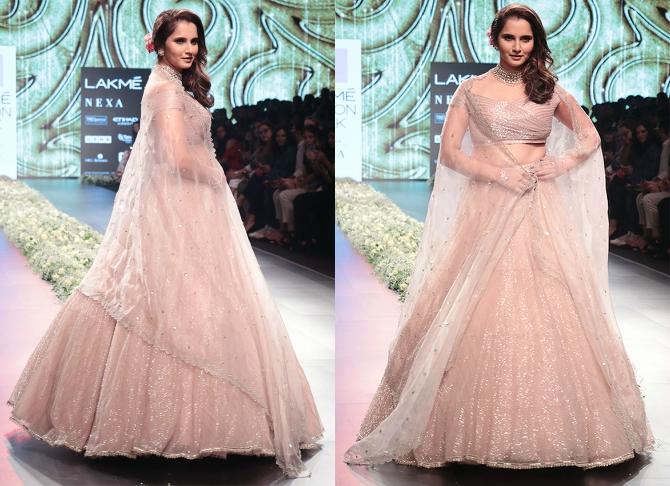 These Hyderabad girls! Designer Anushree Reddy (left) and her showstopper Sania Mirza.