The fashion designer's grand finale saw a parade of ridiculously stylish and extravagant outfits.
If you're looking for some fairy tale bridal inspiration, look no further than Manish Malhotra's show.
The designer brought the curtains down by putting up a spectacular finale at the India Couture Week 2017.
Alia Bhatt and Ranveer Singh played the perfect showstoppers and looked like royalty on the ramp.
Take a look!
Meet Manish Malhotra's stunning showstoppers, Alia Bhatt and Ranveer Singh, who shared a magical chemistry on stage.

All photographs: Kind courtesy FDCI
Dressed in a lovely muted gown Alia looked like a diva even without accessories.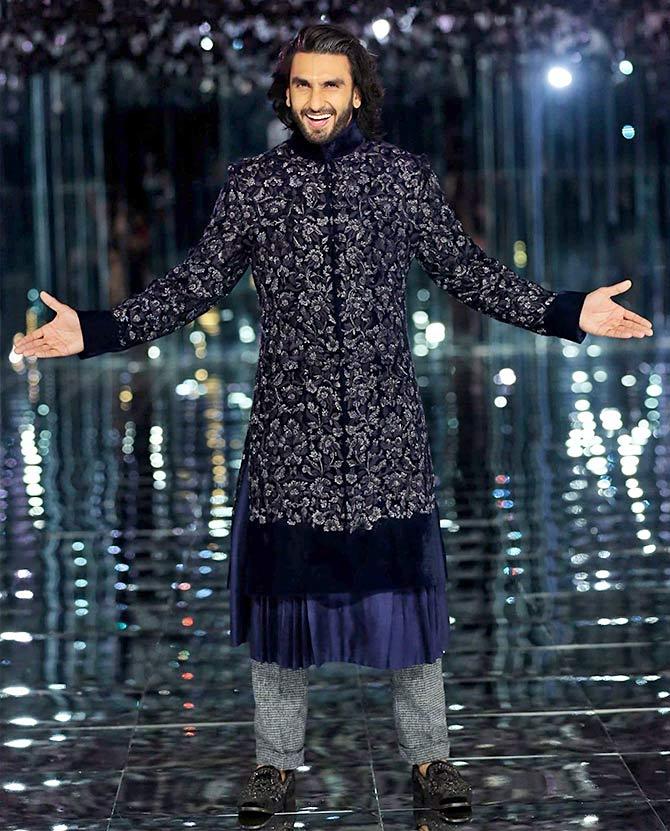 Dressed in a blue sherwani paired with grey trousers, Ranveer showed his killer fashion sense as he graced us with his presence on the ramp.
Scroll down to see the other looks from the collection.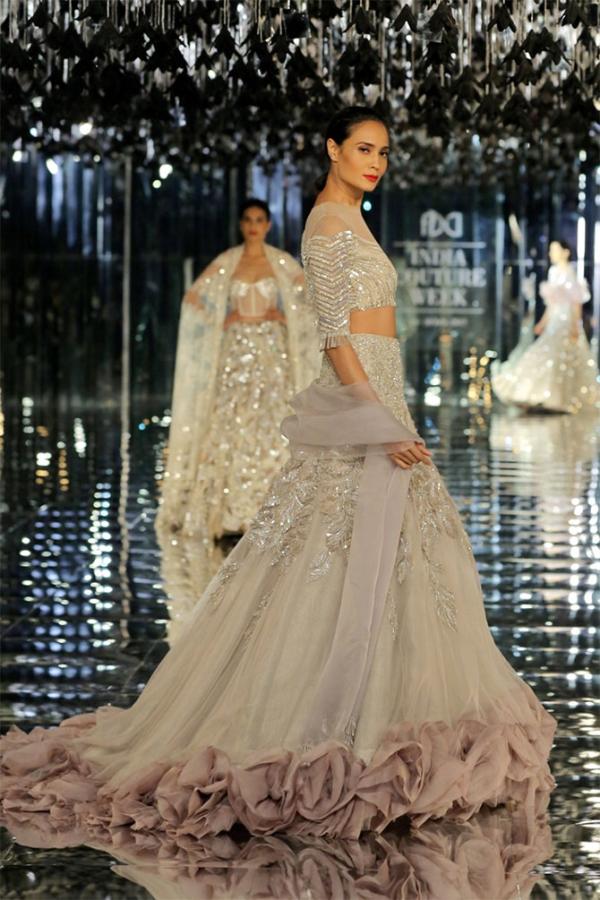 Titled Sensual Affair, the collection tried to fuse the old with the new.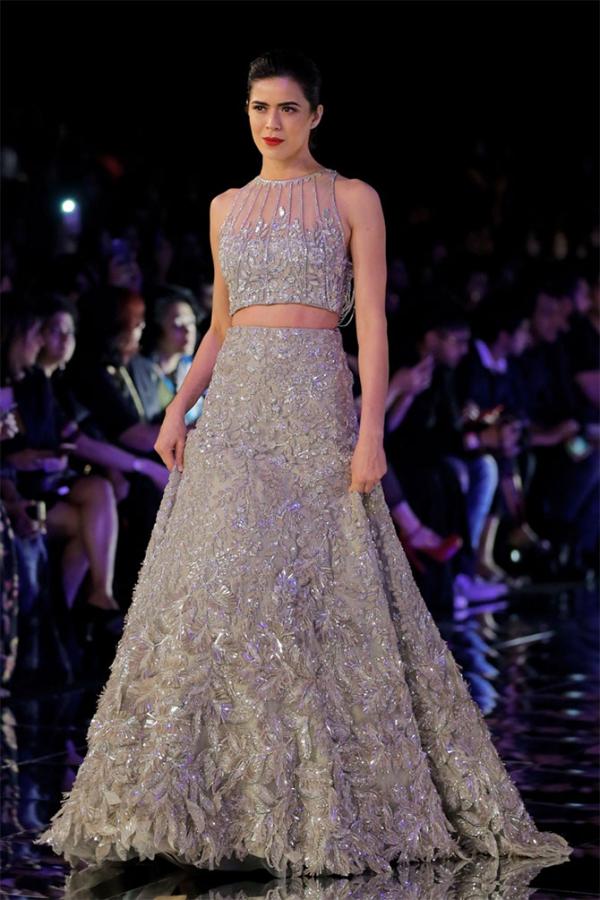 The designer kept the outfits luxurious and extravagant. Colours like white, silver and beige dominated the runway.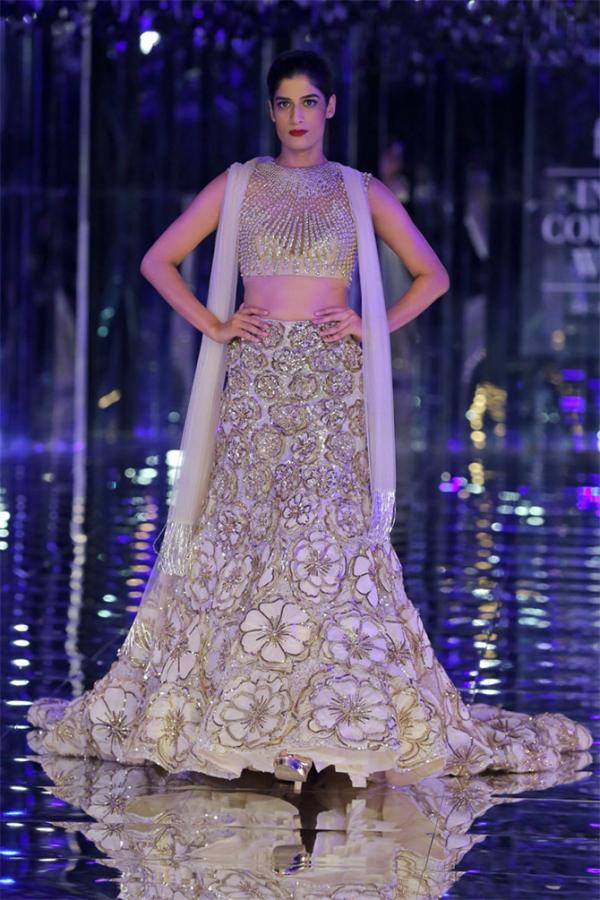 A model walks the runway in a crystal embellished blouse teamed with a voluminous floral lehenga.
The focus was on the smaller details like feathers, motifs and intricate embroidery, which added a touch of drama to the outfits.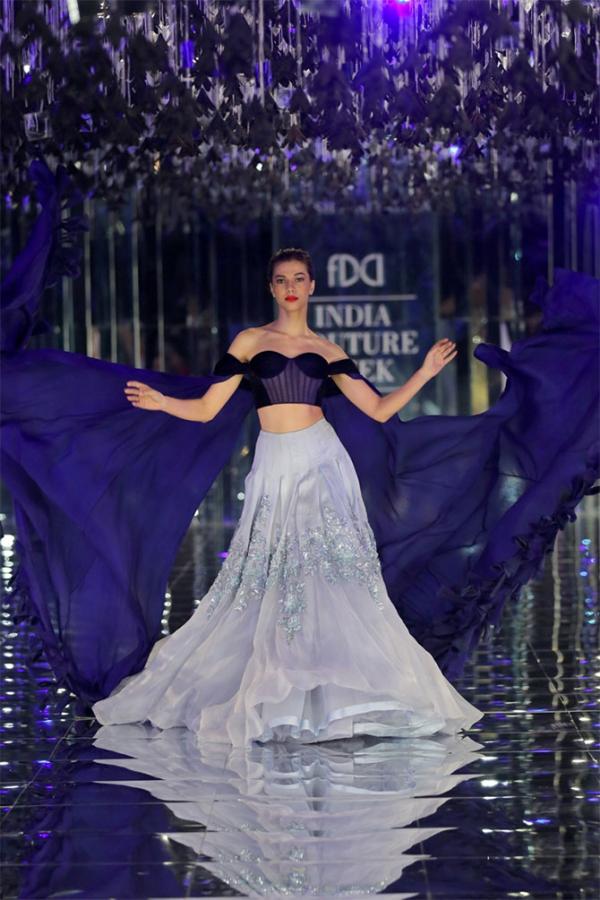 With a swish and a swirl...this model cuts an impressive figure in white and blue.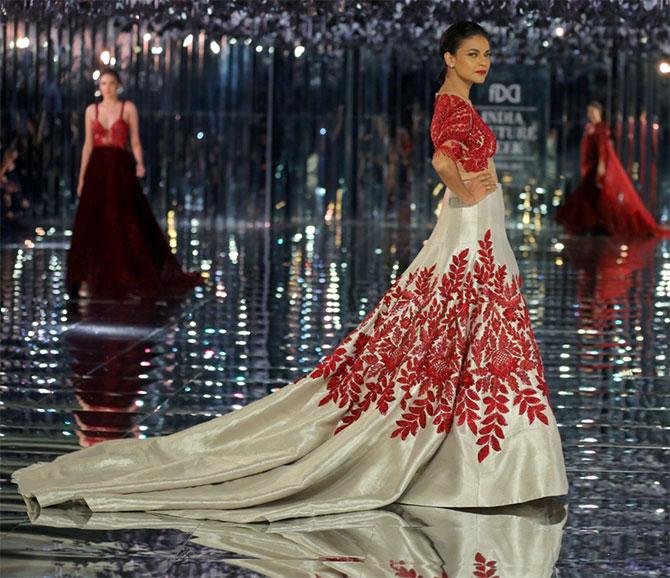 Beige and silver soon made way for red...Supermodel Noyonika Chatterjee paints the ramp red.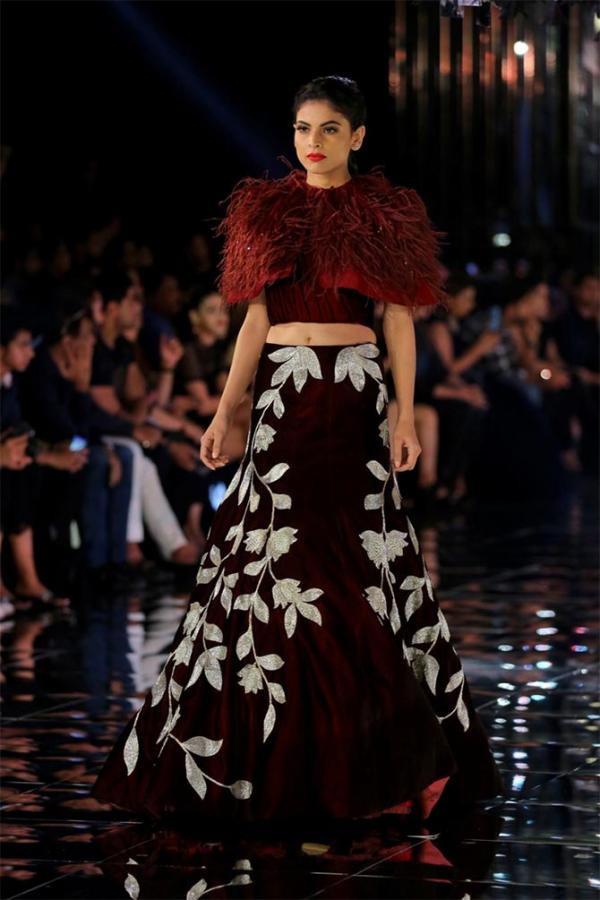 Zari, mull work, velvet and embroidery...the collection had it all.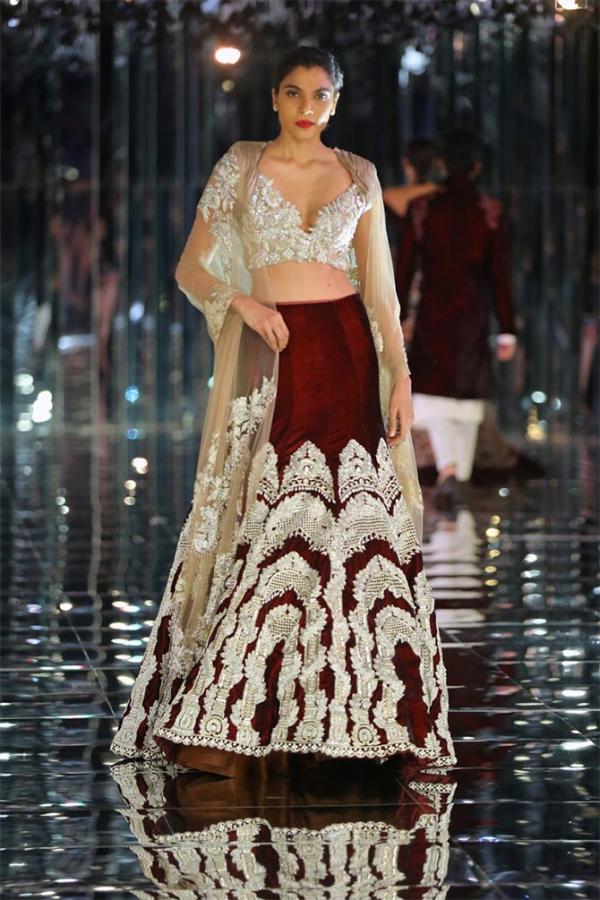 A model bring on the glamorous quotient in a red and beige lehenga with Mughal motifs.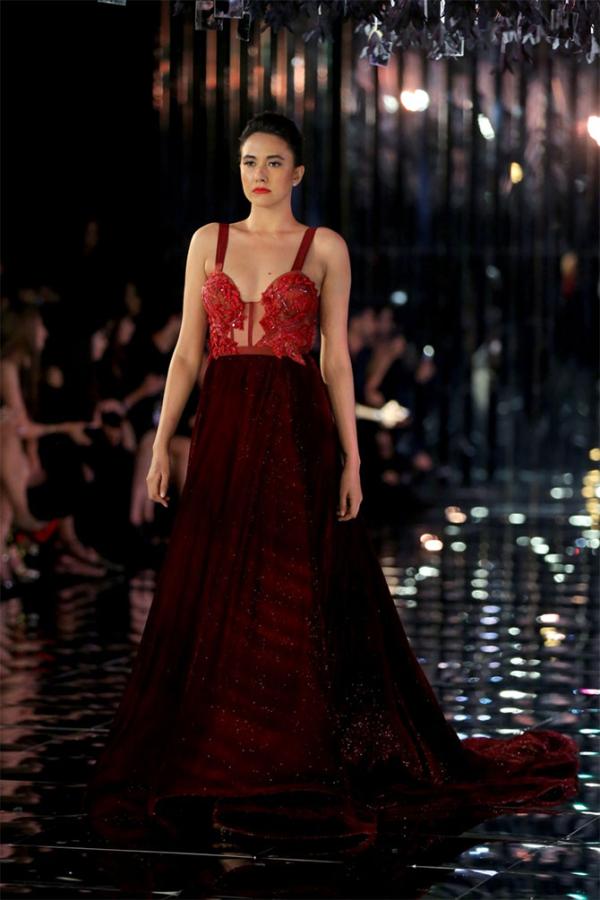 Manish Malhotra's signature sequins were also a part of the collection...
and so were the crystal detailing :)
The designer also threw in a couple of blue outfits in his collection.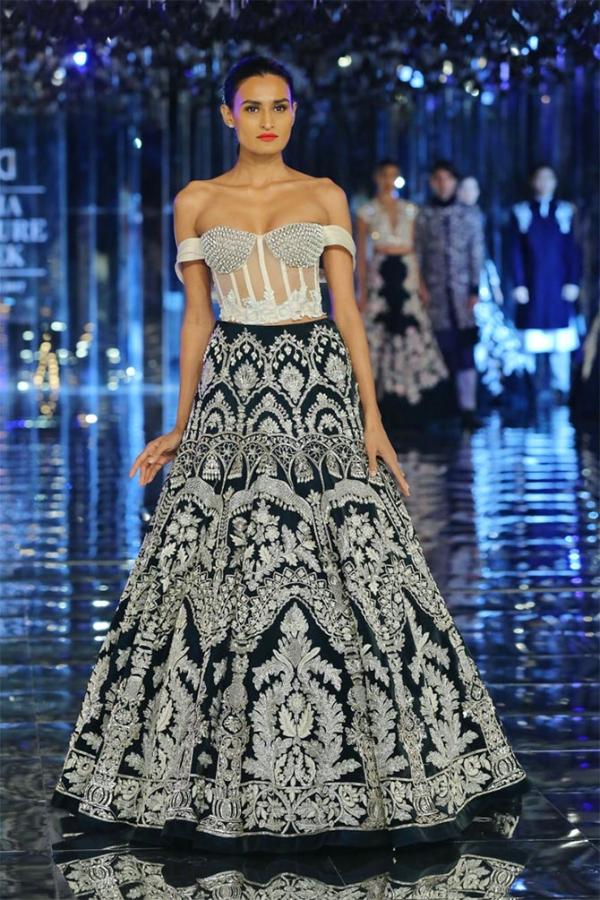 The designer tried to break away from the quintessential bridal space with this collection and he succeeded in doing it.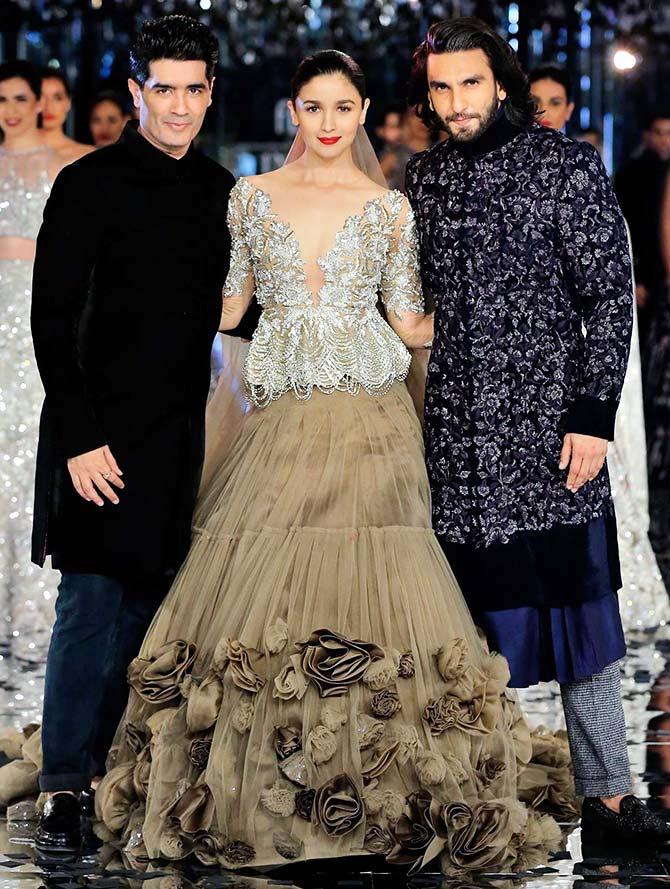 Manish Malhotra with his showstoppers Ranveer Singh and Alia Bhatt.