#TimesUp, folks!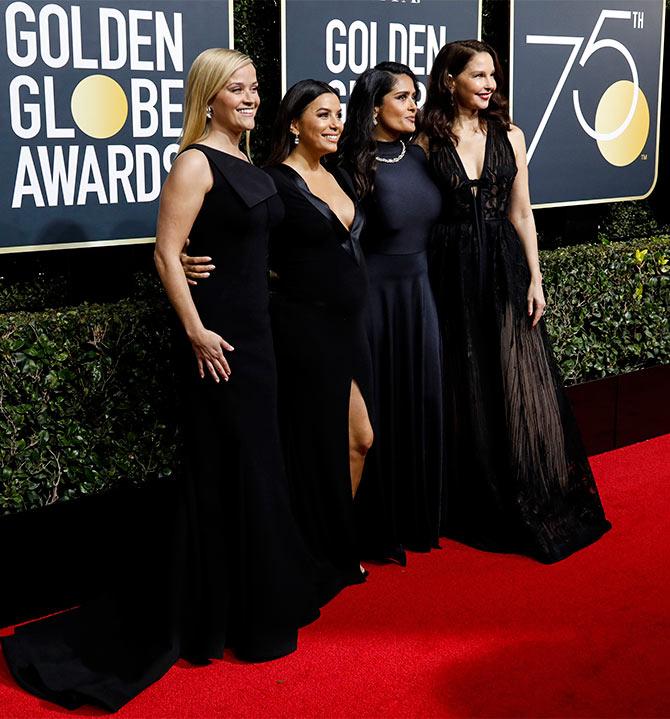 Actresses Reese Witherspoon, Eva Longoria, Salma Hayek, Ashley Judd on the Golden Globes red carpet

.
Photograph:

Mario Anzuoni

/Reuters.
In a rare show of solidarity, all the Hollywood stars -- women and men -- who attended the first mega award ceremony of the year arrived in black attires.
Their clothes are a statement in solidarity with Hollywood's anti-sexual harassment movement, which began in October 2017 when actresses like Ashley Judd and Rose McGowan spoke up against Hollywood mogul and sexual predator Harvey Weinstein through a New York Times exposé.
The story sparked the #MeToo movement, which spread like wildfire thanks to social media and saw women from across the world speak up.
Since then not only have many actresses -- including A-listers like Lupita Nyong'o, Gwyneth Paltrow, Julia Roberts, Uma Thurman and Salma Hayek -- spoken out against Weinstein, many have also spoken about the sexual abuse they faced at the hands of powerful men in the industry. Actor Kevin Spacey, actor Dustin Hoffman, filmmaker Brett Ratner, comedian Louis C K, music producer Russell Simmons, actor Geoffrey Rush, director James Toback, and actor Jeffrey Tambor are among those who have faced allegations from women who have come forward.
The move to unite actresses sartorially on the red carpet -- where they have often faced ridiculous questions and gimmicky features like a manicure camera -- came up when powerful women in entertainment banded together and created the Time's Up initiative.
'The initiative [formally announced on New Year's Day] includes a $14 million legal fund to help victims of sexual harassment nationwide, legislation to punish companies that tolerate it, and a push for gender equality among executives at talent agencies and studios,' The New York Times wrote. 'Asking women to wear black to the Globes was just part of Times Up's larger vision.'
Actress Reese Witherspoon, who has emerged as a powerful producer with Big Little Lies (it swept the Emmys and has also won Golden Globe nominations), told the Bagger last month, 'A show of solidarity at an awards show is one very small piece. It really is a statement that women are deeply unified, we always have been, and that we stand up for those who can't speak up.'
Actress Eva Longoria had added to the Bagger, 'There's a misconception that this is a silent protest. Instead of asking us who we're wearing, they'll ask us why we're wearing black. We're using that platform and using our voices to say we can change this ideology, and shatter the sexism that teaches men that women are less.'
And it's not just the women. Several men, it has also been confirmed, will be wearing black.
Stylist Ilaria Urbanati, who works with Dwayne Johnson, Tom Hiddleston, Garrett Hedlund, Armie Hammer and more, posted on Instagram, 'Because everyone keeps asking me… YES, the men WILL be standing in solidarity with women on this wearing-all-black movement to protest against gender inequality at this year's Golden Globes. At least ALL MY GUYS will be. Safe to say this may not be the right time to choose to be the odd man out here… just sayin…'
The subject naturally came up at the Golden Globes Social Media Luncheon on January 4, and according to Variety, this is what 2018's Golden Globes Ambassador Simone Johnson (Dwayne Johnson's daughter) had to say: 'I'm proud of all the women who are coming together and standing in solidarity because it becomes more than just sexual harassment in Hollywood, but across all different work fields.
'I think this a wonderful way to look at the red carpet.
'If you see a sea of black, it's going to make a statement. It's going to say things have to change, that this is the death of everything that came before. We're in a new era.'
People magazine noted, 'Though many stars have worn pins and accessories to express support for causes including the ACLU, the safety pin movement to support marginalized populations, the Charlie Hebdo attacks and more, this is the first time that actress have banded together in a full show of sartorial solidarity.'
Whether this movement will extend throughout the award season remains to be seen.