Meet Meghana Ramakrishnan, a 5'7" dusky skin model who made her debut at Lakme Fashion Week Winter/Festive 2018.
A 23-year-old from Bengaluru, she loves to be known as a 'tomboy'.
Here she tells Anita Aikara/Rediff.com what it takes to be a dusky model in India.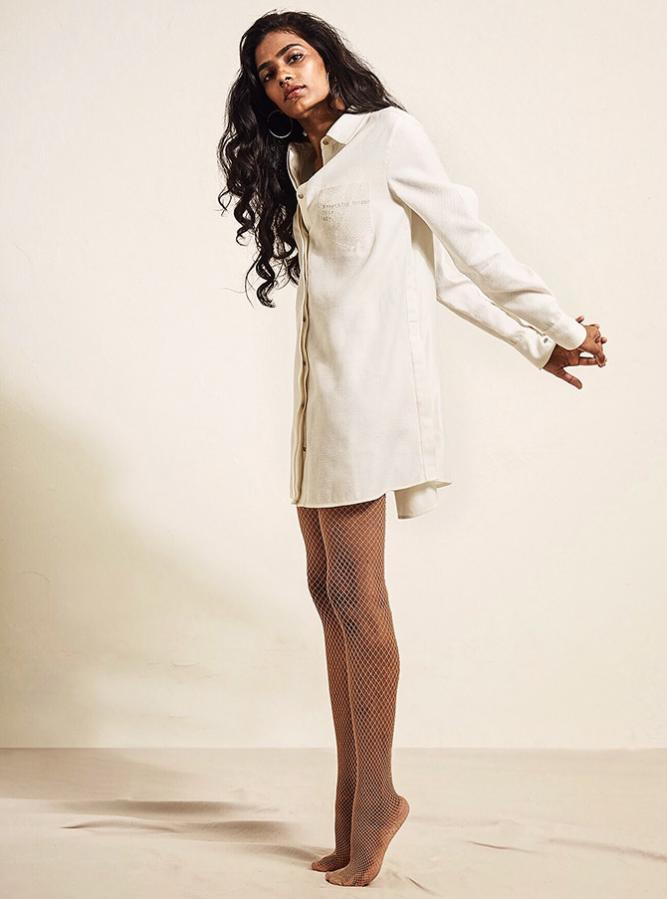 The Lakme Fashion Week experience
For a first-timer, it has been a really good experience.
I walked my first show from Abraham & Thakore on Day One.
On Day Two, I walked for RmKV.
I am shorter than the other girls. I am just 5'7".
I was chosen specifically by show director Neeraj Gaba, who stood by me for the entire show.
It was really nice.
Foray into modeling
I got into modeling professionally about a year ago.
Before that I did a few campaigns with a few contacts I had in Bengaluru.
I am a textile designer. In college I used to do a lot of shoots.
That's how a little bit of my portfolio got built.
I studied textile designing at NIFT and I am also a dancer.
I used to do a lot of theatre, but I stopped recently.
My mother is a textile engineer and my dad is into real estate.
I was always into the design field and I enjoy meeting a lot of new people.
Modeling helps me open my mind, when I meet new photographers, stylists and make up artists.
I am a Bengaluru girl and I shifted to Mumbai a couple of months ago.
Mumbai is different as a city and it is always happening.
The city kind of grounds you.
Fitting in
My height is not really a challenge, but if someone believes in you and stands by you, then it works really well.
You just have to own a look I suppose.
Designers prefer someone who is taller because the garments look really nice.
The height constraint is there, but I have learnt to work my way through it.
Best compliment you have received?
That I look like model Archana Akhil Kumar.
I am a huge fan of hers.
Her body image and the way she pull herself off, she owns any place she walks into. That's amazing.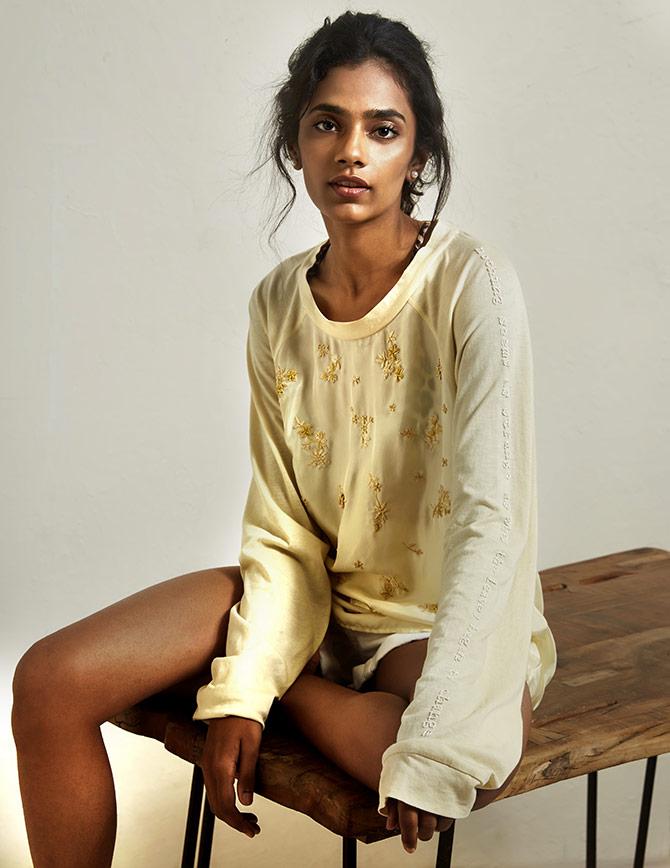 Is the industry opening up to dusky models?
Over the past two years there has been a huge change.
There are models like Archana and Nidhi Sunil who have created a benchmark.
They have introduced dusky skin into the industry and that has changed everything for models like me.
60 to 80 per cent of the models are obsessed with fair skin.
Even as a kid, I faced criticism for my dark skin.
I think the industry is slowly moving towards other skin types.
Now I think the society is more accepting of different skin colours.
The pressure to look good and how you deal with it
There is a long way to go and when you look at it (body or height), last year NIFT took up the project of standardising Indian sizes.
That it a huge step in changing the fashion industry.
We have been following European and US standards till now.
If we start looking at Indian bodies, we will move to a phase where we are more open to different body types.
That's really good because they are opening up a different aspect of the industry.
I think it is important to constantly remind yourself not to compare yourself with others.
Once you do that, that's when it starts mentally destabilising you.
Dealing with body shaming
Some people find me too tiny.
That's the worst criticism I have received.
I haven't had to deal with body shaming, but we are in the industry where our body matters.
So you have to be prepared for a lot of people to tell you to improve.
In the beginning it was very hard for me, because I am a studious nerd.
I have always been judged on my intellect and not on my body.
It can be very hard to deal with it, but you need to understand that people have invested money on the look and they expect returns.
You have to look at it from a business perspective and if I were to own a brand, I would expect the same from the one who is walking for me.
It takes a while, but you have to get into the zone where you feel comfortable in your own skin.
That takes time, but you get there.
You have to constantly keep telling yourself that you're good and keep working towards it.
What's your personal style?
My personal style is very chill and beach-inspired.
I dislike wearing anything that fits me perfectly.
I am a more relaxed person and love wearing loose clothes. I love boots.
Advice for models who hide their dark skin under their make up
I would say just embrace your skin type.
You are beautiful no matter what skin type, scars and freckles you have.
It is just your body, so accepted it the way it is.
If you're emulating someone else's personality that's very sad.
What next?
I am drawn to creativity so anything creative makes me happy, it doesn't matter how small or how big.