The Chinese smartphone company has unveiled not one, but three new variants as part of its Mate 30 series.
Ashish Narsale/Rediff.com tells us what's so exciting.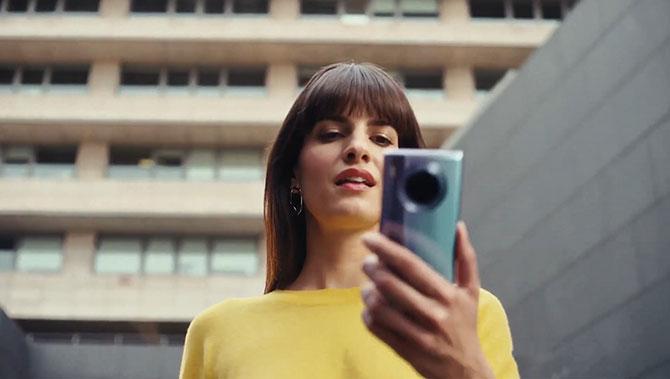 One of the world's largest smartphone makers, Huawei recently unveiled its Huawei Mate 30 series phones -- the Huawei Mate 30 Pro and the Mate 30 at an event in Munich, Germany on September 19, 2019.
The Huawei Mate 30 series phones come with all exciting hardware except for Google Mobile Services (GMS) due to trade dispute between the US and China.
Which means, it doesn't support popular Google applications and API like Google Play store, Search, YouTube, Chrome, Photos, Music, Play, Drive etc.
Instead Huawei has developed its own Huawei Mobile Services (HMS) on which they have spent approximately 1 million US dollars to give you as many as 45,000 apps which are integrated along with Huawei app store.
It would be interesting to see how these new features will add up to the smartphone's sales.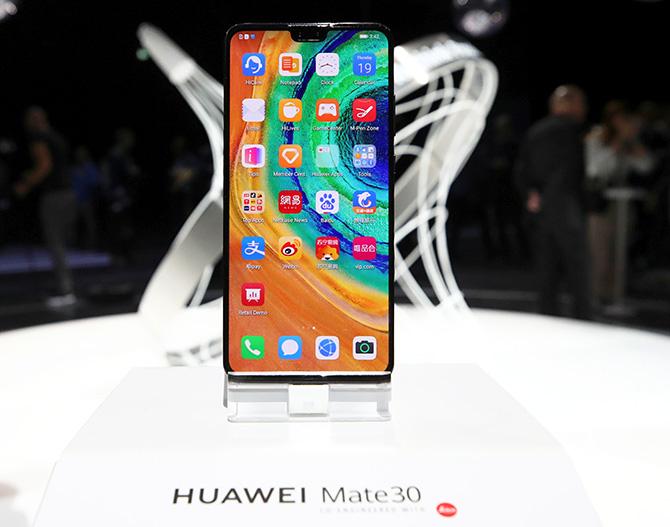 Hardware
Both the Mate 30 Pro and Mate 30 will be available in two variants -- 4G and 5G.
While the 4G models will be available in glass back design, the 5G models feature in glass and vegan leather back editions.
The glass back model comes in four colours -- cosmic purple, space silver, emerald green and black.
The leather back has two colours to choose from -- orange and forest green.
The Mate 30 Pro is IP68 certified which makes all its models, including the leather one, both water and dust resistant.
Both the 4G and 5G variants are powered by Huawei's home baked Kirin 990 octa-core processor but the 5G modem is integrated in the processor for the 5G variant.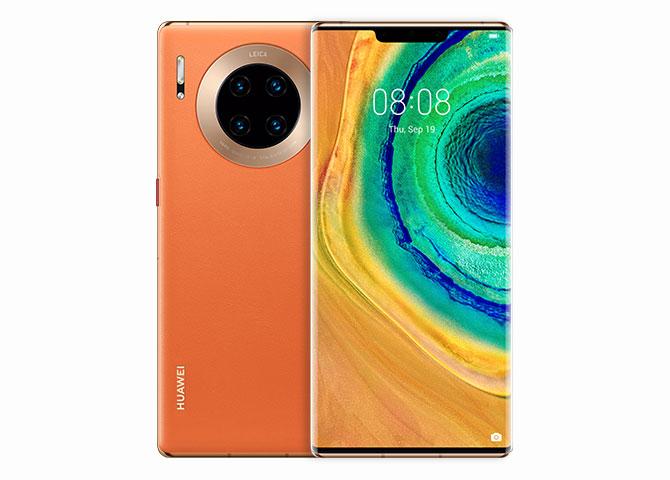 The Huawei Mate 30 Pro 4G/5G
Design
The Huawei Mate 30 Pro follows the new water fall design (Horizon, as Huawei calls it) for its display.
It has an FHD+ (2400 x 1176 pixels) resolution, 6.53" OLED curved display, with curvature of 88 degree on the left and right edges to give the impression of bezel-less design.
There is no option for volume control as the display is curved at the edges. Instead there is a virtual software button to adjust sound, which can be accessed from either sides of the phone.
An in-display fingerprint scanner is provided in the bottom area of the screen.
On the right edge of the phone is a manual power switch.
The glass back phone is 2.88" wide x 6.22" tall x 0.34" thick while the phone with leather back are 0.37" thicker.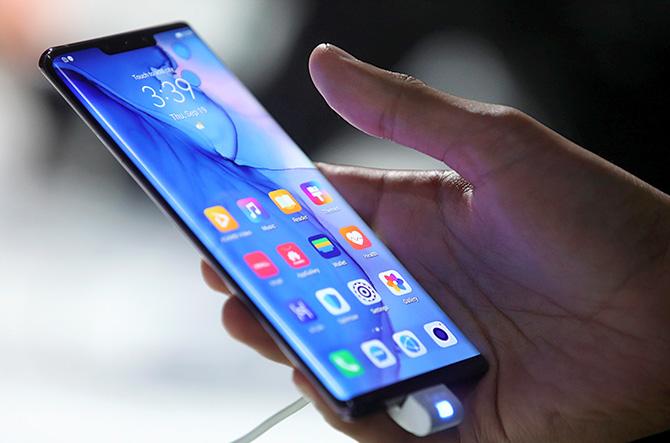 Camera
The camera can really be a deciding factor as it comes packed with the best features.
Like the Huawei P30 Pro, these cameras are also packed with features that can give head on competition to some of the mighty flagship phones like the Google Pixel 3, Samsung Galaxy Note 10 series, iPhone 11 Pro series or the just launched Vivo Nex 3
And if Huawei's claims are true, you will go crazy shooting night photos and videos.
The four cameras in the rear are placed in a ring shaped area resembling a camera lens.
Here's what they do:
1. 40 MP Cine camera
The camera set up includes two main cameras; the first 40 MP Cine camera comes with f/1.8 aperture.
It is dedicated for videos and sports a 1/1.54" sensor (biggest ever in a mobile camera), with adjustable light sensitivity that goes up to ISO 51200 for darker situations.
Besides slow motion videos, the camera can deliver up to whopping 7680 fps while its competitors are stuck at 960 fps.
2. 40 MP SuperSensing
The other main 40 MP SuperSensing camera that has a 1/1.7" sensor is dedicated for photography.
The 40 MP SuperSensing camera with f/1.6 aperture is equipped with optical image stabilisation (OIS -- it is used by the camera to overcome the shakes while shooting videos and photos. It's an advantage when shooting in low light.)
3. 8 MP telephoto
The third 8 MP telephoto camera comes with f/2.4 aperture.
You may miss the periscope optical zoom on the Huawei P30 Pro but the 8MP camera in the setup supports 3x Optical Zoom, 5x Hybrid Zoom5 and up to 30x Digital Zoom.
4. 3D depth sensing camera
The 3D depth sensing camera can be used to shoot pictures with a blurred background or bokeh effort.
The cameras also support autofocus, AIS (Huawei AI Image Stabilization) for photos and videos.
The notch in the front is for selfie lovers; the 32MP camera comes with aperture of f/2.0 and 3D depth sensing sensors for face unlock and for creating bokeh effects for selfies.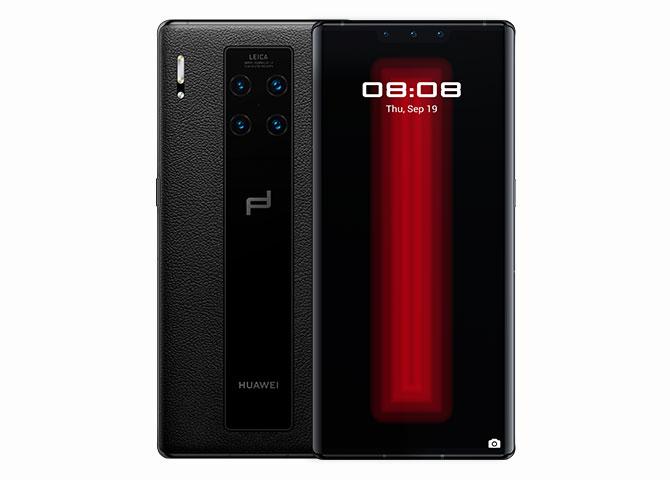 The phone has 8GB RAM as memory + 256 GB ROM for storage, plus it can be expanded using Huawei built Nano Memory SD card up to 256GB.
The Porsche design edition Huawei Mate 30 RS is beefed up with 12GB RAM as memory and 512 GB ROM for storage.
Its 4500mAh battery can be fast charged using 40W Huawei SuperCharge.
And the phone also supports reverse charging that will allow you to charge your wireless charging capable devices and accessories on the go.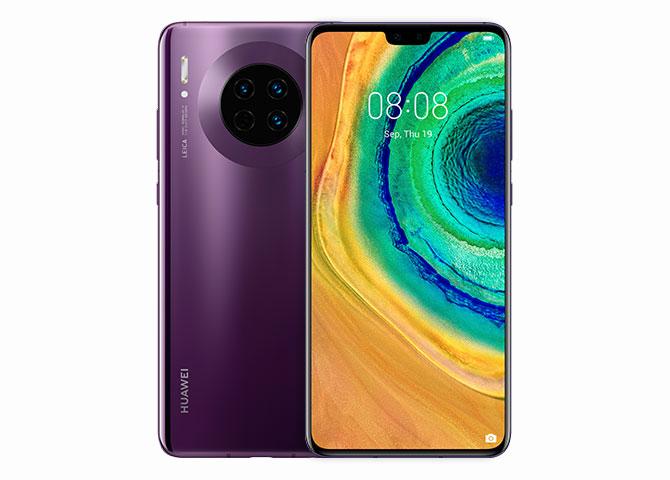 The Huawei Mate 30 4G/5G
The Huawei Mate 30 is the lite version of the Mate 30 Pro.
It almost follows the same design and hardware specifications except for the size, display, storage, battery and the camera.
The phone is 2.99" wide x 6.33" tall x 0.33" thick and which holds a flat 6.53" OLED display with resolution of FHD+ (2400 x 1176 pixels).
The camera setup in the rear is a 40 MP SuperSensing camera with f/1.8 aperture + 16 MP ultra wide camera with f/2.2 aperture equipped with OIS + 8MP telephoto camera with f/2.4 aperture.
It supports autofocus and AIS (HUAWEI AI Image Stabilization).
The front camera is 24MP with f/2.4 selfie shooter.
It offers 8GB RAM as memory along with 128 GB ROM for storage, which can be expanded up to 256GB using Huawei's built in Nano Memory SD card.
It also comes with 4200mAh battery and supports reverse charging.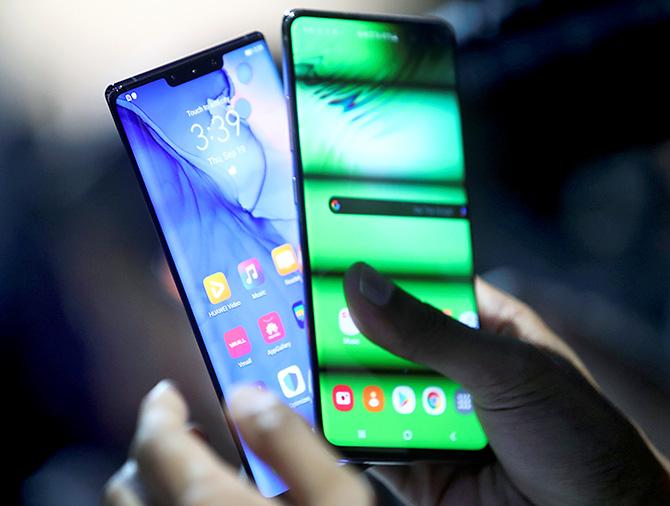 The pricing for all the models are as follows:
Verdict
The phone truly is a camera beast on paper but the lack of Google Mobile Services could be a setback that can influence buyers.