The lightweight smartwatch is aesthetically appealing and comes with a good battery life, says Ashish Narsale.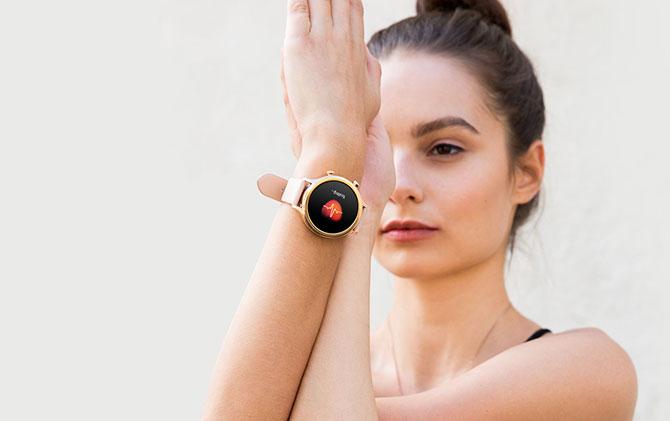 Beijing based Mobvoi recently announced its latest range of smartwatches to retail in India.
The popular ones being TicWatch C2, TicWatch Pro and TichWatch E2.
The TicWatch C2, priced at Rs 17,999 and currently available on Amazon, falls in between the Pro and the E2 with respect to price and specifications.
It comes in three colour options -- rose gold, onyx and platinum. We reviewed the onyx version.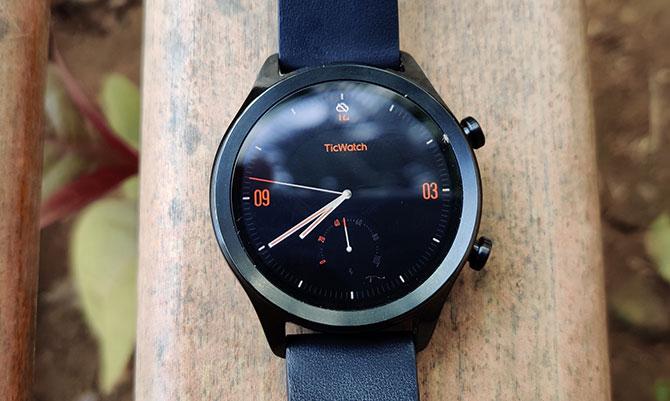 Design
The TicWatch C2 features an impressive design with a stainless steel front watchcase and a plastic back.
It has a circular dial with reasonable dimensions -- 42.8" width x 42.8" height x 12.7" thickness.
It's not too large or small and fits well on your wrist.
Most important -- it's so light weight -- only 52 gm -- you won't feel like you're wearing one.
It comes with IP68 certified for protection against dust and water, but I would not advise anyone to wear it while you're swimming.
The watch comes with plenty of features aimed at fitness freaks. But the leather strap may not interest adventure lovers; it gives C2 a more formal look.
The strap is strong and hard thus prone to wrinkles after prolonged usage.
Besides, sweat during the sports and fitness activities may reduce the life of the leather strap.
The solution -- you can replace it with any third party 20 mm wrist band.
If you notice carefully, there are two push buttons on the left of the watch. The first button gives access to the menu and also acts as a back button.
The second button is TicHealth where you'll find all of TicWatch's health features.
The heart rate sensors are placed on the back of the watch, which will enable you to track your heart rate.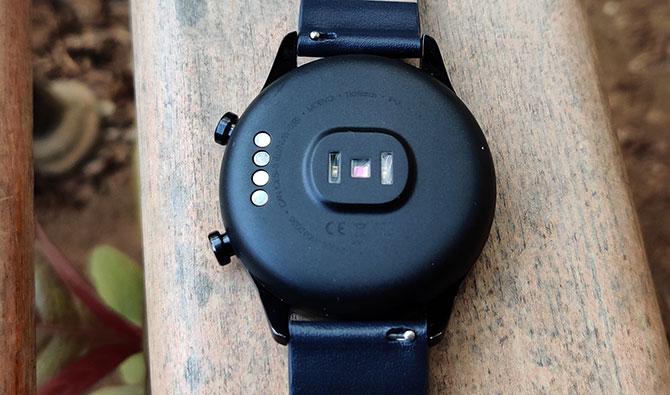 Display
The 1.3" AMOLED screen with 360 x 360 resolution is bright enough for its contents to be viewed clearly during the day.
The graphics are visually appealing especially with darker black and sharper colours.
The display brightness can be set up to 5 points.
The flip side -- something that may also annoy you -- is that when you access the settings, there is only a plus and minus sign, but no indicator to show the brightness level.
Hardware
The watch is powered by Qualcomm's Snapdragon Wear 2100 chipset, which is like two generations old. The latest Snapdragon Wear 3100 would have been more power efficient and smarter.
The quad core CPU is clocked at 1.2 GHz.
The graphics are supported by Adreno 304 GPU.
It comes with an inbuilt storage of 4GB ROM and 512 MB RAM.
If multiple tasks are assigned, the watch becomes sluggish and sometimes unresponsive too.
Also, when you click on any app, the screen will go blank -- there is no display. There is no indication that your app is loading in the background.
As far as connectivity is concerned, it supports Bluetooth v 4.1 and WiFi 802.11 b/g/n.
The watch has a built-in GPS for accurate positioning, when you're using it on the go.
Besides heart rate sensor, the watch also comes with accelerometer and gyroscope sensors.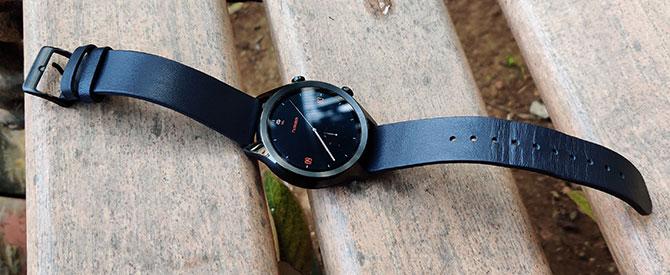 Other Features
The makers claim that it supports Google Pay through NFC.
Since C2 does not have a built-in speaker, the notification alert is issued through an inbuilt vibration motor. Mind you, the vibrations are quite strong.
Unlike some smartwatches that also help you dial and make phone calls, C2 only allows you to reject or receive calls.
If you like to listen to music on the go, you can pair a Bluetooth headset to the watch and use a streaming service like Spotify or Google Music.
You may not be satisfied with the quality of audio though.
Battery
TicWatch C2 comes with an inbuilt 400mAh battery; it goes from 0 to 100% in 65 to 70 minutes.
Once charged, it runs two days on normal usage, provided only WhatsApp and SMS notifications are turned on.
Verdict
Although the watch comes with a leather strap, it is nicely built and comfortable for you to wear all day.
The battery life is powerful enough for a smart watch, but you may be disappointed with its occasional sluggish performance.
When you are paying Rs 17,999, you'd expect better, sharper features and more value for your money.
At Rs 15,990, the Samsung Gear S3 which released two years ago, is still more relevant.