Along with the Huawei Mate 30 series, the smartphone company also launched three cool gadgets -- Watch GT 2, FreeBuds 3 and Huawei Vision.
Ashish Narsale/Rediff.com tells you what's exciting.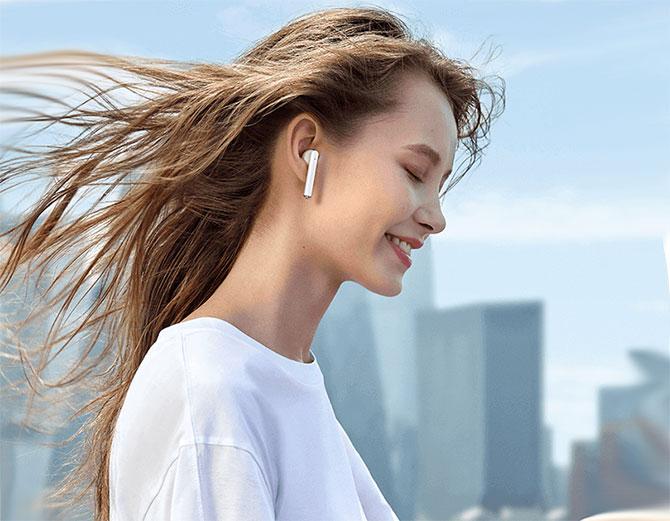 Watch GT 2
The next generation of Watch GT by Huawei comes with a new design and is packaged as Watch GT 2.
This smartwatch runs on home developed operating system LiteOS.
The LiteOS is developed to give fast performance at low power consumption. It also promises longer battery life when compared to other power hungry wearable OS like Wear OS by Google.
The watch is powered by Huawei's home baked processor Kirin A1 developed for better power efficiency and long range Bluetooth connectivity that approximately covers a distance of 150 m.
The watch is directed towards sports and fitness lovers who spend a lot of time outdoors and are looking for longer battery life.
You can call it a fitness smart watch as it is bundled with many sports and health related features -- it can track sleep, stress levels, monitor heart rate, keep track of daily activity like step count, calories burnt and many more.
The watch is water resistant up to 50 m; the heart rate monitor also works under water.
The watch comes in two sizes -- 46 mm and 42 mm.
The case is made up of plastic and metal.
The 46mm model has a 1.39" AMOLED display while the 42 mm sports a 1.2" display and supports Always-On Display. In AOD, the display is dim lit to be always on and show time and important information.
The watch comes with trendy removable bands.
The company claims that the 46mm watch battery can last for 2 week and the 42mm to last for 1 week on moderate usage, the 46mm watch has a bigger battery.
The built-in speaker allows you to listen songs. It comes with 2GB storage space.
The 46mm supports Bluetooth calling, so you can make and receive calls using the built-in speaker and microphone, when your phone is connected to the watch.
The watch is compatible with Google Android and Apple iOS phones via the companion app 'Huawei wear' which is downloadable from respective app store.
If you don't like the built-in model you ordered, you can download and customise different watch faces from the companion app.

Additional features like 'find my phone,' flashlight, barometer, compass, weather and alarm are also included in the watch.
The watch is priced at 249 euro (approx Rs 19, 400) and 229 euro (Rs 17,900) for 46 mm and 42 mm models respectively.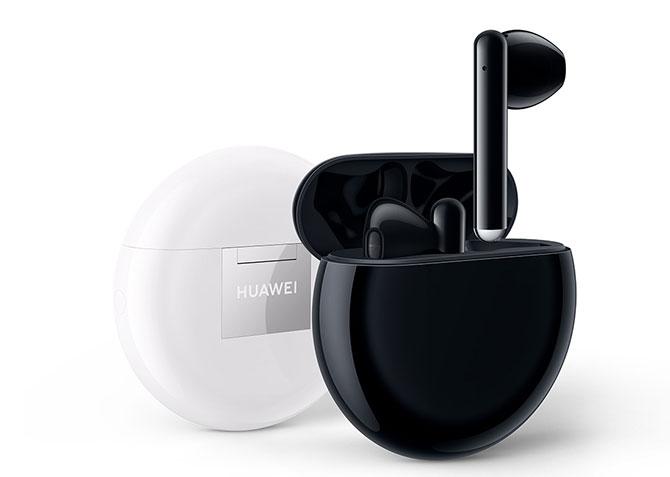 FreeBuds 3
On first look, you'll be reminded of Apple Airpods as the design looks similar.
These Bluetooth wireless ear buds have an open-fit design, which means the buds don't seal the ear canals.
Besides active noise cancellation, which cuts out all background noise, the advantage of open fit design is that it will cancel out ambient sounds like chewing or coughing noises you make while you are listening to music.
FreeBuds 3 is powered by the same Kirin A1 processor which powers the Watch GT 2 and can be fast charged using USB Type-C charger, a wireless charger or the Huawei smartphone's reverse charger.
They are priced at 179 euro (Rs 14,000 approx).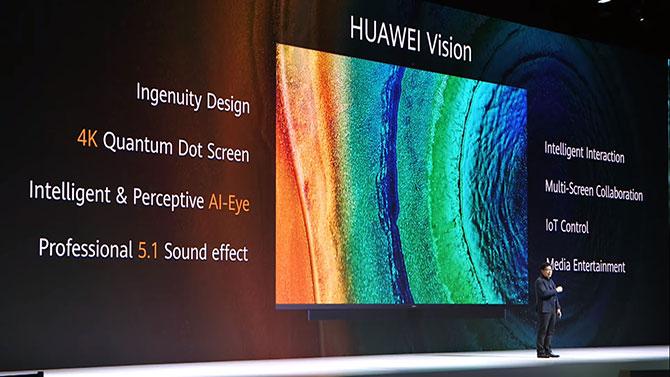 Huawei Vision
Huawei calls its smart television with AI capabilities 'a smart speaker with big screen' or rather a mobile phone with big display.
It offers 4K display with Quantum dot screen technology with refresh rate of 120Hz.
It follows voice command and delivers 5.1 sound output through its 8 built-in speakers, 1 subwoofer and 1 reflector.
It can also act as an IoT control centre for all Huawei smart devices in your home.
There is a pop camera powered with AI for face recognition and tracking other than video calling.
This camera can also recognise skeletal joint, pitch and body.
It supports easy screen cast from your mobile phone (mostly Huawei phones) to the TV display.
Huawei has also designed a touch remote control with inbuilt battery that can last upto 3 months on single charge.
As for the TV, you can choose from three screen sizes -- 55", 65" and 75".