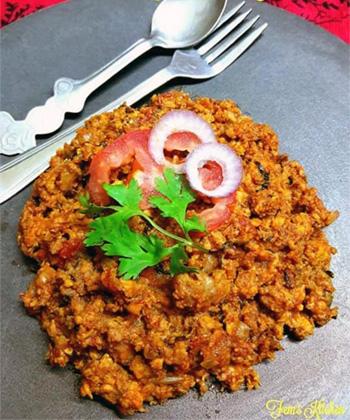 We'd asked you, dear readers, to share your family's Christmas recipes.
Chennai-based Genslin Vinodh shares two of her special recipes from her hometown Nagercoil, Tamil Nadu. You can share yours too.
Vegetable Stew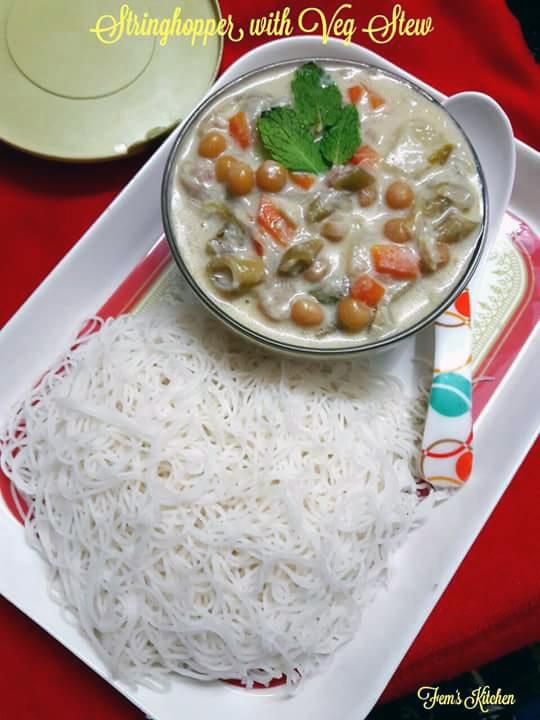 Vegetable Stew is a tasty, healthy recipe with the goodness of vegetables and coconut milk and it pairs up well with aapam and idiyappam (stringhopper).
This particular recipe has been a super hit at home, particularly the kids.
Here's the recipe:
Ingredients
4 onions
3 long green chillies
2 carrots
12 bean stalks
1/4 cup green peas
400 ml coconut milk
1 potato
A pinch of pepper powder
Salt to taste
Coriander leaves for garnishing
To grind
Portion 1
12 small pods of garlic
2 one inch ginger slices
Portion 2
12 cashews (whole)
2 tbsp warm milk
To temper
3 tbsp oil
5 cardamom
5 cloves
1/4 tsp fennel seeds
2 one inch cinnamon sticks
1 bay leaf
Method
Take a heavy bottomed pan, add oil and season the ingredients mentioned under 'to temper'.
Slice the onions and slit the green chillies. Add this to the pan and saute till the onions turn golden brown.
Add freshly ground ginger-garlic paste and saute till raw smell goes off and oil starts oozing out of it.
Add veggies and cook in low flame for five minutes.
Soak cashews in warm milk for 15 minutes. Transfer it to a blender and grind it to a soft paste.
Add cashew paste to the mixture and mix well. Cook for a minute.
Add coconut milk. Mix well and bring it to boil.
Sprinkle a generous pinch of pepper powder and coriander leaves and switch off the flame.
Serve hot with idiyappam (stringhopper) or aapam.
Note
Always use freshly ground ginger garlic paste and freshly extracted coconut milk. Store-bought ginger garlic paste and coconut milk will yield a different taste.
If you like your food spicy, add two extra green chillies.
Chicken Kheema Masala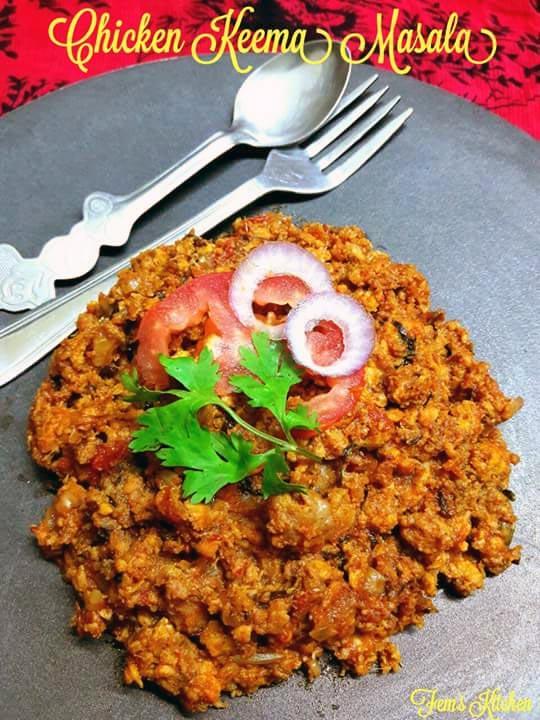 This Indian spiced minced meat recipe is the ultimate side dish for chicken lovers. On Christmas, you can have it for breakfast or dinner along with roti, dosa or rice.
Here's the recipe:

Ingredients
3 medium sized onions
1 large tomato to grind
1 small tomato sliced
3 one inch ginger slices
1 large garlic
Salt to taste
1/2 cup water
A generous pinch of pepper powder
A fistful of chopped coriander leaves
2 green chillies
Spices
1 tsp garam masala (heaped)
1 tsp Kashmiri chilli powder (heaped)
1 tsp chilli powder (heaped)
1 tsp coriander powder
1/2 tsp cumin powder
1/2 tsp fennel powder (heaped)
To grind
350 gm boneless chicken
1/2 tsp turmeric powder
5 curry leaves
1/2 tsp salt
To temper
2 tsbp oil
1 bay leaf
4 cardamom
4 cloves
1 one inch cinnamon stick
Serves: Four
Method
Pour oil in a pan and heat it.
Add the dry spices and saute till they begin to sizzle.
Add fine chopped onions and green chillies. Fry until the onions turn golden.
Grind ginger garlic together and add this paste and fry until the raw smell goes off.
Grind tomato to a fine paste and add this puree and cook till raw smell goes off and oil oozes out of it.
Add all the spice powders and saute well till raw smell goes off.
Grind all the ingredients mentioned under 'to grind' in a blender. Grind for 10 to 15 seconds.
Add minced meat (kheema).
Cover and cook on a low flame till kheema is soft cooked in its own moisture. If required, sprinkle some water.
Cook covered on a low flame for 10 minutes till keema and onion tomato mixture blends well.
Sprinkle some pepper powder and coriander leaves.
Slice a small tomato and add it to the kheema masala and cook it with a covered lid for another two minutes and switch off the flame. (This step is optional)
Serve hot with roti, dosa or any variety of rice.
Note
To make dry kheema curry, cook till all the water content evaporates.
To make a gravy version of it, pour coconut milk or water as required and cook till the curry thickens.
Don't overcook as there are chances for the kheema to turn rubbery.
Dear Readers, you can share your special Christmas recipes with us!
Tell us what's special for Christmas in your hometown, home state and how you celebrate with your loved ones.
Ask your mother, dad, husband, aunt, uncle, grandmother or maybe your food-loving neighbour to share those yummy, nostalgia-filled recipes.
Share your traditional Christmas recipe along with a small write-up on what the preparation means to you.
E-mail the recipes and a picture of the dish, if you have one, togetahead@rediff.co.in (subject: Christmas Recipes) with your NAME and HOMETOWN, and we'll feature the best ones right here on Rediff.com.