Gitanjali Gurbaxani tells you how to celebrate love with these yummy strawberry delights.
Strawberries, we all know is an instant aphrodisiac.
The juicy fruit is low on sugar and calories too.
Here are some recipes you can dish up for your love this year.
Chocolate Coated Strawberry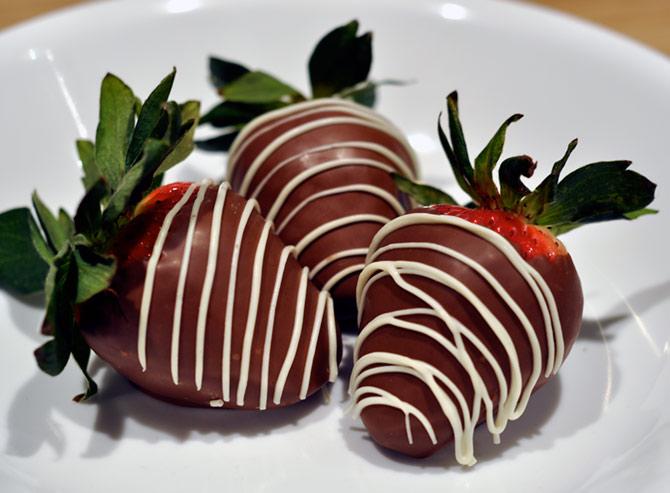 Serves 15
Ingredients
450 gm fresh strawberries
160 gm sugar free dark chocolate
70 gm white chocolate
1 tbsp pounded walnuts to garnish (optional)
Method
Wash and clean the strawberries and set aside.
Place the dark chocolate and the white chocolate in two individual bowls and set aside.
Heat a sauce pan with water.
When it comes to a boiling point, lower the flame and place the bowl of dark chocolate over it. It should take less than five minutes to melt, if the chocolate is kept at room temperature.
Stir until the texture is smooth.
Take it off the flame and place the bowl of white chocolate in the saucepan. This should take 2 to 3 minutes to melt.
Take it off the flame, stir it well and set aside.
Place a sheet of butter paper over a tray.
Use a wooden skewer or a fork to hold the strawberries one at a time, dip them in the dark chocolate and let the excess chocolate drip back in the bowl.
Place each chocolate coated strawberry on the butter paper, setting them well apart.
Dip a fork in the white chocolate and drizzle it over the dark chocolate coated strawberries.
Alternately one can place the dark chocolate coated strawberries in pounded walnuts instead of white chocolate.
Set aside for one hour and serve.
Strawberry Gateaux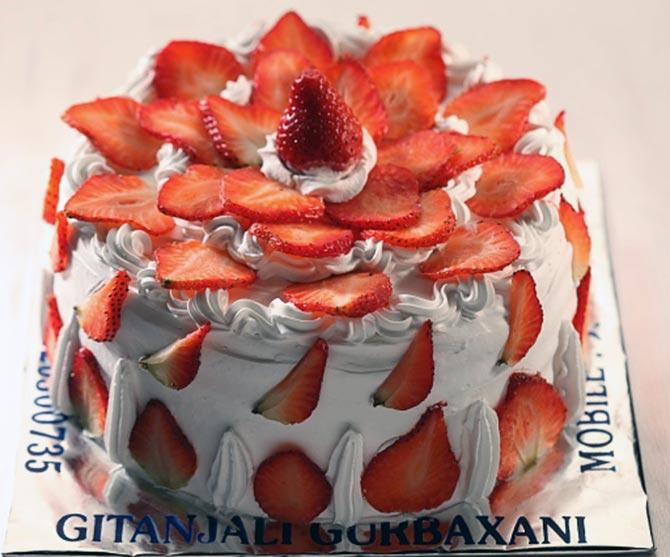 Serves 8
Ingredients
For cake
2 and 3/4 cup all purpose flour
1 cup strawberry puree
1 and 1/2 cup icing sugar
3/4 tsp baking powder
1/2 tsp Baking soda
70 gm butter
1/3 cup milk
3 tbsp cocoa powder
1 tsp vanilla essence
For icing
450 gm fresh strawberries
350 gm whipped cream
1 tsp vanilla essence
Method
Lightly grease a 7" round baking mould.
In a large bowl, sieve together the flour, icing sugar, baking powder, baking soda and cocoa powder.
In another bowl, pour in the milk, strawberry puree, vanilla essence and butter. Mix well.
Slowly add in the sifted flour mixture into the strawberry mixture and keep whipping the batter using an electric hand mixer. Continue doing this till all the flour is blended well with the strawberry mixture and a smooth batter is formed.
Pour this batter into the well greased cake tin. Tap it down to let all the air out.
Preheat the oven at 180 degree.
Place this cake in the oven and bake for 30 minutes or till a knife inserted in the centre comes out clean. Let it cool completely.
For icing
Place the cake on a cake board or on a flat plate.
Using a bread knife, run the knife thru the cake at 1 cm and slice it once.
Repeat slicing it again at 1 cm again.
Place one fourth of the whipped cream on layer one and spread it around evenly with a knife. Place the second layer over it.
Place one fourth of the cream over it and spread it around evenly using a knife.
Place thin slices of strawberry over it evenly.
Place the last layer of the cake over it. Reserve 5 tbsp of it and use the rest and spread it over the cake and on the sides till it is evenly covered with cream.
Place a layer of strawberries in a circle form on the edge of the cake, then pipe out some cream over the strawberries and place a second layer of strawberries over it.
Repeat this once again, before placing the full strawberry in the centre.
It comes out like a perfect flower and is a perfect Valentine treat.
Serve cold or at room temperature.
Fresh Strawberry and Cream Cheese Tart
Serves 6
Ingredients
For the crust pie
1 and 3/4 cup multigrain cookies, powdered
3/4 tbsp sugar
6 tbsp melted butter
A pinch of salt
For the filling
125 gm processed cheese, grated
75 ml fresh cream
1/3 cup powdered sugar
Zest of ½ lemon
1 tsp vanilla essence
50 ml milk
15 to 20 strawberries, halved
2 tsp agar agar (a type of gelatin)
1 and 1/2 tbsp water for agar agar
Method
Lightly grease the 8" tart case.
Preheat the oven at 180 degree C.
In a large bowl, add in the cookie crumbs, melted butter, sugar and salt. Mix well.
Sprinkle this mixture evenly in the tart case and press evenly and firmly on the sides as well as the base of the tart.
Place in the oven and bake for 10 to 12 minutes till the crust takes on a darker hue. Cool completely.
For the filling
Place the grated cheese and milk in a blender and blend well.
Transfer this cream cheese into a large bowl.
Whip the cream and add it to the cream cheese along with the sugar, zest of lemon and vanilla essence. Gently fold it in with a spatula.
Place the agar agar and water in a small bowl and place it over a double broiler till it has melted.
Slowly and gradually pour this in to the cream cheese mixture and blend well. Refrigerate till the mixture has half set.
Beat it down with a whisker and gently pour it into the cookie crumb crust pie case.
Spread it out evenly.
Refrigerate for 3 to 4 hours till the cream cheese filling has set.
Arrange the strawberry slices over it as desired.
Serve cold.
Frozen Strawberry Yogurt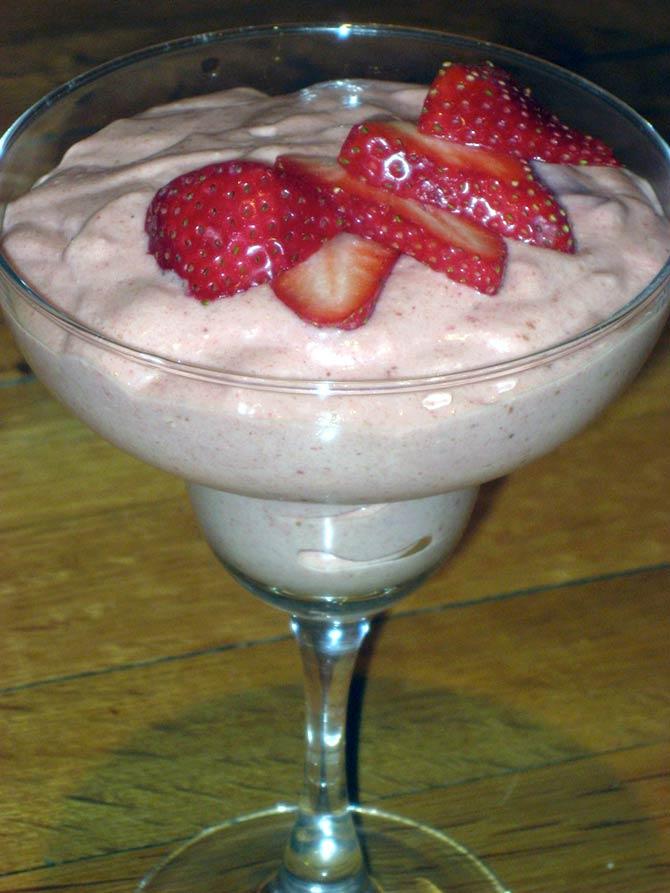 Serves 6
Ingredients
200 gm fresh strawberries, diced
1/2 cup sugar
400 gm low fat curd
2 tbsp sugar free strawberry jam
15 to 20 fresh mint leaves
Method
Blend the strawberries, jam and sugar to make a puree.
Add to it the skim yogurt, mint leaves and blend well.
Place the contents in an air tight freezing tray and freeze for an hour.
Defrost, beat once again and refreeze for one hour.
Scoop out and serve in individual goblets.
To get a better texture, place the contents in an ice cream maker. Put the lid on and pour the strawberry yogurt mixture in with the motor running.
Let the yogurt freeze with the blade running for 25 to 30 minutes.
ALSO SEE
Special recipes to impress your love!
Love recipes: Chocolate Golgappas and Wine Rice
Recipes: Choco Souffle, Strawberry Lassi Ice Cream
Recipes: Candy Crush and Strawberry Basil Mocktail
You can send us your favourite recipes too.
Write in to us at getahead@rediff.co.in (subject: V-Day recipes) with your name, hometown and any interesting details about the origin of the recipe, along with a photograph if possible.
We'll publish the best preparations right here on Rediff.com and in India Abroad.