Celebrity chef Saransh Goila tells you how to treat your sweetheart to delicious dishes. You can share yours too!
ALSO SEE: V-Day special recipes to impress your love!
This Valentine's Day, drop the idea of eating out.
Make your day special with your partner over an intimate meal at home.
Here are two recipes for you to try:
Fenugreek and Wine Rice
Ingredients
For rice
1 cup rice (basmati)
1 tbsp olive oil
1 tbsp butter
1 tsp cumin seeds
4 fresh tomatoes (puree)
2 tbsp dry white wine (preferably Chenin Blanc)
2 tbsp dry roasted kasoori methi (fenugreek leaves)
1 1/2 tsp chilli powder
2 tsp coriander powder
1 tsp garam masala
1 tsp roasted cumin powder
Salt to taste
For the accompanying sauce
1 tbsp olive oil
1 1/2 tbsp butter
1 onion finely chopped
4 cloves of garlic
1/2 cup dry white wine (preferably Chenin Blanc)
10 button mushrooms
50 gms corn kernels
6 to 8 cherry tomatoes
2 tsp chilli flakes
1 tsp oregano
5 to 6 fresh basil leaves (torn)
1 tsp freshly cracked pepper
1 green chilli chopped
1 and 1/2 cups of water
Salt to taste
Method
For rice
Soak the rice in water for 20 minutes in a bowl.
Heat a pan. Add olive oil and butter.
Add cumin seeds and let it crackle.
Add soaked rice (pre-soaked in water for 20 mins prior to the cook) and stir for two minutes.
Add some white wine and put it on high flame for five minutes.
When the quantity of the wine reduces, add tomato puree, red chilli powder, turmeric, garam masala, cumin powder, kasoori methi and salt.
Cook for two more minutes and bring to a boil.
Add water and put it on low flame for 20 minutes.
Once the water is absorbed, keep the cooked rice aside and cover it with a lid.
Remove the lid after half an hour of resting it.
For the accompanying sauce
Heat a pan, add olive oil and butter.
Add garlic and onion. Cook till the onion is translucent.
Pour in the wine. Cook it for 3 to 4 minutes until the quantity of the wine reduces.
Add mushrooms and corn. Put the gas on high flame and keep mixing it for three minutes.
Add cherry tomatoes, green chilli, oregano, chilli flakes, salt and torn basil.
Cook for two more minutes.
To assemble
Garnish the sauce with freshly cracked pepper and serve it with the rice.
---
Strawberry and Chocolate Golgappas
Ingredients
For chocolate golgappas
4 hard shell golgappas
200 gm dark chocolate (cut into chunks)
1/2 cup shredded coconut
1/2 cup colorful sprinkles
4 satay sticks
4 strawberries
1 parchment paper
For salted candied peanuts
1/2 cup peanuts
3 tbsp granulated sugar
1 tbsp water
1 tsp vanilla extract
Sea salt
1 cookie sheet
1 parchment paper
For vanilla milk
1 cup of milk (preferably whole, very cold)
1/2 vanilla bean or pod
1/4 tsp vanilla extract
2 scoops vanilla ice cream
Method
For chocolate golgappas
Crack open the golgappa from the top with little pressure. Make sure that the crater is not too big and is cracked evenly.
Push a satay stick into each golgappa (from the back side or the hard side). Keep aside.
Place the toppings -- shredded coconut and sprinkles -- in individual bowls.
Heat the chocolate in a double boiler or in the microwave until it fully melts.
Remove it from the gas and stir. It should be completely melted and warm (not hot).
Hold the golgappa on top of the melted chocolate bowl.
Pour the chocolate on it with a spoon. Allow the extra chocolate to drip back into the bowl.
Using your hands or a spoon, sprinkle the toppings onto the freshly dipped golgappa.
Place the golgappas on a greased parchment paper cracked side down.
Remove the satay stick and cover the hole with a little melted chocolate.
Repeat the same process for the other golgappas.
Place them together in the refrigerator until the chocolate is set. This process will take around 15 minutes.
Slice the strawberry head neatly. Chop them into small squares.
Keep them aside in a bowl for garnish.
Please note: While adding the toppings, hold golgappas horizontally and close to the core. It will be easy to slowly spin them while spooning on the toppings.
For salted candied peanuts
Heat a large heavy bottomed pan and add peanuts, granulated sugar and water. Put it on medium flame and bring it to boil.
Keep stirring continuously until the water evaporates and the sugar syrup seizes and crystallizes.
Continue stirring and the crystallized sugar will start to melt and caramelize.
Stir this to coat the peanuts until all the sugar has caramelized and no more granulated sugar remains.
Remove from heat and immediately stir in vanilla extract.
Take a cookie sheet lined with parchment paper and place the cooked peanuts from the pan on it.
Sprinkle sea salt and let it cool completely.
Once it has cooled down, break the nuts into individual pieces.
For vanilla milk
Pour the milk into a blender.
Using just the tip of a sharp paring knife, slice the vanilla bean open lengthwise.
Scrape the seeds into the milk by running the back, or dull side, of the knife along the length of the vanilla bean.
Add vanilla extract, followed by ice cream.
Blend and then refrigerate.
To assemble
Add a layer of candied peanuts into shot glasses.
Top it with a layer of chopped strawberries.
Place the chocolate golgappas on top of this shot glass.
Serve golgappas with a small shot of vanilla milk.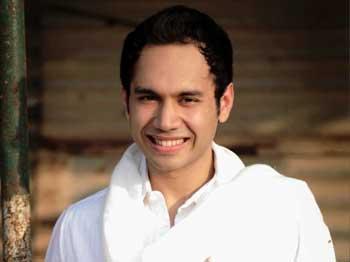 Saransh Goila is India's youngest celebrity chef who won 'Food Food Maha Challenge', a cookery competition hosted on television by Chef Sanjeev Kapoor and actress Madhuri Dixit. He specialises in contemporary Indian food.
Photographs: Kind Courtesy Saransh Goila
ALSO SEE: V-Day special recipes to impress your love!
You can send us your favourite recipes too.
Write in to us at getahead@rediff.co.in (subject: V-Day recipes) with your name, hometown and any interesting details about the origin of the recipe, along with a photograph if possible.
We'll publish the best preparations right here on Rediff.com and in India Abroad.