Kolkata-based chef Shaun Kenworthy tells us how to put together an irresistible creamy dessert for your loved one.
ALSO SEE: V-Day special recipes to impress your love!
Love recipes: Chocolate Golgappas and Wine Rice
Make this V-day perfect by surprising your love with a homemade trifle with a desi twist.
According to Chef Shaun Kenworthy, "It's just a matter of layering ingredients together and very little cooking. It's perfect for young lovers on Valentine's day who have never cooked before."
Strawberries, according to Shaun have always been associated with love and St Valentine's day.
He says Mishti Doi and Ras Malai make for the perfect Valentine's Day dessert.
Presenting an exotic recipe blending the two:
A Trifle Indian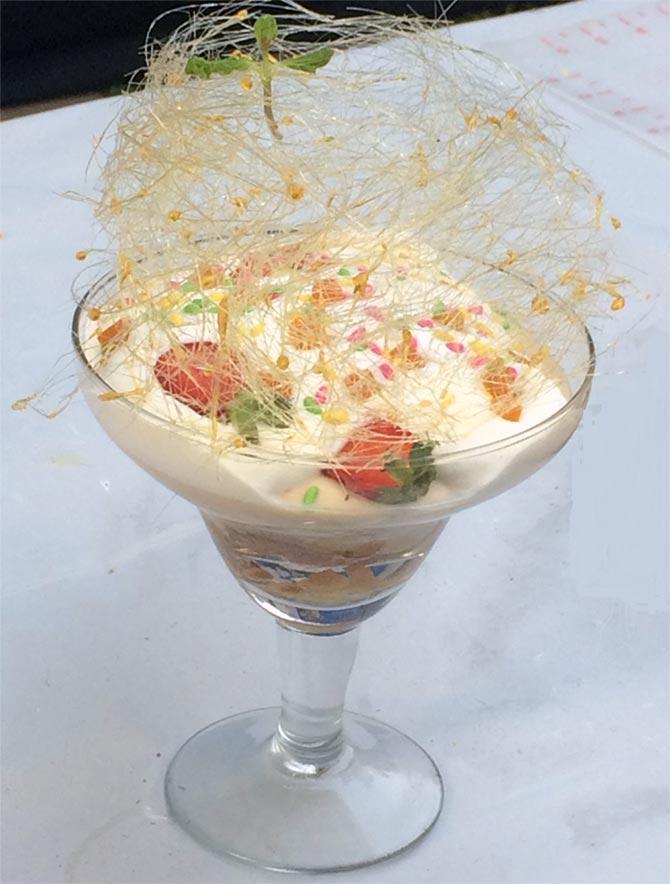 Ingredients
For trifle
200 gm ginger biscuits
2 large oranges (segmented)
12 to 15 strawberries (cut in halves)
500 gm of mishti doi (sweet curd)
4 pieces of ras malai
200 gm whipped cream
Finely diced aam papad
Multi coloured saunf
For spun sugar decoration (optional)
2 cups granulated sugar
1/2 cup water
Method
For spun sugar
Heat a pan, add sugar and water, stirring well till sugar melts. Boil till it gets caramelized.
Hold a wooden spoon and spin the sugar on the spoon vertically.
Set it aside to cool and thicken slightly.
Dip a fork in the syrup to make thin sugar threads on a pan.
Make desired shape of the strands to decorate the trifle.
For trifle
Crumble some biscuits into a glass or a base of your serving bowl.
Scatter some orange segments and strawberries on it. Keep the rest for garnishing.
Add a layer of whipped mishti doi.
Place the ras malai on it and add another layer of mishti doi.
Top off with a layer of whipped cream.
Scatter the remaining orange segments and strawberries.
Sprinkle with aam papad and multi coloured saunf.
Decorate with sugar spun.
UK-born Shaun Kenworthy is a celebrity chef Judge at Young Chef Olympiad 2016 and Chef & Culinary Director at International Institute of Hotel Management (IIHM), Kolkata.
Photographs: Kind Courtesy IIHM Team
ALSO SEE: V-Day special recipes to impress your love!
Love recipes: Chocolate Golgappas and Wine Rice
You can send us your favourite recipes too.
Write in to us at getahead@rediff.co.in (subject: V-Day recipes) with your name, hometown and any interesting details about the origin of the recipe, along with a photograph if possible.
We'll publish the best preparations right here on Rediff.com and in India Abroad.