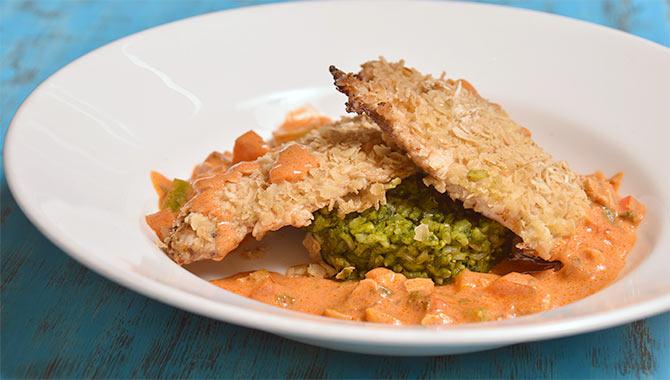 Add some delicious romance to your Valentine's Day!
Celebrity chef Rakhee Vaswani tells you how to celebrate love with an exotic meal at home.
Nothing feels better than preparing a sumptuous meal for your significant other on Valentine's day.
"Everyone should use this Valentine's day to show off your presentation and cooking skills to your loved one. A set of candles and a gorgeous bottle of wine will make it classic. So, keep it simple, healthy and tasty," celebrity chef and author of Picky Eaters and Other Meal-Time Battles Rakhee Vaswani said.
So are you ready to cook up a lip-smacking meal?
Cheese and Broccoli Tikki with Spaghetti in Garlic Sauce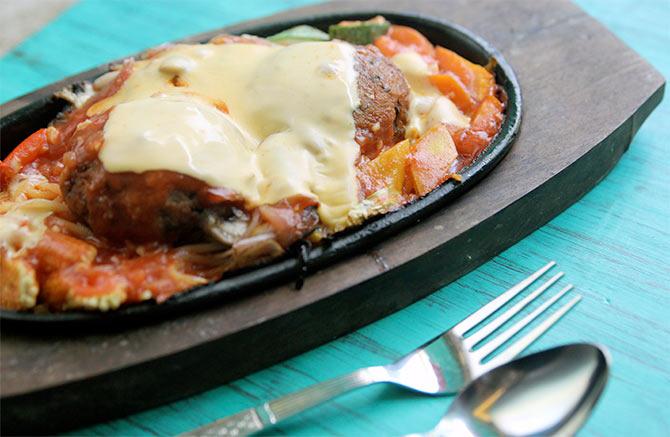 Ingredients
For broccoli tikki
2 tsp olive oil
1/4 cup of onions (finely chopped)
1 tsp ginger garlic paste
1tsp green chillies (finely chopped)
1/2 tsp blanched broccoli (finely chopped)
1/2 cup of potatoes (boiled and grated)
2 tbsp grated mozzarella cheese
1/4 cup of wholewheat breadcrumbs (for coating)
Salt to taste
For garlic sauce
2 tbsp garlic (minced)
1/2 cup of tomato (puree)
1 blanched carrot (puree)
2 to 3 tbsp tomato ketchup
3/4 cup vegetable stock
1 tsp cornflour paste
1 tbsp oil
White pepper powder
Salt to taste
Method
For broccoli tikki
Heat oil in a nonstick pan.
Add onions, ginger garlic paste and green chillies. Saute for 2 minutes while stirring continuously.
Add broccoli and salt. Saute on a low flame for another 5 to 7 minutes or till the broccoli is almost cooked. Remove from flame.
Add potatoes and cheese and mix well. Keep it aside to cool.
Divide the mixture into 4 equal portions. Shape each portion into flat tikkis.
Roll each tikki in the breadcrumbs and keep aside.
Heat a nonstick pan and cook each tikki using minimum oil till it turns golden brown on both sides.
For garlic sauce
Mix tomato puree and carrot puree and keep aside.
Heat oil and add minced garlic. Fry for a few seconds.
Add tomato and carrot puree mix. Cook for 5 minutes.
Add salt and white pepper powder along with tomato ketchup and stock.
Add cornflour paste.
Cook for a minute and it's ready to use.
To assemble
Ingredients
Broccoli tikki
1 cup of spaghetti (boiled)
2 to 3 leaves of cabbage
1 cup of grated cheese or cheese slices
1 cup of garlic sauce
1/2 cup of veggies (blanched carrot, baby corn, spinach, sauteed mushroom, onions)
1/2 cup of french fries
Method
Heat pan and place cabbage leaves.
Place spaghetti in the centre, top it with tikkis.
Place veggies around the spaghetti.
Pour the garlic sauce over the top.
Place the cheese slice over the cutlet and let it sizzle and gratinate.
Serve.
---
Grilled Chicken with Paprika Sauce and Brown Rice Pilaf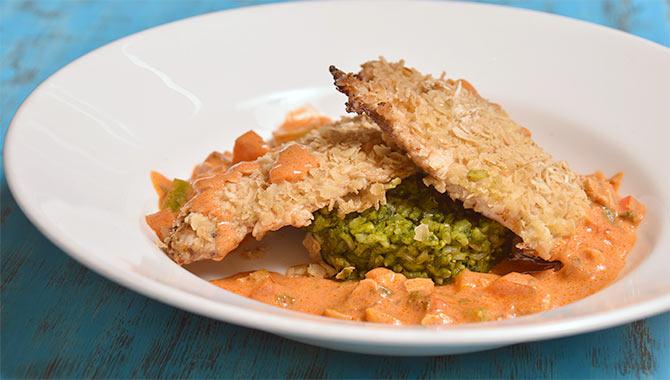 Ingredients
For grilled chicken
250 gm chicken leg (boneless)
1 tbsp olive oil
1 tsp mixed herbs
1 tsp garlic paste
2 tsp oats
Few drops of balsamic vinegar
Pepper powder
Salt to taste
For paprika sauce
1 onion (chopped)
1 cup of tomato puree
5 tsp chilli Flakes
4 tbsp butter
75 ml fresh cream
1 tbsp tomato paste
4 to 6 mushroom
1 cup vegetable stock
1 tbsp parsley (chopped)
2 tbsp flour
30 ml red wine (optional)
Pepper
Salt to taste
For spinach brown rice pilaf
1 cup of boiled brown rice
2 tbsp spinach puree
1 tbsp garlic (minced)
2 tbsp olive oil
Pepper
Salt to taste
Method
For grilled chicken
Marinate the chicken with the ingredients mentioned above for 20 minutes except oats.
Coat the pieces of chicken with oats.
Saute or grill the chicken in a pan till done. When it gets a nice glaze, keep aside.
For paprika sauce
Heat a pan, add some butter and saute the mushrooms. Keep aside.
Put oil or butter and fry onions. Sprinkle some chilli flakes and add flour. Cook well.
Add tomato puree and season with salt and pepper.
Add wine (optional), some vegetable stock and cook for a few minutes.
Add mushrooms, fresh cream and parsley.
For spinach brown rice pilaf
Saute garlic in olive oil and add spinach puree.
Add rice and season with salt and pepper.
To assemble
Place the spinach brown rice pilaf in a ring mould and pack it tightly with the help of a spoon.
Demould and make sure that the rice comes out in a uniform mound. Place it on a plate.
Spoon the paprika sauce around the rice.
Place the grilled chicken and serve.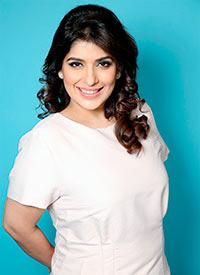 Homemaker turned celebrity chef Rakhee Vaswani is a first-generation entrepreneur and started Palate Culinary Studio a first-of-its-kind learning institute set in Santa Cruz in Mumbai, that was inaugurated by one of her students Malaika Arora Khan.
Photographs: Kind Courtesy Rakhee Vaswani
You can send us your favourite recipes too.
Write in to us at getahead@rediff.co.in (subject: V-Day recipes) with your name, hometown and any interesting details about the origin of the recipe, along with a photograph if possible.
We'll publish the best preparations right here on Rediff.com and in India Abroad.
ALSO SEE
#PehlaPyaar: My first Valentine's Day
V-Day fun! Sweat it out with your partner
What's your Valentine's Day wish for India?
10 things we did as kids during Valentine's Day