Here are some festive recipes to delight your loved ones this Makar Sankranti.
Chef Pankaj Bhadouria, who hosts the Kifayati Kitchen show on Zee Khana Khazana tells us how to make Til Ke Laddoo and Badaam Chikki.
Til ke Laddoo
Ingredients
1 cup sesame seeds
1 cup jaggery
1 tbsp ghee
1/2 tsp cardamom and sugar powder
Method
Roast sesame seeds in a pan.
Remove the seeds into a bowl and keep it aside to cool.
Take jaggery and some water in a pan and bring to a boil. Make the syrup a little thick.
Add roasted sesame seeds to this.
Add cardamom and sugar powder. Keep aside to cool.
Make laddoos out of the mixture and serve.
---
Badaam Chikki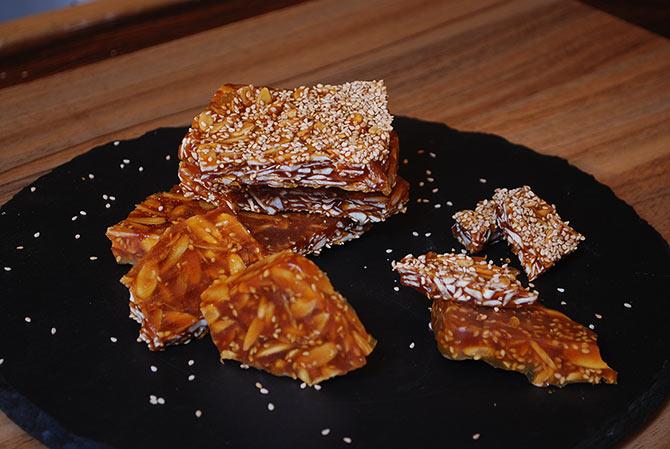 Serving size: Serves 3-4
Equipment needed: Pan
Preparation time: 40 to 45 minutes
Cooking time: 10 to 15 minutes
Ingredients
1 cup sugar
1 tbsp butter
A pinch salt
3/4 cup blanched and sliced almonds
2 tbsp white sesame seeds
Oil as required
Method
Make caramel in a pan by heating sugar and butter together.
Add salt, almonds and oil in the pan.
Empty the prepared mixture in a mould to set.
Pour oil on it and allow it to set for 30 to 40 minutes.
Garnish the prepared chikki with sesame seeds.
Your Badaam ki Chikki is ready.
---
Chef Ranveer Brar, who hosts the Breakfast Express show on Zee Khana Khazana shares this sweet samosa recipe.
Anjeer Besan Sheera Samosa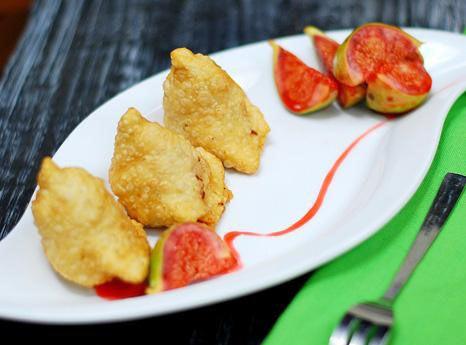 Ingredients
For the samosa dough
2 tbsp ghee
1 cup flour
A pinch of fennel seeds
For the filling
2 tbsp ghee
1 cup gram flour
7 to 8 dry fig
1 cup milk
3 tbsp sugar
For the samosa
Oil frying
Garnish
Strawberry syrup
Fresh figs
Method
To make samosa dough
In a bowl add ghee, flour, water and roasted fennel powder and knead it. Keep aside for 10 minutes.
Make balls out of the dough and roll into pooris, give it a triangular shape.
To make besan sheera
Heat a pan and add ghee, gram flour and roast it.
Finely chop dried figs and add to the pan.
Add milk and sugar and mix well.
Refrigerate the sheera for 10 minutes.
Take the pooris and fill it with the besan sheera and seal the sides.
Deep fry the pooris till they turn golden brown.
To make salad
Cut fresh figs and place it in a bowl, add strawberry syrup and mix well.
To plate/serve
Drizzle strawberry, place the fig and Anjeer Besan Sheera Samosa. Serve hot.
Photographs: Courtesy Zee Khana Khazana
ALSO SEE
Want to share your favourite recipe? Simply e-mail your recipes to getahead@rediff.co.in (subject line: My Fav Recipe) with your name, hometown and any interesting details about the origin of the recipe, along with a photograph of the recipe, if possible. We'll publish the best preparations right here on Rediff.com and India Abroad.