We bring you three delicious recipes to add some cheer to a dull, boring rainy day.
Gobindbhog Khichuri
Recipe by Chef Ananya Banerjee
Ingredients:
1 cup Gobindobhog rice
1 cup dry roasted moong dal
1 cup mixed vegetables
Bay leaves
3-4 cardamom
Cinnamon
2 tbs grated coconut
2 tsp cumin seeds
1 tbs turmeric powder
1 tbs chilli powder
1 dried chilli
1 tsp ginger paste
1 tsp sugar
2 tsp ghee
4 green chillies
2 tbs mustard oil
Salt to taste
Method:
Soak rice and dry roasted dal in water separately.
Heat mustard oil in a pan. Once the oil gets hot, add bay leaves, cardamom, cinnamon and cumin seeds. Throw in the dried red chillies and grated coconut. Add green chillies and fry. Add roasted dal and cut vegetables.
Add turmeric powder, ginger paste, chilli powder and mix. Once mixed well, you can add rice, water and let the mixture boil until the vegetables and the dal are cooked well. Tip: Make sure the amount of water should be three times the amount of rice and dal.
After the preparation is done, finish it off with the ghee and some garam masala for aroma. Add salt and sugar. Tip: Add sugar in the end when you boil it.)
Serve hot with a generous helping of desi ghee.
---
Cheese Corn Golgappa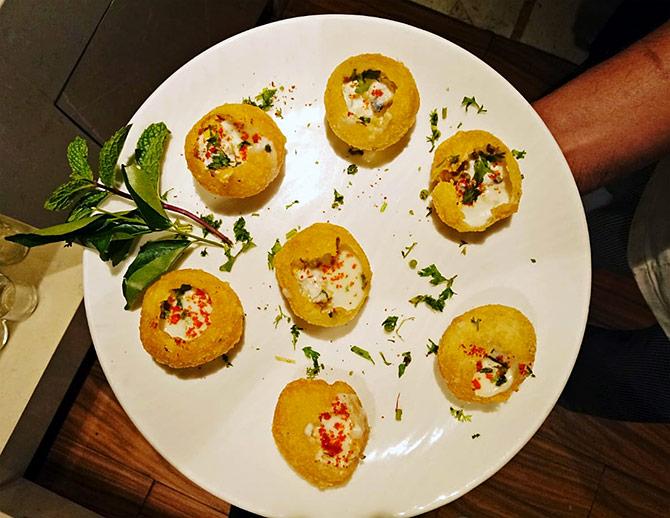 Recipe by The Shalimar Hotel's Gulmurg Restaurant
Ingredients:
10 gm American corn
10 gm sprouts
1 boiled potato, medium size
10 gm coriander
Chaat masala to taste
Salt to taste
20 gm grated cheese
20 gm fresh cream
Turmeric powder (a pinch)
Method:
Make a mixture of all the above ingredients in a bowl. This mixture is to be put inside the puris.
Garnish with sev and chopped coriander leaves, and serve.
---
Kale Chane Ke Pakode
Recipe by Chef Pallavi Nigam
Ingredients
For the batter:
1 cup besan or gram flour
2/3 cup water or as required
2 tsp mustard oil
1 tsp ginger-garlic paste
1 green chilli, finely chopped
2 tsp fresh coriander, finely chopped
1 tsp cumin seeds
1 tsp garam masala powder
1 tsp turmeric powder
1 tsp red chili powder
Salt as per taste
For the fritter:
1 cup black gram
1 small onion, chopped
Method:
Soak black gram for 4-5 hours. Pressure cook it with a pinch of salt, for one or two whistles. Drain the water completely with the help of a colander. Let it cool for 15- 20 minutes.
For the besan batter:
In a big bowl add besan and salt. Keep adding little water and whisk, to make a batter of medium or coating consistency.
To temper the batter, heat mustard oil in a pan. Add cumin seeds, ginger garlic paste, green chilli, turmeric powder, red chili powder, garam masala and saute everything for 1-2 minutes. Add this mixture to the besan batter. Mix well. Check the seasoning. The batter is ready.
Add the cooled kala chana to the besan batter, along with chopped onions, and mix well.
Heat oil in deep frying pan. With the help of two spoons or using your fingers, add the batter in small quantities to the oil. Fry till golden brown. Take out the pakodas, place them on a tissue paper and sprinkle some chaat masala. Serve hot.
TELL US: What's your favourite monsoon snack? Share your comments in the messageboard below.