Avinash Kumar, executive chef, Novotel Imagica Khopoli shared these recipes.
All photographs and recipes: Courtesy Novotel Imagica Khopoli
Oats and Onion Fritters
Ingredients
50 gm oats
20 gm rice flour
20 gm ragi flour
3 gm fresh coriander
100 gm sliced onion
20 gm chopped spinach
2 gm ginger
A pinch of turmeric
A pinch of red chilli powder
A few curry leaves
300 ml oil
Salt to taste
Method
Soak oats in hot water and keep aside for about 4 to 5 minutes. Mix ginger and green chilies to a course paste.
Add remaining ingredients -- rice flour, ragi flour, fresh chopped coriander, chopped spinach, sliced onions, chopped curry leaves, and Indian spices with the soaked oats and season well.
Make fritters out of the batter.
Heat the oil and deep-fry it until gets golden brown in colour.
Serve hot with mint chutney.
Calamari Fritto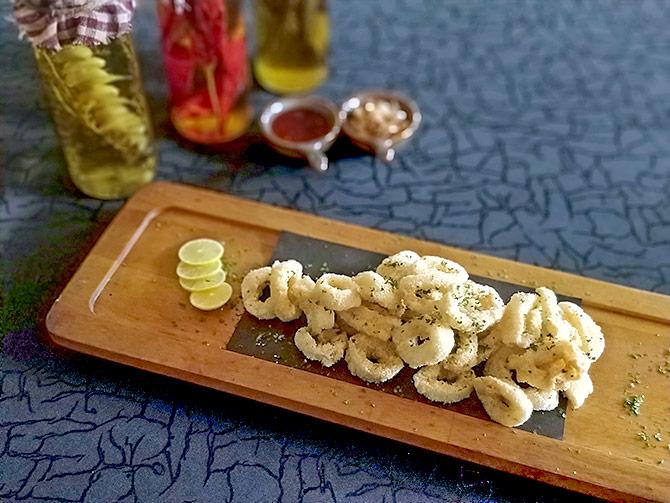 Ingredients
110 gm squid rings
60 gm tempura flour
Juice of half a lemon
20 gm parsley
20 gm refined flour
5 gm semolina
20 ml sweet chilli sauce
5 gm garlic confit
Salt to taste
5 gm Dijon mustard
Method
Marinate the squid rings with salt pepper and mustard paste.
Dust the squid rings with refined flour and semolina.
Dip in the tempura batter and deep fry it till golden in colour.
Serve it with lemon half, garlic confit Thai chilli sauce and parsley sprig.
Barbeque Corn On the Cob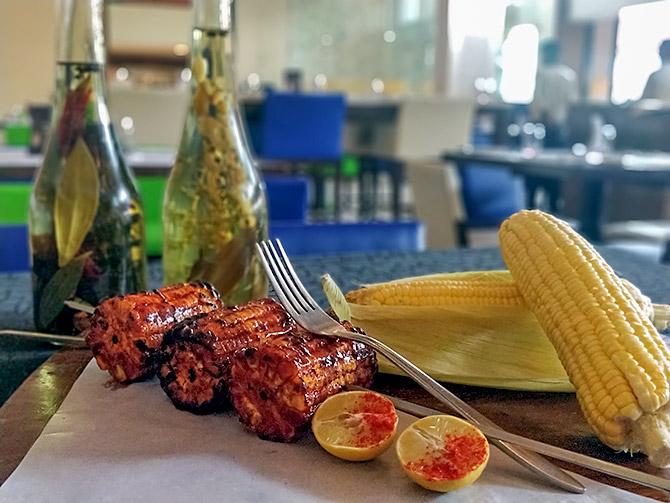 Ingredients
500 gm corn on the cob
20 gm paprika powder
30 gm brown sugar
20 ml Worcestershire sauce
30 ml red wine vinegar
2 gm black pepper powder
50 ml tomato ketchup
Salt to taste
Method
In a blender, combine brown sugar, ketchup, vinegar, Worcestershire sauce. Season with paprika, salt and pepper. Blend until smooth.
Marinate the cob with the above marinade and rest it for 10 minutes.
Pot the cob on the skewer and roast it on a pit fire barbeque.
Mango Baked Yoghurt
Ingredients
100 gm hung curd
100 gm fresh cream
80 gm sweet condensed milk
50 gm fresh mango pulp
Method
Mix hung curd and fresh cream. Add condensed and Whisk it nicely.
Add freshly squeezed mango pulp in the above mixture and divide the mixture in moulds. Bake it at 150 degree Celsius for 7 to 8 minutes.
Let it cool and refrigerate.
Garnish with fresh chunks of mango and serve chilled.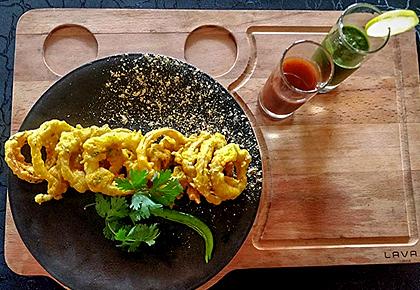 TELL US: What's your favourite monsoon snack? Share your comments in the messageboard below.