Bread Pudding in Republic Day colours from Nadiya Sarguroh.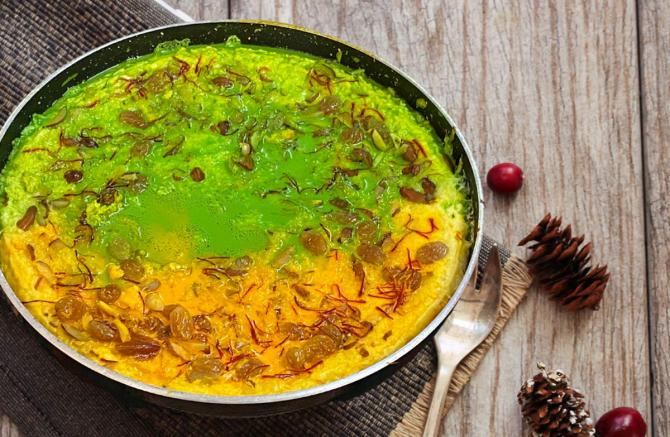 Tricolour Bread Pudding
Serves: 4
Ingredients
8 eggs
4 slices bread, edges trimmed, cubed, or 2 rolls/2 pavs, cut into smaller pieces=
300 gm sugar
1½ tbsp butter
1 l milk + extra for making the colour
15-20 almonds, slivered
10-15 yellow raisins
Few strands kesar or saffron
1 tsp vanilla essence
Green and orange food colour
Method
In a large bowl, whisk the eggs.
Add the milk, bread, sugar, vanilla essence.
Mix well until the sugar melts.
Heat the egg-milk-bread mixture in a wide, heavy-bottomed frying pan over medium heat.
Stir.
Reduce the heat to medium and add the butter.
Let the butter melt and then give it a stir.
Cover the pan and let the pudding cook over medium-low heat.
As the pudding starts to set, add the slivered almonds, saffron and the raisins.
Do not stir the mixture and continue cooking for 20-25 minutes over medium-low heat.
Turn the heat to low and simmer for 5 minutes.
Take off heat.
Keep aside for a few minutes.
In two small bowls, take 3-4 tbsp of milk in each.
Add the orange food colour to one bowl and the green food to the other.
Mix well.
Cut the pudding into three equal portions (please see the pic above).
Pour the orange milk mixture over one portion.
Leave the centre portion white.
Pour the green mixture over the third portion.
Leave to set for 30 minutes.
Cut into small pieces and serve.
Nadiya Sarguroh lives in Mumbai and publishes the food blog HautePot.
Do you have any recipes to share? Please mail the recipe(s) to getahead@rediff.co.in (SUBJECT: RECIPE) with photographs/videos of the recipe, your name, location and a photograph of yours.