Add a touch of patriotism to your Republic Day menu with Maharaj Jodharam Choudhary's simple Tirangi Salad.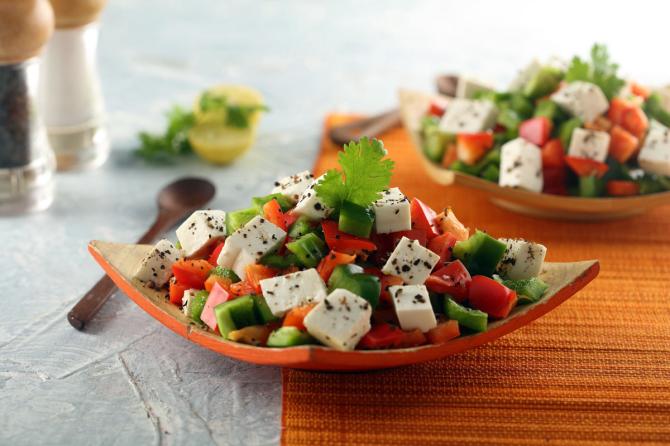 Tirangi Salad
Serves: 2
Ingredients
1 red bell pepper or red capsicum, diced
1 green Shimla mirch green bell pepper, diced
Few cubes paneer
1 red onion, finely chopped
1 tbsp extra virgin olive oil
Juice of one lime
Salt to taste
Pinch pepper
1 tbsp chopped fresh green dhania or coriander or cilantro
Dash of chaat masala
Method
In a bowl combine the diced red bell pepper, green bell pepper, paneer, chopped red onions and mix.
Toss with the olive oil, the lemon juice, salt, pepper, chaat masala.
Garnish with chopped coriander and serve.
Maharaj Jodharam Choudhary is the corporate chef at Khandani Rajdhani, a chain of thali restaurants serving Rajasthani food.
Do you have any recipes to share? Please mail the recipe(s) to getahead@rediff.co.in (SUBJECT: RECIPE) with photographs/videos of the recipe, your name, location and a photograph of yours.