Why stick to the traditional when you can try something new?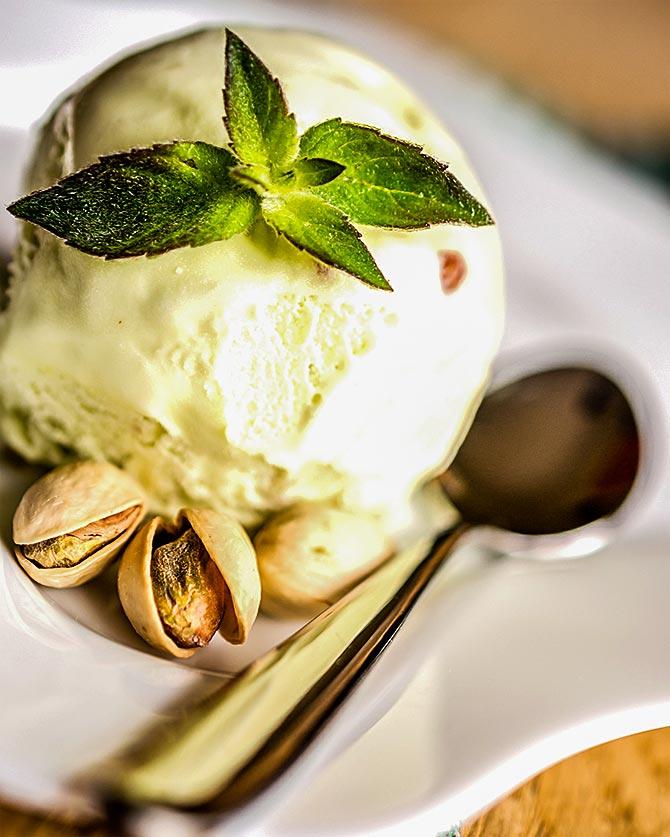 Puran Poli Ice Cream
Ingredients:
1 ltr milk
200 gm sugar/jaggery
One pinch of salt
5 ml vanilla essence
One pinch of cinnamon powder
300 gm chana dal
200 gm creme anglaise
10 gm pistachio
10 gm chopped almonds
10 gm chopped cashew nut
For the creme anglaise:
2 egg yolks
200 ml hot milk
50 gm sugar
Method:
For the milk base for the ice cream:
Take a nonstick pan and place on gas range on medium heat. Bring milk to a boil and reduce to almost

¼

(you should have 750 ml of milk left). Add 100 gm sugar or jaggery, salt, vanilla essence, cinnamon powder and let it simmer for 5 minutes, keep stirring at intervals. Add in remaining dry nut ingredients. Remove milk base off the gas and store it in a container and then in the refrigerator to chill.
For the puran sauce:
Soak the dal in water for 2 to 3 hours before you attempt to make this recipe. Cook the chana dal in the pressure cooker on high flame for 5 minutes till you hear 2 whistle pops. Release pressure and then open the lid carefully. Using a hand masher, crush the chana dal carefully making sure you don't make a paste-like consistency. When you've achieved your desired consistency, add in the remaining 100 gm of jaggery, and stir till the jaggery is completely dissolved. Once you've done this, switch off your flame and keep aside.
For the creme anglaise:
Keep one medium-size saucepan ready. Whisk egg yolks and sugar in a medium bowl. Gradually whisk hot milk mixture into the yolk mixture. Return custard to saucepan. Stir over low heat until custard thickens and leaves path on back of spoon when a finger is drawn across, for about 5 minutes (do not boil). Strain into a bowl.
Add in the puran sauce and set aside to cool.
For the ice cream:
Pour milk base into the creme anglaise and whisk lightly for the mixture to blend and look fluffy. Place ice cream in the freezer for a minimum of 4 hours or till completely set.
To serve:-
Take a scoop dipped in hot water, scoop out a nice big serving of puran poli ice cream and garnish with crunchy nuts.
---
Roger Gonsalves is the corporate chef at Esora.
---