We'd asked you, dear readers, to share your recipes of the dishes that were on Barack and Michelle Obama's plates.
Rediff reader Daphne sent us recipes of Broccoli and Walnut Soup, Galouti Kabab, Gushtaba, Roast Leg of Lamb and Mutton Rogan Josh.
Broccoli and Walnut Soup
Ingredients
1 medium broccoli head, broken into florets
1 onion, roughly chopped
450 ml vegetable stock
450 ml milk
50 gm walnut pieces
Freshly ground black pepper
Salt
Method
Put broccoli, onion and stock in a large heavy saucepan.
Bring to a boil, cover and simmer for about 15 minutes until soft.
Add milk and walnuts, and stir through. Puree in a blender or food processor until smooth.
Return the soup to the pan. Season with salt and pepper, then bring to just under boiling point.
Garnish with a few walnut pieces and serve hot.
Photograph: Sebastian Salamander/Creative Commons
---

Galouti Kabab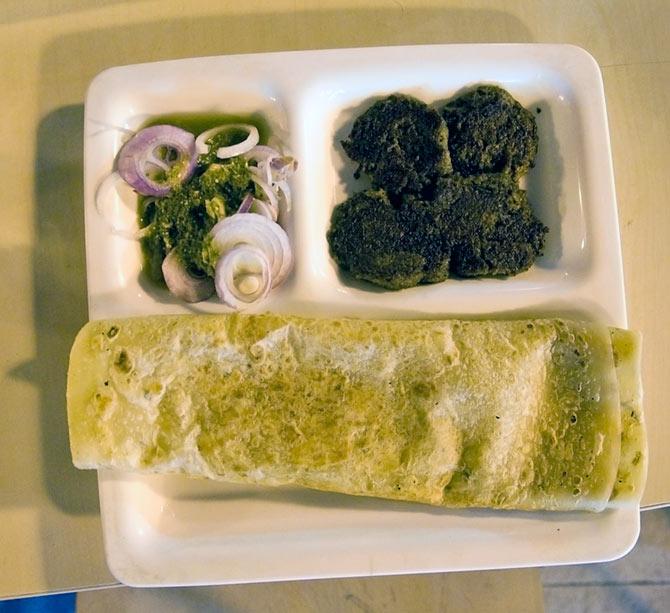 Ingredients
400 gm boneless lamb shoulder meat
50 gm lamb kidney fat
150 gm ghee
80 gm onions, sliced
10 gm garlic
3 gm ginger
2 gm long pepper
1 gm dry rose petals
1 gm green cardamom
1 gm cinnamon stick
40 gm cashew nut
5 gm raw papaya skin
6 gm cooking salt
5 ml rose water
3 gm red chilli powder
Method
Grind together ginger, garlic, raw papaya skin, cinnamon stick, dry rose petals, and green cardamom.
Heat ghee and fry onion slices till they turn golden in colour and keep aside.
In the vessel, fry cashew nuts and long pepper.
Grind all the ingredients, till it turns into a smooth paste.
Clean the meat so there is no sinew and fat left on it.
Mix both the pastes with the meat along with salt and chilli powder and allow to rest in the refrigerator for six to eight hours.
Add lamb fat and pass it through the meat mincer twice.
Now add the left over ghee and rose water to the mix and allow it to rest for 30 minutes.
Mince the mix six times.
Refrigerate the mixture till use. Heat ghee in a shallow but thick bottom frying pan and drop the minced meat in small quantities.
Press lightly with a spatula to form a round shape.
Allow the kababs to cook for three to four minutes and gently flip them to cook the other side for two more minutes. Serve hot.
Photograph: Jeff/Creative Commons
---
Gushtaba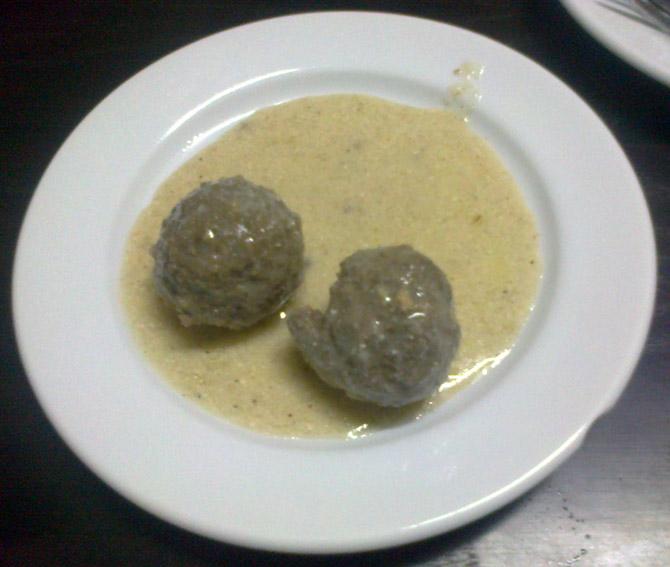 Ingredients
For the kofta
250 gm minced mutton
1 tsp fennel powder
1/2 tsp dry ginger powder
3/4 tsp salt
1/2 tsp cumin powder
3 cardamom seeds, powdered
1 inch cinnamon
1 bay leaf
2 cloves
1/2 tsp salt

For the gravy
2 tsp oil
2 tsp ghee
1 onion, sliced
1 cup curd, beaten
1/2 tsp fennel powder
1/4 tsp dry ginger powder
1/4 tsp garam masala
1/2 tsp dried mint
3 cardamom seeds, powdered
Method
Grind mutton in a mixer to a fine paste.
Mix fennel powder, dry ginger powder, cumin powder and cardamom seeds.
Shape into 4 large balls.
Heat 1 1/2 cups water in a small pan with salt, cinnamon, bay leaf and clove.
When it boils add the mutton balls/koftas.
Cook uncovered on medium heat for about 20 minutes.
Heat oil in a pan. Add ghee and sliced onion. Fry till golden brown.
Remove from heat. Drain onions from oil.
Cool and grind to a fine paste with water. Keep brown onion paste aside.
In the same oil add curd, fennel powder, dry ginger powder, garam masala, mint and cardamom powder.
Bring to a boil and add onion paste.
Mix well for a minute.
Add cooked mutton balls/koftas.
Cover and simmer for 15-20 minutes.
Garnish with fresh mint leaves and serve.
Photograph: Shahrukh Shahnawaz/Creative Commons
---

Roast Leg of Lamb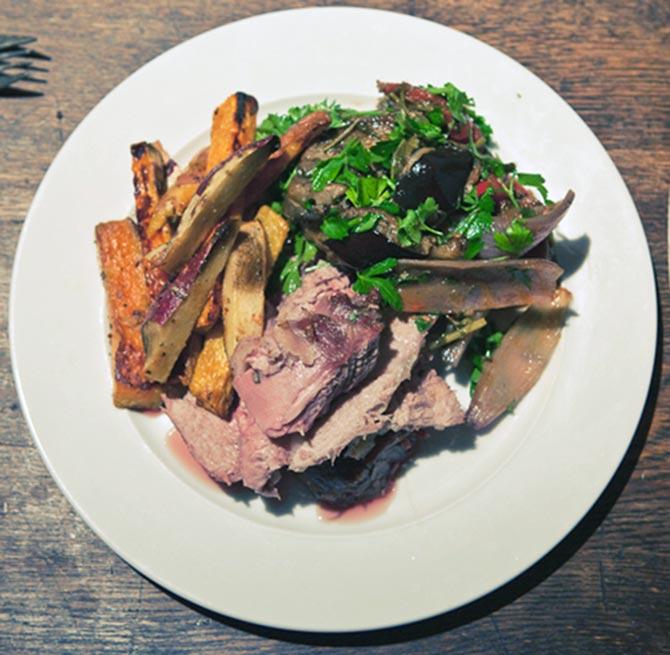 Ingredients
2 1/2 kg leg of lamb
1 garlic bulb
1 bunch rosemary
1 tbsp vegetable oil
2 carrots cut into large chunks
1 onion, cut into quarters
1.2 ltr lamb stock
Method
Make at least 30 small incisions all over the meat.
Peel 4 garlic cloves, thinly slice them and prod a slice into each incision.
Next, pull off small sprigs of rosemary and push into the incisions, too.
Heat oven to 190C.
Heat a large frying pan, add a little oil and brown the lamb all over.
Scatter carrot, onion, remaining garlic and rosemary in a large roasting tin, pour in the stock, then place the browned lamb in the tin.
Roast for about 1 hour 45 minutes. Turn the lamb around halfway through.
When cooked, remove the lamb and allow it to rest in a warm place covered in foil for about 30 mins.
While the lamb is resting, make the gravy.
Pour all the stock from the tin through a sieve into a saucepan to remove all the vegetables and herbs.
This stock should be slightly thick and have a great lamb flavour. Reduce it a little, skimming off any fat that comes to the surface.
Serve the lamb with the gravy.
Photograph: Gabriel Li/Creative Commons
---

Mutton Rogan Josh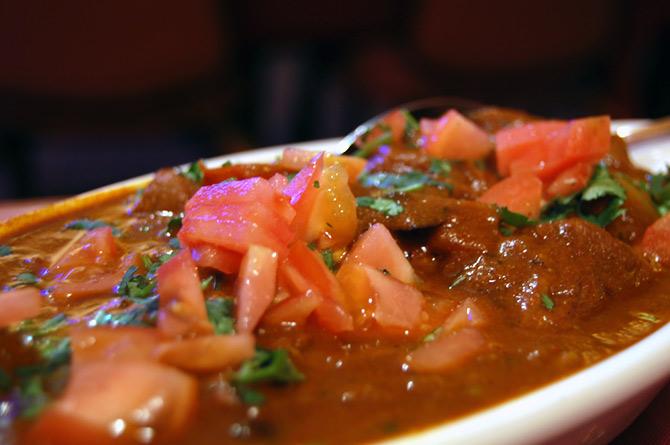 Ingredients
1 kg mutton
5 tbsp oil
1 cup curd
2 onion, finely chopped
2 tbsp ginger paste
2 tbsp garlic paste
1 1/2 tsp kashmiri red chilli powder
1 tsp garam masala powder
1 tsp ginger powder
2 tbsp coriander powder
1/2 tsp turmeric powder
1 tsp cumin powder
1 tsp black pepper corns
12 cloves
8 green cardamom
5 sticks cinnamon
Few threads of mace
2 tbsp cream
Salt
Coriander, chopped
Method
In a bowl, mix mutton with curd and salt and keep aside.
Heat oil in a pan and put garam masala.
When they start to crackle, add chopped onions and fry till they turn golden brown.
Add ginger-garlic paste and fry again for about two minutes.
Add all the masala powder and fry till the oil comes up.
Now add mutton and stir fry on high flame for 2 minutes.
Add water and salt and cook with the lid closed till the meat becomes tender and the gravy is medium thick in consistency.
Add cream and stir well.
Cook for 5 minutes. Garnish with chopped coriander and serve with rice.
Photograph: Stu Spivack/Creative Commons
ALSO SEE
Dear Readers, tell us how you'd make Mutton Rogan Josh, Dal Raisina or any of the dishes listed here.
Please mail your recipes to getahead@rediff.co.in with the subject line 'Obama Recipes'