Food blogger Swati Pareek tells us how to make this spicy side dish.
You can share your favourite recipes too!
'Bharwan' in Hindi means stuffed and 'Mirch' means chilli.
Bharwan Mirch is a side dish, made from long green chillies stuffed with spicy chickpea flour mix.
Here's the recipe for Rajasthani Bharwan Mirch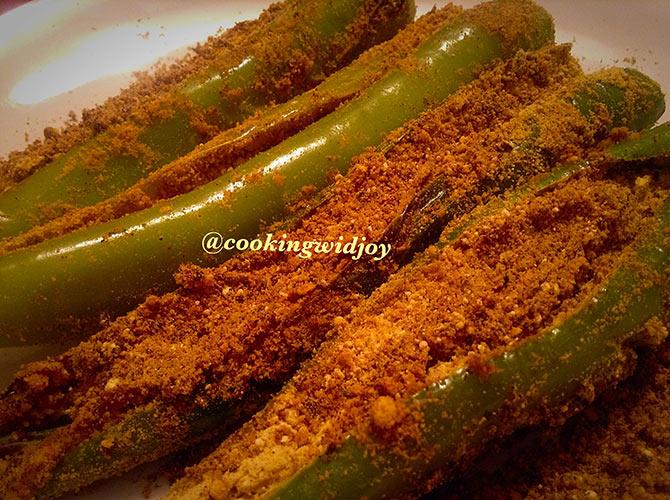 Ingredients
4 big green chillies (Bhavnagri mirchi)
1 cup chickpea flour
1/2 tsp cumin seeds
1/2 tsp mustard seeds
1/2 tsp fennel seeds
1 1/2 tsp red chilli powder
1/4 tsp turmeric powder
1 tsp coriander powder
1/2 tsp dried mango powder
1/2 tsp garam masala
Salt to taste
A pinch asafoetida
2-3 tbsp oil
Method
Wipe all the green chillies with a damp cloth.
Slit the chillies lengthwise on one side while they remain stuck on the other side. If your green chillies are smaller in size, you may use 7-8 of them.
Heat 1 tsp oil in a pan, and temper with asafoetida, cumin seeds, mustard seeds and fennel seeds.
Add chickpea flour, turmeric powder, salt, red chilli powder, coriander seeds and saute for two minutes on medium flame.
Add dried mango powder and garam masala. Mix well and saute till it becomes light brown in colour.
Switch off the flame, place the stuffing in a plate and let it cool down.
Take one chilli and fill in the stuffing very tightly. Fill all the chillies in the same manner and keep them aside.
Heat 2 tbsp oil in a pan on a low flame. Place the stuffed chillies in this oil and cover the pan with a lid. Cook for two minutes.
Open the lid, turn over all the chillies so that they get cooked evenly. Cover again and cook further for a minute.
Throw in the remaining stuffing in the pan.
Check the chillies, and turn them over so that they get evenly cooked from all sides.
When the chillies become soft, Bharwaan Mirch is ready!
Photo: cookingwidjoy.wordpress.com
ALSO SEE
Want to share your favourite recipe? Simply e-mail your recipes to getahead@rediff.co.in (subject line: My Fav Recipe) with your name, hometown and any interesting details about the origin of the recipe, along with a photograph of the recipe, if possible. We'll publish the best preparations right here on Rediff.com and India Abroad.
Loved this recipe? Click here for more interesting recipes and food features!