How can anyone resist an absolutely melt in your mouth potatoes steeped in a creamy yoghurt gravy with the delicate fragrance of Kashmiri garam masala?
Even if you don't have any plans to visit Kashmir in the near future, you must definitely try out the staple Kashmiri Dum Aloo.
The traditional recipe involves cooking baby potatoes in a yoghurt-based creamy gravy with a special, secret masala.
Here's the recipe for Kashmiri Dum Aloo: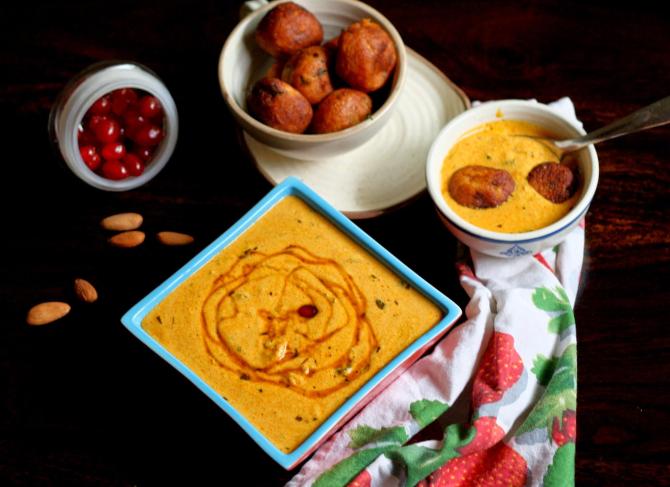 Ingredients
1/2 kg tiny round potatoes
2 cups mustard or refined oil
1 cup yogurt
1/2 cup fresh cream
2 bay leaves
2 cloves
2 cinnamon stick
3 black cardamom
3 tsp fennel powder
2 tsp red chilli powder
1 tsp ginger powder
2 tsp cumin powder
1 tsp kasuri methi
1 tsp Kashmiri garam masala*
Spices for coating potatoes
Salt, turmeric, Kashmiri red chilli powder, cumin powder, dash of oil to make the spices stick to the potatoes.
*For Kashmiri garam masala
Ingredients
1/3 cup black pepper
1/3 cup dry ginger
1/3 cup cumin seeds
5 gm cinnamon
1/3 cup cardamom
5 gm cloves
How to make Kashmiri garam masala
Dry roast all ingredients till fragrant.
Grind all ingredients at high speed for three minutes.
Sieve the fine powder.
Store and use!!
Method
Boil potatoes in a large vessel till the skin of potatoes is half tender or par boiled.
Peel off skin and prick the potatoes across with a toothpick or fork.
Heat oil in a deep vessel and fry the spice coated potatoes till they turn golden brown.
In a separate heavy-bottomed pan, take five tbsp oil from the already hot oil you have from the fried potatoes.
Add bay leaves, cloves, cinnamon sticks and red chilli powder, a little water and salt and keep on stirring.
Whisk curd in a bowl; add to the pan and continue stirring.
Add two cups of water, remaining powdered spices, fried potatoes and crushed kasuri methi to the gravy and boil on low flame for 50 to 60 minutes.
Add fresh cream.
Coarsely grind brown cardamom and sprinkle into the potatoes and simmer for five minutes.
Add the kashmiri garam masala on top.
Serve hot with pulao or naan.
Image Courtesy: Swayampurna Mishra-Singh
DON'T MISS: Interesting food recipes and features!