London-based food blogger Swati Pareek tells us how to make sesame seed brittles for Makar Sankranti.
You can share your favourite recipes too!
Here's the recipe of Til Papdi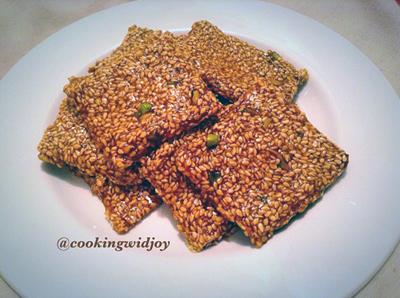 Ingredients
1 cup white sesame seeds
3/4 cup jaggery cut in pieces
2-3 tsp ghee
A handful of pistachios
Method
Dry roast the sesame seeds on medium flame till they are light golden in colour. Remove them from the pan and keep aside in a plate to cool.
Grease a plate with ghee and keep it aside.
Heat 1 tsp ghee in a pan on medium heat. Add jaggery to it and stir continuously till it melts. Cook for another two minutes.
Add roasted sesame seeds, and some sliced pistachios in it. Mix well and switch off the flame.
Pour this hot mixture into the greased plate and flatten it with a flat spatula or roll it using a rolling pin. Try to make it as thin as possible.
Cut them into small square shapes using a knife and let it cool for some time.
When it cools down, separate the square papdis with the help of a knife.
Your Til Papdi is ready.
Notes
Do not over-roast the sesame seeds otherwise they will taste bitter.
Cook the entire recipe on medium flame otherwise both sesame seeds and jaggery will burn.
You may use sugar instead of jaggery but the colour and taste will be different.
If you are using a rolling pin to flatten the mixture then grease the rolling pin very well with ghee otherwise the mixture will stick on it.
Cut the Til Papdi while it is warm; it will be hard to cut once it gets cold. You can also shape them to make Til Laddoos.
If you like, you may add almonds, cashew nuts to it.
You may also crush the sesame seeds to make Til Papdi or Til Laddoo.
Photo: cookingwidjoy
ALSO SEE
Want to share your favourite recipe? Simply e-mail your recipes to getahead@rediff.co.in (subject line: My Fav Recipe) with your name, hometown and any interesting details about the origin of the recipe, along with a photograph of the recipe, if possible. We'll publish the best preparations right here on Rediff.com and India Abroad.