Chef Kaleem Qurashi from ITC's Fortune Resort Heevan, Srinagar shares his special Ramzan recipes.
You can share yours too. Scroll down to find out how!
Awadhi Gosht Korma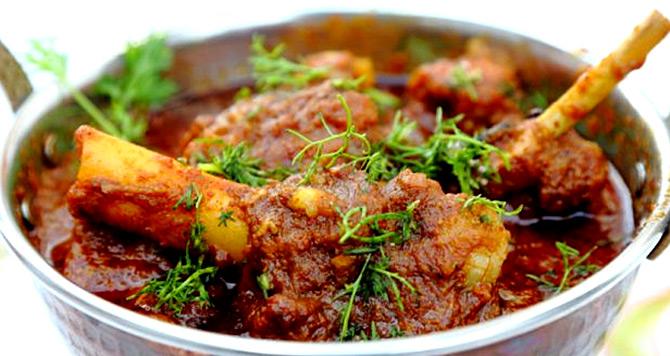 Ingredients:
1 kg mutton
2 tbsp refined oil
3 to 4 green cardamoms
1 tsp whole cinnamon
2 black cardamoms
2 to 3 bay leaves
1 tsp turmeric powder
¼ cup water
1 tsp ginger-garlic paste
1 tsp coriander powder
1 tsp red chilli powder
1 tsp garlic (ground), fried
1 tsp onions (ground), fried
3 tbsp yogurt (beaten)
2 tsp gulab jal
2 tsp garam masala
½ tsp nutmeg and cardamom powder
½ tsp saffron, soaked
Salt to taste
Few drops of itar (Itar

is a oil used while cooking. This is an

optional ingredient.)
For the dum:
For the garnish:
Fresh coriander and ginger, julienned
Method:
Heat oil in a pan. Add green cardamom, cinnamon, cloves, black cardamom and bay leaves.
Add the meat and saute till lightly fried. Add salt, turmeric and mix well. Pour water, cover the pan and cook. When it starts boiling, add ginger-garlic paste, coriander powder, red chilli, garlic paste and onion paste.
Mix well and add yoghurt, gulab jal, garam masala, nutmeg, cinnamon powder and saffron. Cover and cook for 2-3 minutes.
Transfer the meat in a heavy bottom pan and strain the gravy. Add a few drops of itar and cover the pan. Seal it with the wheat dough and cook on slow fire.
Once done, garnish with fresh coriander and ginger. Serve.
---
Haleem Mutton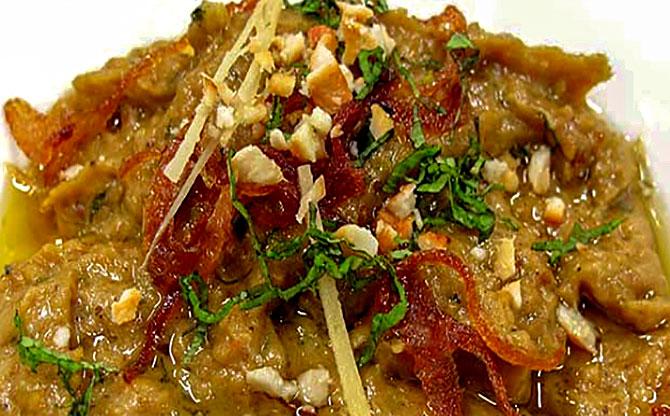 Ingredients:
½ cup of ghee
1 cinnamon stick
4 clove
3 green cardamom
2 bay leaves
½ gm of rose petals
Few strings of khus ki jhad
120 gm onion
1 tbsp ginger and garlic paste
30 gm of raw lapsi (daliya), soaked
150 gm of mutton leg (boneless)
Black pepper powder to taste
1½ cup of curd
2 tsp of coriander, whole
½ tsp of elaichi powder
2 tsp yellow chilli powder
2-3 ml rose water
20 gm cashew nut
½ bunch of mint leaves
1 gm of saffron water in 30 ml of warm milk
2 cups of stock
Salt to taste
½ bunch fresh coriander leaves
Method:
In a handi pour ghee, add onion and sauté till translucent. Add ginger garlic paste.
Fry half a cup of onions and keep aside (for garnish)
Now add mutton leg boneless, cut into ½ cm cubes, and sauté for a minute or two. Add lapsi (soaked in water).
Pour in 2 cups stock, make a bouquet garni with cinnamon stick, rose petal, coriander seed, cloves, green cardamom, bay leave, khus ki jhad and put it in the handi. Cover with a lid and cook on a medium flame till mutton becomes tender.
Add curd, yellow chilli, black pepper, cashew nut paste, rose water, saffron water, salt to taste and cook till mutton is cooked. Serve hot with chopped mint leaves, coriander chop, cashew nut fry, onion fry and a dollop of ghee.
---
Galauti Kebab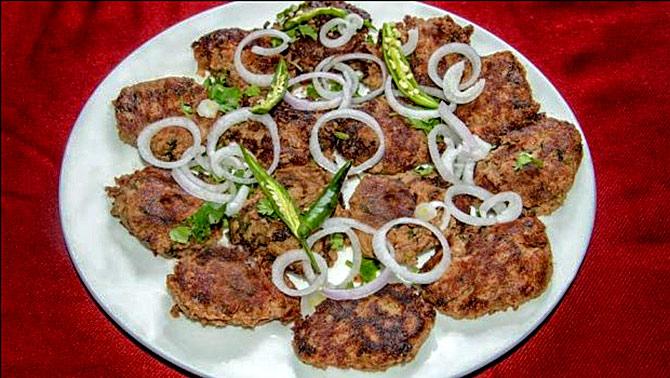 Ingredients:
½ kg minced mutton (use mutton leg or mutton shoulder which is very fine and reddish in color, double minced)
½ tsp salt
½ tsp red chilli powder
½ tsp kabab chini powder (A

lso known as Cubeb it is a spice, which is often used to add a special flavour to meat. You can always substitute it with pepper.)

1 tsp raw papaya paste (helps to tenderise the meat)
½ tsp garam masala powder
1 tsp ginger and garlic paste
½ tsp saffron (mixed in warm milk)
1 tsp browned onion, paste
1 tsp coriander leaves
1 tsp gram flour (besan)
1 tsp desi ghee
1 tsp gulab jal
A dash of itar (optional)
1 tsp ghee to fry the kebabs
Method:
Add to the minced meat, salt, chilly, kabab chini, green papaya paste, garam masala, ginger-garlic paste, onion paste, saffron, desi ghee, gulab jal and a dash of itar. Mix all together finely. Remember that mixing is a very important part of this recipe.
Once done, heat 1 tsp ghee in a pan. Make flattened round balls of the mixture. You can use little water so that the meat does not stick to your hands.
Fry the kebabs. Serve hot.
---
Do you have a special Ramzan recipe that you would like to share with us?
Simply e-mail your recipes (subject: Ramzan Recipes) to getahead@rediff.co.in.