We had asked you, dear readers, to send us your simple onion free recipes, photographs and videos.
Rediff reader Annapoorni, 51 from Polibetta, Karnataka shared this interesting recipe.
Punjabi Aloo Samosa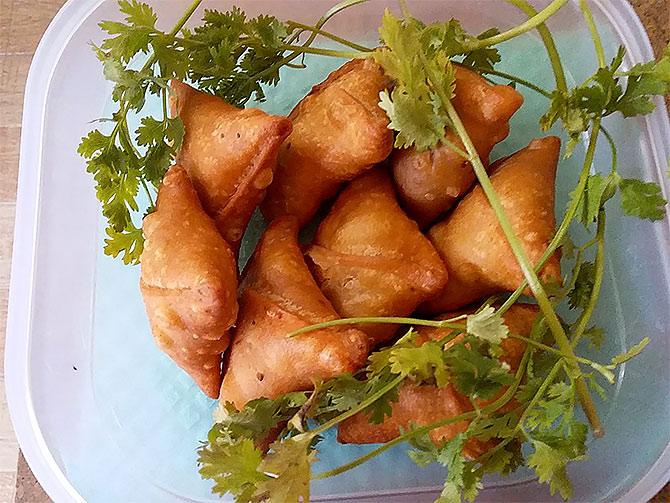 Ingredients
For the dough
1 cup maida
1 cup wheat
60 ml oil
Salt as per taste
1 tsp carom seeds
For the filling
400 gm potatoes
1/2 cup green peas (optional)
3 to 4 green chillies finely chopped)
Ginger and garlic paste to taste
2 tbsp coriander leaves (finely chopped)
A pinch of turmeric powder
1/2 tsp cumin powder
1/3 tsp chilli powder
1/2 tsp garam masala
1/2 tsp mango powder
1/2 tsp chaat masala
Oil for frying

Method
Boil the potatoes in a pressure cooker/vessel after peeling off the skin.
Add a little salt to the water.
Boil peas in another vessel after adding sufficient salt to the water.
Mix maida and wheat in a vessel. Add lukewarm water, carom seeds, salt and oil.
Slowly and knead the mixture to make it into a stiff dough.
Cover the dough and keep it away for about 20 minutes till it rises.
Preparation of the filling
Mash the potatoes well.
Preheat a pan and add 1 tsp oil into it.
When the oil is sufficiently hot, add ginger-garlic paste, green chillies and boiled green peas into it.
Add in mashed potatoes and mix well with a pinch of turmeric powder, cumin powder, chilli powder and garam masala.
Mix all ingredients really well.
When the mixture cools down, add mango powder and chaat masala.
The filling is now ready.
Making the samosa
Make small balls of the kneaded dough and make puris after rolling them.
Take a sharp knife and cut one puri into two equal halves.
Take one half and fold it into the shape of a cone.
Seal the overlapping edges by applying some water.
Hold the cone in between the thumb and forefinger loosely and add the filling.
After adding the filling, apply a little water again and seal the edges so that the filling does not come out while frying. The samosa is now ready.
Repeat the same with all the other puris.
Pour some oil into a kadhai and heat it.
When the oil is sufficiently hot, add samosas one by one and fry them on medium flame until they turn brown in colour.
Place them on a paper napkin to absorb extra oil and transfer them onto a plate.
Serve hot with mint, date or coriander chutney.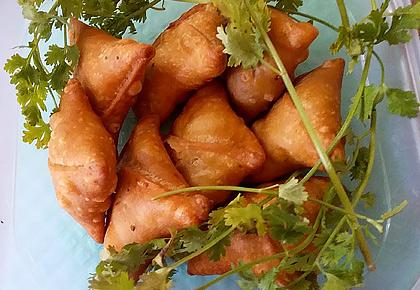 ---
Click here for mouthwatering recipes and food features!

If you want to share a recipe, simply write to getahead@rediff.co.in. Do share photographs of your dish and the making process with us too!
---