Chef Lokesh Jarodia, Executive Chef, The Deltin, Daman shares his special recipes.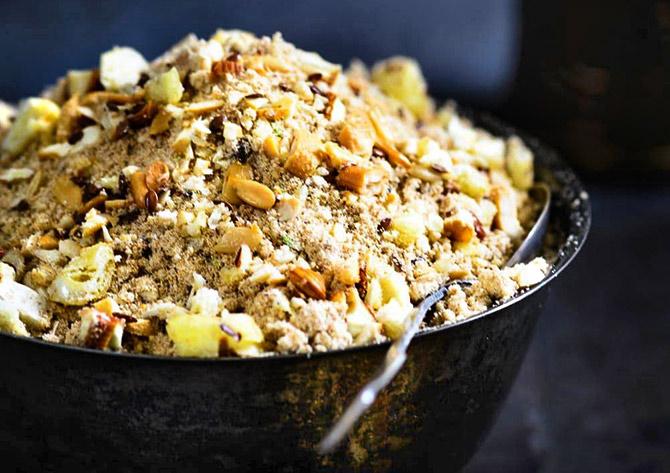 Haryanvi Churma
Ingredients:
2 cups whole wheat flour
Pure ghee
4 tbsp semolina (rawa/suji)
Milk as required
¾ cup jaggery
¼ tsp green cardamom powder
10 cashew nuts, chopped
10 almonds, chopped
10 raisins
Method:
Mix flour and semolina in a bowl. Add half cup of melted ghee and mix well. Add milk as required and knead into a stiff dough. Divide the dough into 12 lemon sized balls.
Heat sufficient ghee in a kadai and deep fry the balls on medium heat, till they are well done. Drain and place on an absorbent paper and cool.
Coarsely grind the wheat balls in a mixer. Add soft jaggery, cardamom powder, cashew nuts, almonds and raisins and mix. Serve churma with melted ghee.
---
Puran Poli
Ingredients:
1¼ cup split Bengal gram (chana dal)
1½ cup jaggery, grated
A pinch of saffron
¼ tsp green cardamom powder
A pinch of nutmeg powder
For the dough:
1½ cup refined flour
A pinch of salt
½ cup pure ghee
Method:
Wash and boil chana dal. Drain and coarsely grind it. In a pan add the dal, grated jaggery, saffron, cardamom powder and nutmeg powder and mix well. Cook, stirring all the time till dry. It should resemble a soft ball. Remove and cool.
Divide the stuffing into 16 to 20 equal portions and roll into balls. Mix maida and salt. Add three tbsp of ghee and sufficient water to make a soft dough. Cover with a damp cloth and keep aside for one hour.
Divide dough into 16 to 20 equal portions and roll into balls. Flatten each ball in your palm, stuff with one portion of puran (stuffing), cover and seal the edges. Dust it with flour and roll out into four to five inches diameter disk of medium thickness.
Heat a tawa and cook puran poli until done on both sides. Remove. Serve hot with generous helping of pure ghee on it and cold milk.
---
Undhiyu
Ingredients:
For the masala:
¼ cup peanuts, coarsely ground
¼ cup sesame seeds, coarsely ground
⅓ cup desiccated coconut
½ cup cilantro or coriander leaves, finely chopped
5-6 green chilies, finely chopped
2 tsp ginger (paste/freshly grated/crushed)
4 sprigs fresh green garlic, finely chopped (you can also use 2 tsp of garlic paste)
2 tsp red chili powder
1 tbsp sugar
Salt to taste
2 tbsp lemon juice
Vegetables needed for undhiyu:
3-4 tbsp oil
4-5 baby potatoes
3-4 small baingan (baby eggplant)
1 cup valor (surti papdi or sem ki phali), string removed
½ cup fresh tuvar dana (fresh pigeon peas)
½ cup purple yam (kand or ratalu) cut into ½ inch pieces, optional
½ cup suran (elephant foot yam or jimikand) cut into ½ inch pieces, optional
¾ cup sweet potatoes cut into ½ inch pieces
2 cups water
1 tbsp cilantro or coriander leaves chopped for garnishing
For methi muthia:
2½ cups fenugreek leaves (methi leaves) plucked, measured then washed
½ cup whole wheat flour
½ cup besan (gram flour)
3 green chilies, chopped finely
1 tsp ginger (paste/freshly grated/crushed)
¼ tsp turmeric powder
1 tsp red chili powder
Salt to taste
2½ tsp sugar
1 tsp lemon juice
3 tbsp oil
2-3 tbsp water
Oil to fry muthia
Method:
For making the masala:
Take peanuts and sesame seeds in a grinder. Grind into powder. Take it into a bowl. Add desiccated coconut. Add remaining masala ingredients. Mix well till it gets incorporated. And keep it aside.
Note: Instead of chopping chilies, coriander and all separately, take all the masala ingredients into the grinder or food processor, pulse it till you get coarse grinded mixture.
Preparing the vegetables:
Chop the veggies as mentioned. Make cross slits on the potatoes and small eggplants. Stuff with prepared masala. You won't use all the masala and will have some leftover which you can use in the recipe later.
Making undhiyu recipe:
Heat the oil in a pressure cooker, once hot add add pigeon peas and papdi.
Add yam, purple yam and sweet potatoes with extra masala. Mix well.
Add water, mix, and check salt. Gently add stuffed veggies. After adding these do not stir otherwise masala will come out. Cover it and let it cook for 2 whistles on medium-high heat.
Making methi muthia:
While it is pressure cooking, let's make methi muthia. Wash the methi leaves very well and then chop. Take atta, besan, salt, sugar, turmeric, chili powder with ginger paste and green chilies in a bowl. Mix it. Add 3 tbsp of oil. Rub it into flour with fingertips.
Add washed, chopped fenugreek leaves and lemon juice. Again mix it with hands. Start making dough by adding little water at a time. Sometimes you might not need any water to make dough. Grease your hand with little oil and make small bite sized muthias.
Heat the oil to deep or shallow fry and meanwhile it is getting ready, shape all the muthias same way. Now oil is hot, fry the muthias. Keep moving them around for even browning. Fry till they are crisp and golden brown from all sides. Then drain the extra oil using slotted spatula. Remove it to the paper towel lined plate. Keep it aside until needed.
Add fried muthia to pressure cooked veggies and simmer for 5 minutes on medium-low heat. Garnish with coriander leaves. Turn off the stove