Chef Francis Vaz has penned down a traditional recipe for you.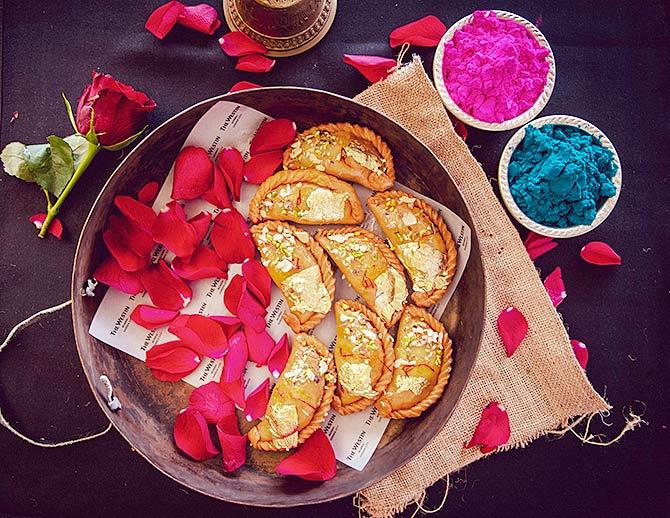 Mewe mawe ka gujiya
For the gujiya:
1 cup all-purpose flour (maida)
1 tbsp ghee (clarified butter)
A pinch of salt
¼ cup + 1 tbsp water
For the stuffing:
½ cup khoya (mawa)
4 cashews, chopped
4 almonds, chopped
12-15 raisins
1 tbsp desiccated coconut
¼ tsp green cardamom seeds, powdered
A pinch of freshly grated nutmeg
3 tbsp sugar (if the sugar has big granules, grind into a powder)
Oil or ghee, for frying
Method:
For the stuffing:
Heat mawa in a pan on medium heat. Keep stirring continuously, it will start to melt. Cook till it becomes light brown, and then turn off the stove. This takes about 3 to 4 minutes.
Remove it in a bowl and let it cool down. Add sugar, cardamom powder, nutmeg, cashews, almonds and raisins. Mix well and use your fingertips to break all the lumps. Keep it aside.
For the dough:
Mix all-purpose flour and salt in a bowl. Drizzle ghee and rub it into the flour using your fingertips. You should get a breadcrumb like texture.
Start adding little water at a time. Knead into the stiff and smooth dough. Cover it and let it rest for 15 minutes.
For the mawa gujiya:
After the resting time, knead the dough once again and divide it into 10 equal portions. Roll it into a smooth ball and flatten it between your palms.
Work with one flattened disc at a time. Roll it into a 4-inch diameter circle.
Put about a tbsp of stuffing in the centre. Apply little water around the edges using your fingers or a pastry brush.
Fold it into a half circle. Seal the edges by pressing it and then by using a fork, make an indentation and seal it well. If you have gujiya moulds, use it.
Make all the gujiya and keep them covered with the kitchen towel to prevent them from drying out.
When you are about to finish shaping, heat the oil or ghee in a pan on medium heat for frying. Once the oil is hot enough, fry few gujiyas at a time, flip for even browning.
Once it is golden brown and crispy from all sides, remove it.
---
Francis Vaz is the chef de cuisine, Seasonal Tastes, The Westin Mumbai Garden City.
---