Want to eat healthy, but don't know how to do it right? Trailblazing chef Kelvin Cheung will teach you a thing or two about healthy eating.
Videos: Afsar Dayatar/Rediff.com; Text: Anita Aikara/Rediff.com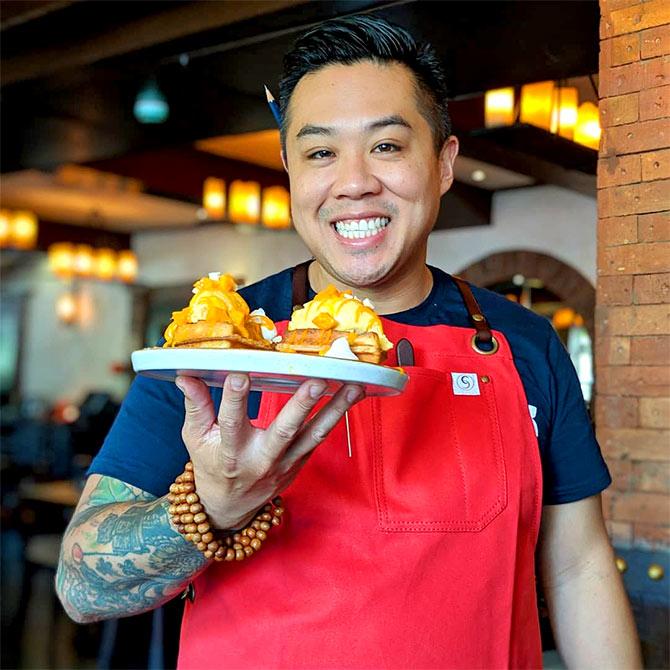 Chef Kelvin Cheung has been tempting and teasing the taste buds of patrons at Mumbai's Bastian with his impressive culinary skills.
His Bodhi bowls are a huge hit, and so are some of his healthy treats.
He has been leading food enthusiasts deeper into unfamiliar grounds with his refreshingly light and fresh recipes.
Gluten-free herb spiced chargrilled king mushrooms, Korean charred octopus with housemade kimchi, edamame hummus and pan seared buns, he is the king of experimentation.
Kelvin was born into the restaurant business.
"My father has nine restaurants and my grandfather owned restaurants too. I started working in restaurants at the age of 12.
"After I finished my education, things just fell back into place and I got back into the restaurant business," says the chef who is known for his fuss-free cooking.
"I want my food to be honest, tasty, fresh, simple and I also focus on using seasonal, local ingredients," he reveals, adding that his latest obsession is bacteria.
A fan of dosas and idlis, Kelvin feels that Indian cooking is highly misunderstood. "A lot of people see it as an over-indulgent, spicy, oily, rich and heavy meal."
"But when Indian food is cooked well at home, it can actually be one of the healthiest cuisines. It just needs to be done right," he shares.
"Most mothers use very little oil when they cook food at home."
According to him, healthy eating is all about balance -- whether it is the spices or flavours. "All food when done right is healthy."
In support of Sony BBC Earth's anthology, Healthy Binge, which currently airs on the channel, Chef Kelvin Cheung shares his insights on healthy food options and eating right.
"People think that salads are assumed to be healthy. But if you had some proteins, veggies and carbs instead, that could be much healthier.
"Compare a Caesar salad to a plate of pan-seared fish and some veggies, the fish is definitely more healthier. The salad is drenched in dressing which is an unhealthy fat."
Sharing tips on how people can cook healthy he adds, "Try and avoid using vegetable oil. It is very easy to get ghee, avocado oil and other healthy alternatives.
"Salt is a misused ingredient. People are in the habit of over-seasoning their food.
"If you're cooking at home, once you train yourself to reduce the salt, you get used to it. There's no need for extra sodium.
"Learn to enjoy your meals. Keep your food fun. That makes healthy eating a sustainable lifestyle."
Watch Kelvin Cheung bust four myths about eating healthy. Divulging cooking secrets, he shares tips on how you can embrace a healthy lifestyle with ease.
Fans of the chef's famous Bodhi bowls can watch him plate a Tahini bowl here.
Chef Kelvin Cheung shows you how to plate a vegan green curry.