The celebrity chef shares recipes for five unusual Indian desserts.
India is known for its variety of desserts, but during the making of 3 Course with Pankaj's Season 2, celebrity chef Pankaj Bhadouria's challenge was to find healthy desserts.
"India is a country where a sweet is definitely very sweet. Most of the times, it is deep-fried and then dunked in sugar syrup too," says Pankaj.
"From gulab jamun to malpua, ghevar to doda burfi, there is nothing that doesn't spell calories."
So, the chef decided to pick a local ingredient from five states and turned them into healthier versions of a traditional dessert.
Presenting five such healthy dessert recipes.
---
Mandua Brownies
Mandua is a local grain flour available in Uttarakhand.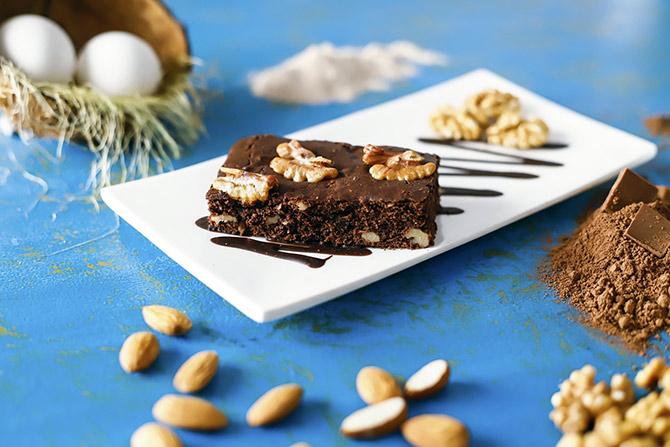 Ingredients:
1 cup Mandua flour
1 tsp baking powder
2 eggs
½ cup cocoa powder, unsweetened
¼ tsp salt
½ cup brown sugar
2 tbsp almond powder
2 tbsp walnuts (broken into small pieces)
2 tbsp walnuts (broken into halves for the garnish)
½ cup coconut oil
¼ cup honey
¼ cup warm water
1 tsp vanilla extract
Method:
Preheat the oven at 180° C. Take an 8-inch baking tin and grease it with oil or line it with parchment paper. Set aside.
In a mixing bowl, add the dry ingredients like ragi flour, baking powder, salt, cocoa powder and whisk together. Set aside.
In another mixing bowl, add coconut oil, honey, brown sugar, vanilla extract and whisk well. Then add the beaten eggs and whisk till smooth.
Add the dry ingredients mixture and almond powder using a spatula. Mix gently.
Add the dusted walnuts and fold in gently.
Transfer the thick batter into the baking tin and level the top with a spatula. Top with broken walnuts. Bake for 25 to 30 mins or till a skewer inserted comes out clean. Cut and serve hot.
---
Baked Thekua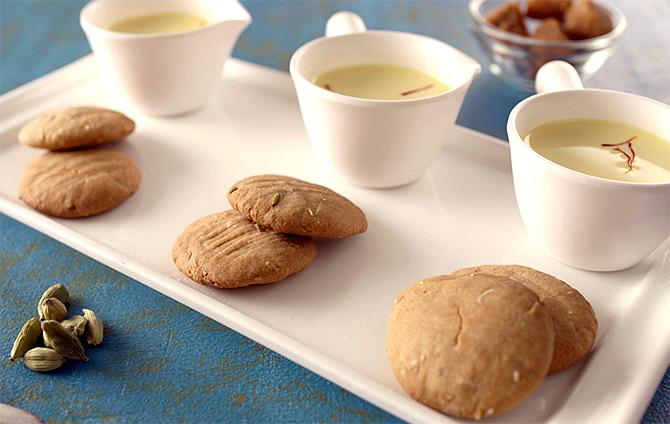 A speciality from Bihar, it is usually deep-fried. However, Chef Pankaj decided to opt for a healthy baked version instead.
Ingredients:
2 cups whole wheat flour
1 cup jaggery, grated
5 tbsp desi ghee
2 tbsp finely chopped coconut, dry
1 tsp cardamom powder
1 tsp fennel seeds
Method:
Soak crushed jaggery in ½ cup hot water. Mix ghee with whole wheat flour and crumble with hands until it looks like bread crumbs.
Add fennel seeds, coconut and cardamom powder to the flour. Mix jaggery syrup to make a stiff dough.
Break dough into lemon size balls. Flatten dough between palms and use a fork to make indents. Bake at 180°C for 12-15 minutes or until edges are golden brown.
---
Buckwheat Cake
A super healthy cake made with Himachal Pradesh's kuttu or buckwheat.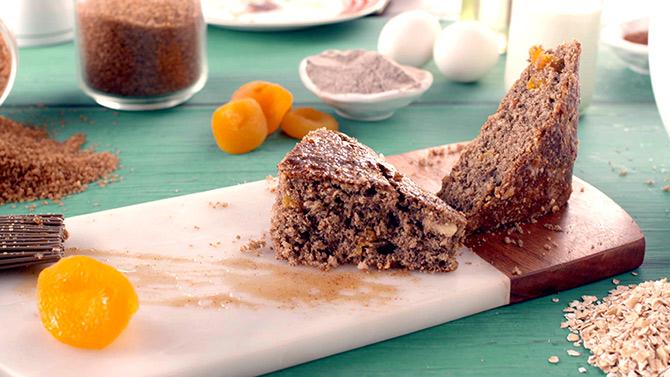 Ingredients:
4 eggs, separated
180 gm coconut oil
180 gm brown sugar
90 gm buckwheat flour
75 gm wheat flour + 2 tbsp
90 gm oats, coarsely ground
90 gm almonds, coarsely ground
75 gm dried black berries
3 tbsp warm milk
1 tbsp vanilla essence
1 pinch of sea salt
Method:
Preheat the oven to 180°C. Grease the cake tins with a non-stick baking paper and dust 1 tbsp wheat flour.
Sift the buckwheat and wheat flour, coarsely ground almond powder and baking powder together. In a mixing bowl, beat the coconut oil/white butter and brown sugar together until pale and creamy.
Beat one egg at a time and add to the coconut oil and the sugar mix, beating well between each addition to ensure they are combined.
Add the vanilla extract and sift in the flour mix. Fold gently to combine, adding the milk to loosen the mixture a little.
Dust the blackberries with 1 tbsp flour and fold in slowly to the cake batter. Place tin on the middle shelf of the oven and bake for one hour or until golden and a skewer inserted in the middle comes out clean. The cake is best eaten on the day it is made.
---
Chatti Pathiri
Chatti Pathiri from Kerala was as traditional as it gets.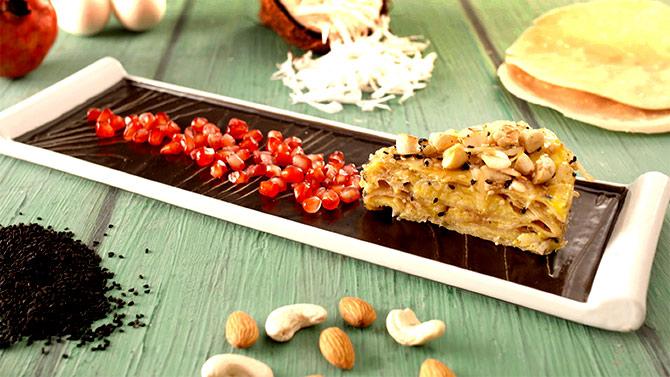 Ingredients:
For the pathiri:
1 cup flour
Salt to taste
Water to knead the dough
For the filling:
2 eggs
3 tbsp coconut
¼ cup cashew nut
¼ cup raisins
2 tbsp sesame seeds
3 tbsp sugar
2 red Kerala bananas, chopped
2 tbsp ghee
Other ingredients:
2 eggs
1 tbsp sugar
½ tsp cardamom powder
1 tbsp milk
Method:
For the pathiri:
Add flour, salt and oil in a bowl. Add water slowly and knead in to smooth dough. Divide the dough in to small balls. Roll each balls to extra thin circles of same size.
Heat a tava and cook each of these pathiris for just two seconds on one side only.
For the filling:
Heat 1 tbsp ghee in a pan. Add cashew nuts. Saute for a minute, then add the sesame seeds. Saute for another min. Add the raisins and saute for a min again.
Mix in the coconut and add 1 tbsp sugar, saute for 2 mins until the coconut starts drying up.
In the remaining ghee, add chopped bananas and 1 tbsp of sugar. Saute until golden brown in color. Keep aside.
In the same pan stir-fry eggs by adding 1 tbsp of sugar, keep stirring until the eggs are cooked. Take it off the gas and keep aside. Now all the fillings ingredients are ready.
Assembling:
Divide the banana and stir-fried eggs mix into 6 parts. Divide the fried nuts, raisins coconut and sesame seeds into 7 parts (for garnish). Beat eggs with milk, cardamom powder and sugar in a wide plate.
Grease the non-stick tray with ghee. Take a pathiri and dip it in the egg mixture and layer the pan. Spread a part of filling on top of it (banana, egg, coconut stir fry, cashew and raisins and sesame seeds).
Now cover it with another pathiri dipped in egg batter. Above that spread another part of filling and continue the process for 6 layers. Lastly put the the top layer of pathiri and garnish it with cashew, raisins and poppy seeds. Pour the remaining batter on top of it.
Bake it in the oven for about 20-25 minutes at 170°degrees . Cut in to pieces and serve warm.
---
Tanghou
Among the desserts from North East, Tanghou is steamed in a banana leaf and made with sticky rice, jaggery and sesame seeds.
Ingredients:
2 cups sticky rice, soaked and drained
1 cup crushed jaggery
Banana leaf
2 tbsp black sesame seeds
Method:
Pound the sticky rice. Mix the powder with jaggery and sesame seeds.
Break the dough into tennis sized balls and wrap in a banana leaf.
Steam the mixture for 15-20 minutes. Allow to rest and and enjoy with tea.
Chef Pankaj Bhadouria plans to take viewers on a culinary journey through India with the second season of 3 Course with Pankaj, which will be telecast on LF Channel.