Gudi Padwa recipes for the foodie in you.
Basundi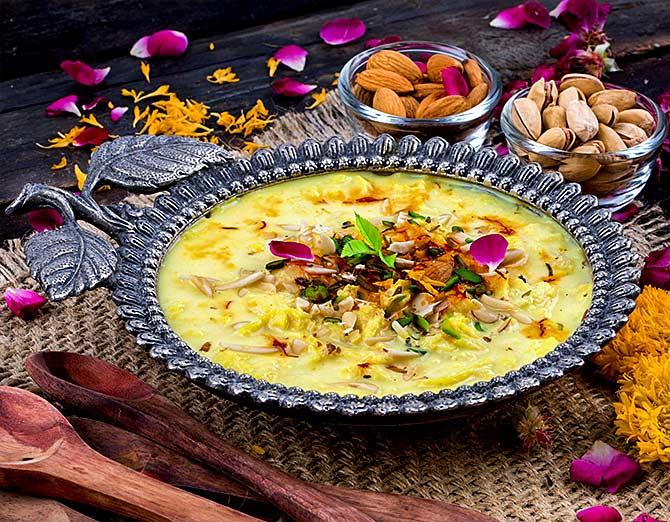 Ingredients:
2 l full fat milk
½ cup sugar (you can reduce by a tbsp)
½ tsp cardamom powder
7-8 strands of saffron (soaked in 2 tbsp of warm milk)
2 tbsp pistachios
7-8 almonds, blanched and peeled
Method:
Sliver the blanched almonds, chop the pistachios and set aside. Boil milk in a large heavy bottomed wide vessel on high flame. Once it comes to a boil, reduce flame to low and allow to simmer for 12-15 minutes, stirring in intervals of 2-3 minutes.
Add sugar. keep stirring constantly. Allow the milk to simmer till it has thicken and has reduced the quantity to half. Add cardamom powder.
Cook for few minutes and allow it to cool. Garnish with almonds and pistachio.
---
Mohanthal Ladoo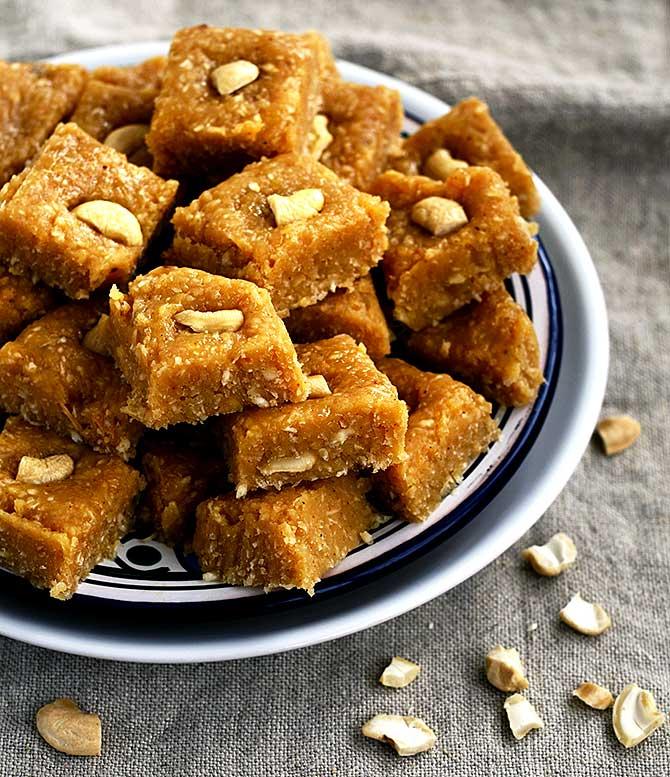 Ingredients
2 cups besan flour
3 tbsp melted ghee
6 tbsp milk
1 cup melted ghee

¼

cup sugar
5 tsp milk
1 tbsp rose water optional

¼

tsp elaichi powder

¼

tsp kesar

½

ghee for greasing
1 tbsp pista chops for sprinkling
1 tbsp almond for sprinkling
Method:
Take kesar and ½ tsp warm water in a bowl. Mix well and keep aside.
Combine besan, 3 tbsp of melted ghee and 3 tbsp of milk in a deep bowl and mix well using your fingertips till no lumps remain. Gently press it to even out the mixture. Cover with a lid and keep aside for 30 minutes. Break the lumps lightly with your fingertips and sieve using a sieve with big holes. Keep aside.
Heat the ghee in a brass vessel on high flame for a minute. Add the besan mixture. Mix well and cook on a medium flame for 5 minutes, or till the mixture turns brown in colour, while stirring continuously. Remove from the flame and keep aside to cool for 15 minutes.
Meanwhile, combine sugar and 1 cup of water in a deep non-stick pan, mix well and cook on a high flame for 2 minutes, while stirring continuously. Lower the flame. When it boils add 2 tsp of milk, mix well and cook on a medium flame for 3 to 4 minutes, while stirring occasionally. Remove the dirt that floats on the sugar mixture and discard it. Lower the flame to slow and cook for 7 minutes, or till the syrup is of 1. 5 thread consistency, while stirring occasionally.
Add the rose water and mix well. Keep aside. Add the cardamom powder, saffron-water mixture and sugar syrup to the cooled besan mixture, mix well and stir for approximately 3 to 4 minutes, while stirring continuously or till the mixture cools. Make round ladoos.
---
Thandai Shrikhand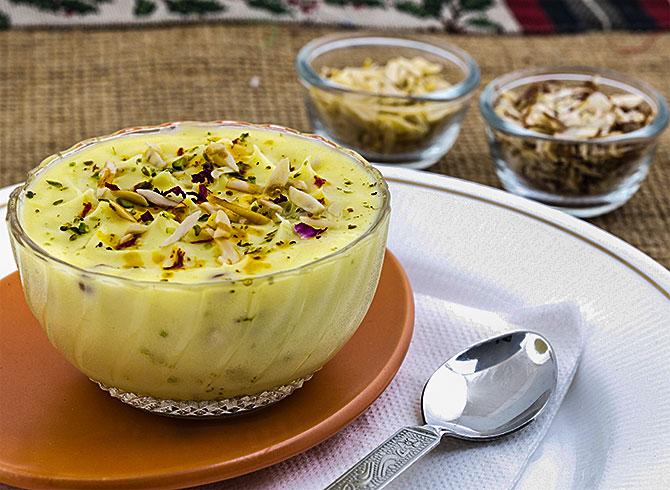 Ingredients:
1 tsp of kesar syrup
½ tsp of thandai syrup
For the garnish:
For the thandai powder (dry roast and grind all the ingredients into a fine powder):
1/3 cup almonds
2 tbsp cashew nuts
1 tsp fennel seeds
1 tbsp poppy seeds
1 tbsp melon seeds
½ tbsp black pepper
4-5 green cardamoms
Method:
Mix the thandai powder, kesar syrup and thandai syrup in the shrikhand. Set it for one hour and garnish with chopped almonds and pistachios.
---
Khaman Dhokla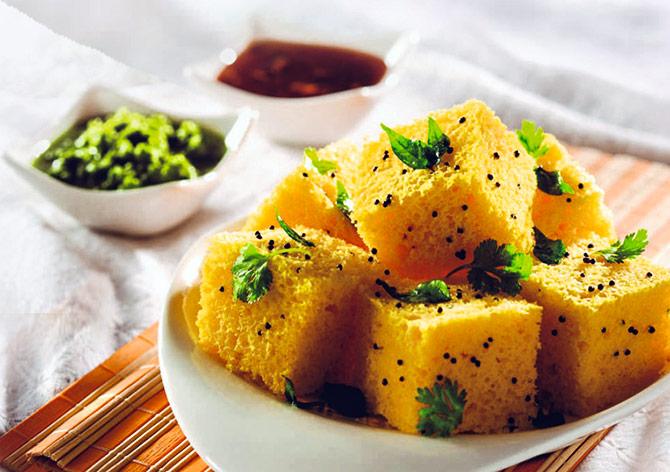 Ingredients:
2 cup besan, sieved
1 cup yogurt, beaten
Salt to taste
½ tsp turmeric powder
1 tsp green chilli-ginger paste
2 tbsp oil
1 tbsp lemon
1 tsp eating soda
1 tsp mustard seeds
5 green chilli, chopped
1 tbsp sugar
2 tbsp fresh coriander leaves, chopped
½ cup coconut scraped
Method:
Take besan in a bowl. Add yogurt and approximately one cup of warm water and mix. Avoid lumps. Add salt and mix again. Leave it aside to ferment for three to four hours.
When the besan has fermented, add turmeric powder and green chilli-ginger paste. Mix. Heat the steamer. Grease a thali. In a small bowl take lemon juice, soda bicarbonate, one tsp of oil and mix. Add it to the batter and whisk briskly. Pour batter into the greased thali and place it in the steamer. Cover with the lid and steam for ten minutes. When it cools, cut into squares and keep in a serving bowl/plate.
Heat remaining oil in a small pan. Add mustard seeds,. When the seeds begin to crackle, added kadhi patta, chopped green chilli and sugar. Pour over the dhoklas. Serve, garnished with chopped coriander leaves and scraped coconut.
---
Maharaj Jodharam Choudhary is the corporate chef of Khandani Rajdhani
---