Ahead of Diwali, chef Ranveer Brar has shared these lip-smacking sweet and snack recipes.
You can share your Diwali recipes too!
Rava Laddoo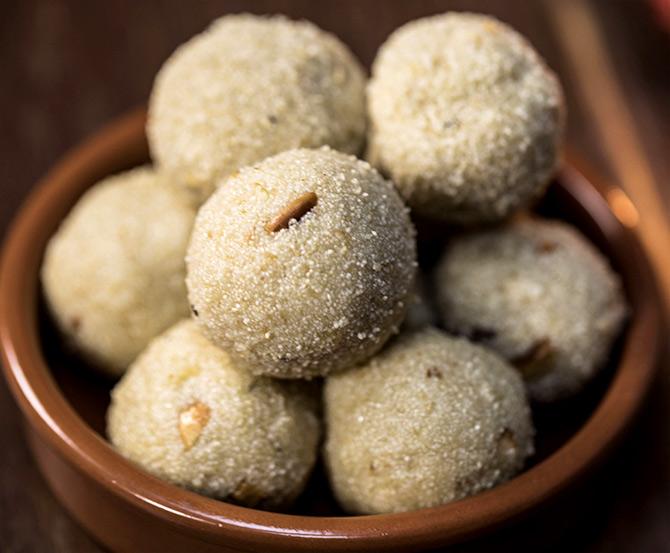 Preparation time: 10 minutes
Cooking time: 15 minutes
Serves: 10 to 15 laddoos
Ingredients
2 tbsp dessicated coconut, (optional)
5 tbsp ghee
8-10 cashew nuts, halved
1 cup rava
½ cup powdered sugar
½ tsp cardamom powder
¼ cup water
1 tbsp condensed milk
Method
Heat kadai. Dry roast the dessicated coconut till light brown. Keep aside.
In the same kadai, heat ghee and fry the cashew nuts.
Remove with slotted spoon and keep aside. Chop them once cooled.
In the remaining ghee, start roasting the rava.
Roast for 8-10 minutes or untill light brown in color and becomes aromatic.
In the kadai add powdered sugar and mix well for 4-5 minutes.
Add coconut, cardamom powder and cashew nuts. Mix well.
Pour in water, condensed milk and mix well.
Start making laddoos when the mixture is hot.
Serve.
Wheat Flakes Chivda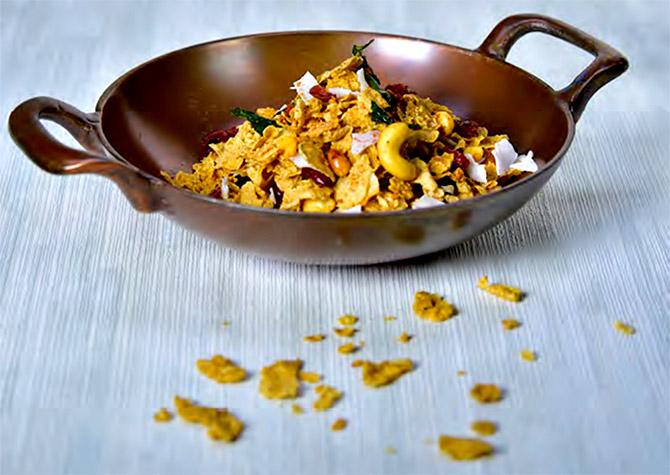 Ingredients
3 cups wheat flakes, crushed
2 tsp oil
1 cup dried cranberries
1 cup coconut, shredded
2 tsp sumac powder
1 cup roasted peanuts
1 cup roasted cashew nuts
2 green chilies, slit lengthwise
1 tsp red chili powder
10 to 12 curry leaves
Method
Dry roast wheat flakes in a non-stick pan.
Stir occasionally till crisp (approx 3 to 4 minutes). Keep aside.
Roast coconut the same pan until turns golden brown and keep aside.
Heat oil in a non-stick pan.
Add cashew nuts, peanuts, green chillies and curry leaves. Stir well.
Add this mixture wheat flakes, add roasted coconut, dried cranberries, sumac, red chili powder, salt, sugar and mix well.
Cool and store in an air-tight container.
Murmura Laddoo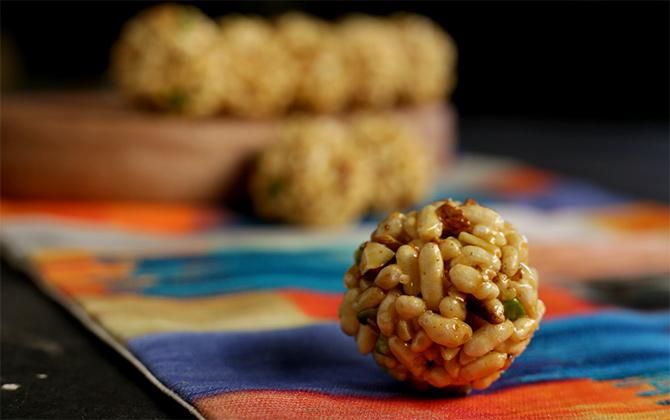 Preparation time: 15 minutes
Cooking time: 20 minutes
Serves: 10 to 12 lemon size laddoos
Ingredients
3 cup murmura (puffed rice)
1 cup jaggery, grated
4 tbsp water
1 tsp cardamom powder
1/3 cup almonds, chopped (optional)
1/3 cup pistachio, chopped (optional)
Method
Dry roast the murmuras in a pan till crisp.
In a pan; add jaggery and water, mix till dissolved.
Put it on simmer and cook until it reaches to 2 string consistency.
Add cardamom powder into melted jaggery and mix well.
Now add almonds, pistachios and murmuras into it and mix well.
Turn off the flame. Allow it to cool for 1 minute but not more than that.
With the wet hands start making balls by taking handful of mixture and start pressing into ball shape.
Make laddoos of desired size and allow them to cool down, they will harden up.
Store them in air-tight containers.

Foxtail Millet Chakli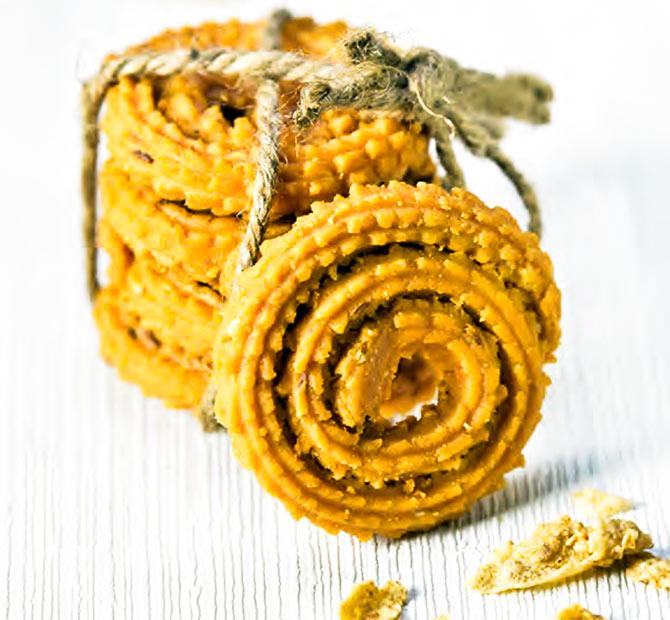 Preparation time: 45 minutes
Cooking time: 35 minutes
Yield: 1 large jar
Ingredients
1 cup foxtail millet (kangni)
¼ cup split green gram (moong dal)
1 tbsp split roasted gram (roasted chana dal)
½ cup rice flour
1-2 tsp red chili Powder
Salt to taste
A pinch asafoetida
½ tsp carrom seeds
2 tbsp warm oil
2 cup warm water to knead dough
Oil for deep frying
Method
To make chakali flour, heat a kadhai on medium flame and dry the foxtail millet for 3 to 4 minutes. Remove and keep aside to cool.
Dry roast the moong dal for 4 to 5 minutes or till fragrant. Remove and keep aside to cool.
Combine foxtail millet, moong dal, roasted chana dal and grind to a fine powder.
Remove this flour mixture in a mixing bowl.
Add rice flour, red chili powder, salt, asafoetida, ajwain and mix well.
Add in the warm oil and mix in the dough.
Add warm water and knead into semi hard and smooth dough. Cover the dough with cloth and rest for 10 minutes.
Put a portion of dough in the chakli mould and pipe the chaklis on butter paper.
Cut it with scissor when desired size is achieved. Repeat with rest of dough.
Form in batches. If spirals are not being formed that means dough has less moisture, add some water and knead well.
Heat oil in a kadai. Deep fry the chaklis till golden brown. Remove and drain off excess oil.
Store in air tight containers.
Methi Dhebra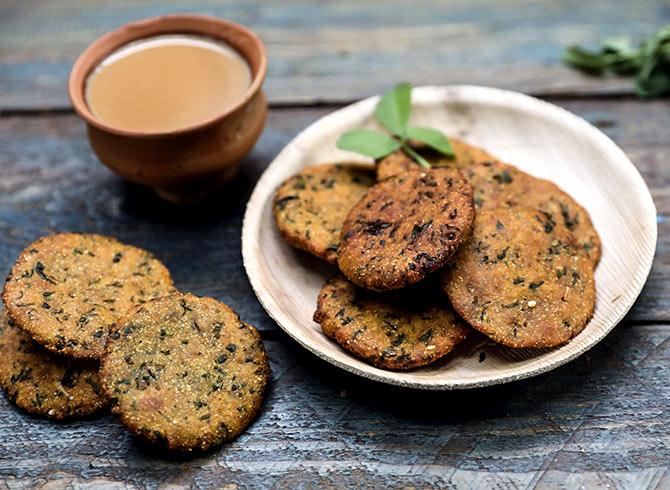 Prep time: 10 minutes
Cooking time: 20 minutes
Serves: 2
Ingredients
For dough
1 cup whole wheat flour
½ cup cornmeal
¼ cup bajra atta
¼ cup semolina
1 tbsp flaxseeds, toasted
1 cup fenugreek leaves
1 tbsp white sesame seeds
½ tsp carom seeds
½ tsp turmeric
1 tsp red chili powder
½ tsp fennel powder
1 tsp ginger garlic paste
2 tbsp curd
1 tbsp jaggery
1 tbsp oil (for binding)
Salt to taste
Water as required
Oil for deep frying
Method
Make semi-soft dough using all the dough ingredients using sufficient water.
Make lemon size balls and press them on your palm with 1 cm thick size.
Deep fry them in hot oil until golden brown in colour. Remove onto absorbent paper.
Serve hot with curd.
Chef Ranveer Brar hosts the show Station Master's Tiffin on LF, an international lifestyle channel.
---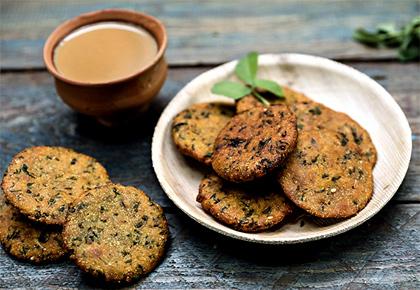 Readers, you can share your best Diwali recipes on getahead@rediff.co.in (Diwali Recipes) along with your NAME, LOCATION, and details of the recipe.
Also, please send us your original photograph/s of the recipe/s. We'll carry the best ones right here on Rediff.com.