A meal in a jar is not only a culinary fad, but also a practical way of ensuring the right portion to eat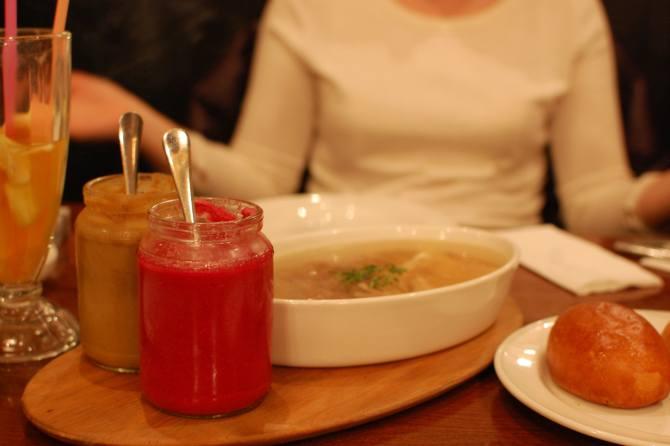 Photograph: Vladimir Yaitskiy/Creative Commons
Ashish Kohli, a Mumbai-based advertising executive, got acquainted with the concept of a meal in a jar at a recent brainstorming session in office. Executives could be seen digging into jars filled with crisp cereals topped with creamy vanilla yoghurt, fresh fruit and other delectable crunchies while throwing ideas at one other. Some others were armed with jars full of fresh salad. If you ask any foodie, the latest buzzword in the culinary world is meal in a jar -- it is compact, customisable, serves the ideal portion for one person and looks scrumptious. Such is the rising popularity of this concept that bistros and cafes have made it part of their regular sit-down menu too.
"It has picked up tremendously. Anything and everything is being served in a jar now -- from desserts to soups and salads," says Anjali Batra, co-founder of the exclusive online community for foodies, Food Talk India.
The idea is to facilitate compact presentation of a dish that may be out of the usual, feels Manu Chandra, executive chef and partner, Monkey Bar. At his restaurant, one can find sorpotel jam and pickled steak served in jars as part of the sit-down menu. "People eat and drink with their eyes first. When we first served Mangaa drink in a Nutella jar, the cutesy quotient went up exponentially. The message was that something of quality need not always be posh. When served in a jar, it hits closer to your comfort zone," he says.
The one thing that lends itself perfectly to being made and served in a jar is dessert. "If you walk into a baker's mela, you will find that 30 to 40 per cent of the desserts are being served this way," says Batra. For instance, at Fio Cookhouse in New Delhi, the tiramisu and banoffee pie are made and served in a transparent Mason jar to take in their gooey goodness. "The jar helps in creating the perfect size and shape for the dessert. It adds a firm base," says executive chef Ravindra Chaudhary. Another reason why bakers prefer jars is that it increases the shelf life of products. At Sugar Monkeys in Chennai, baker Cindana Manickavel agrees. "It increases the shelf life of the dessert by at least 10 days," she says. She buys the usual Mason jars, sterilises them by dipping them in hot water and then microwaves them so that not a drop of water remains. Her red velvet cake with cream cheese frosting, blueberry cheesecake and coffee cake with salted caramel have emerged as popular dessert jar meals.
It took a while for Manickavel to convince people that just because it is served in a jar doesn't mean the dessert is not fresh. Natasha Fernandes, who runs the popular Cereal Killers in Mumbai, experienced a similar mindblock. "I have to explain to people what a parfait is and that I will be layering the cereals in that manner," says Fernandes, who is a creative director by profession and started Cereal Killers as something on the side. The growth of Cereal Killers caught her unawares. "Today, I have my regular clientele and I also cater for board meetings. The demand from the latter came to me as a surprise," she laughs. She layers the cereals with vanilla yoghurt followed by seasonal fruit, crunchies and dry fruit. "Each is customised as a lot of people have allergies and issues with sweetness," she says. You can pick up a cereal jar, eat the meal on the way or stow it in the fridge at office to be eaten at lunch."
However, there is a word of caution for those planning on starting a jar meal venture. "There is presentation for the sake of it and then there is presentation that fits in the larger scheme of things. One needs to draw a line somewhere," says Chandra, who feels chefs need to restrategise the use of jars. Batra agrees.
"Salad served in a long jar where it's a pain to dig in just doesn't work. The concept has also created an opportunity for people to hike up prices as now they are offering a jar with the meal as well," she says. For her, anything that is meant to be eaten in layers works best in the jar and that's what people must stick to -- "Tiramisu or trifle or anything creamy in texture is ideal."