Shilpa Shetty nailed the Mayurasana (peacock pose) as she showed off her yoga moves in an Instagram video.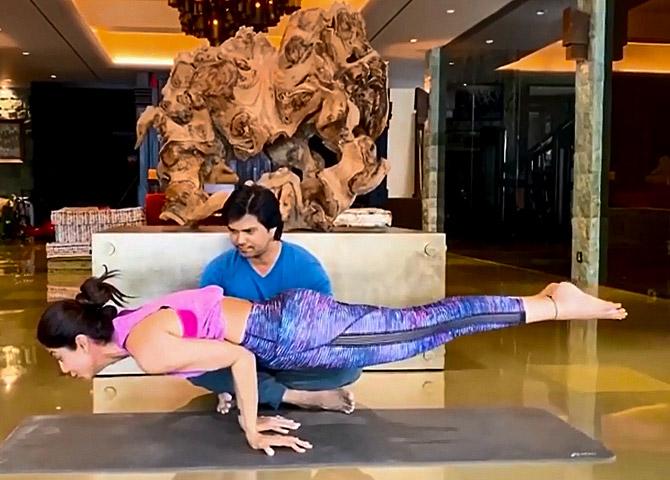 Given her flexibility, Shilpa Shetty can make even the most difficult yoga pose seem super easy.
However, in a recent Instagram post the actor revealed that the most difficult pose for her in 2019 was the Mayurasana (peacock pose).
'The FIRST Monday of the year deserves something special! So, I decided to post the asana I found most difficult to do in 2019,' she wrote.
Sharing a video of her mastering the pose (external link), she added, 'A lot of consistent practice and effort. All worth it... Nailed the Mayurasana this morning.'
For people who are unaware how difficult this pose is, Shilp comes to the rescue.
'It is an advanced yoga asana that improves digestion and focus,' she explained in the post.
'It also enhances wrist flexibility and blood circulation, while strengthening the arms.
'When you can start balancing your entire body weight on your palms, it helps build your self-confidence too! It may not be as easy as it looks, but practice makes us perfect, doesn't it?'
---
We ask you, dear readers which was the most challenging yoga pose you attempted?
Tell us how you mastered it? How many months did it take?
What inspired you? How did you feel the minute you aced the pose?
Simply write to getahead@rediff.co.in (subject: Toughest Yoga Pose) along with your NAME, AGE, LOCATION and a photograph of you attempting the pose.
We'll feature the best responses right here on Rediff.com.