'If you enjoy learning and if you can risk the failures, entrepreneurship can be a rewarding, enriching experience.'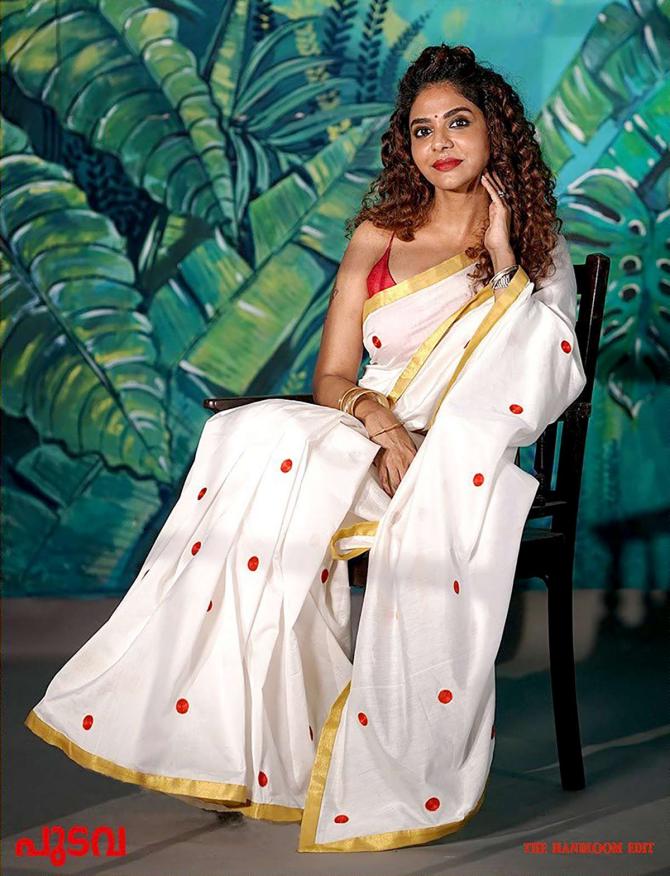 Eight years ago when Poornima Indrajith started the label Pranaah, it was meant to be a small boutique selling ethnic and modern wear. But it became an instant hit.
To see an actor from Kerala open a boutique blending fashion with tradition was a welcome change.
With pretty and successful actors like Manju Warrier, Samyukta Varma, Rima Kallingal and Priyamani donning her creations, Pranaah soon became a brand to reckon with.
Over the years, Poornima has introduced several new concepts and experimented with Indian designs and embellishments to create interesting garments that appeal to people of all ages and professions.
What makes her journey interesting is she is a first generation entrepreneur who never went to design school but turned her love and passion for clothes into a meaningful enterprise.
Amid the launch of Pudava, her latest Onam collection, the mompreneur who is married to actor Indrajith and based out of Maradu in Kochi, shares her inspiring career learnings and offers practical advice to young and budding designers in this lively interaction with Divya Nair/Rediff.com.
What was your inspiration behind Pranaah?
My father is a lawyer, my mother is a teacher. I am an actor married to another actor.
I don't come from a family with a fashion background nor did I study in a fashion institute.
But even as an actor and dancer, I was always passionate about clothing. I had an eye for detailing and I loved to experiment.
After I got married and had kids, I wanted to stay active.
In terms of career, I wanted to do something that will allow me to come back home to be with my kids and family and at the same time pursue something that I love.
I loved fashion and clothes as a hobby. That's how I started Pranaah in September 2013.
I wanted to create different types of clothes that are fashionable, sustainable and at the same time, do less damage for the planet.
So I started with bridal and multi-wear slowly experimenting and adding more options, based on the changing needs of the market and customers.
And are you happy with the success?
My definition of success is very different.
When I conceived and started Pranaah, I had a vision, but I was new and there was so much I didn't know.
Since I was an actor, I was fortunate enough to have known enough people and friends who trusted my work and took it to the next level in the first few years. There was no social media or marketing as such, it was purely word of mouth networking.
To be honest, I didn't know it was a beginning of an entrepreneurial journey.
More than fashion, it was more like a journey towards myself, knowing who I am.
So if you ask me if I am a successful entrepreneur in terms of making money, I am not sure. Because am still learning and discovering something new every day in this journey.
I have made mistakes, I have failed. But I have understood my shortcomings. I didn't give up.
In these eight years, I am happy to see how my idea has grown to be something bigger than what it was when I first started it.
Today, when I see more people, including youngsters associating with the brand and coming back to me, it makes me happy, that I am doing something right.
So I am happy to be a part of this continuous learning process. I have this hunger towards learning. To me that is my true success.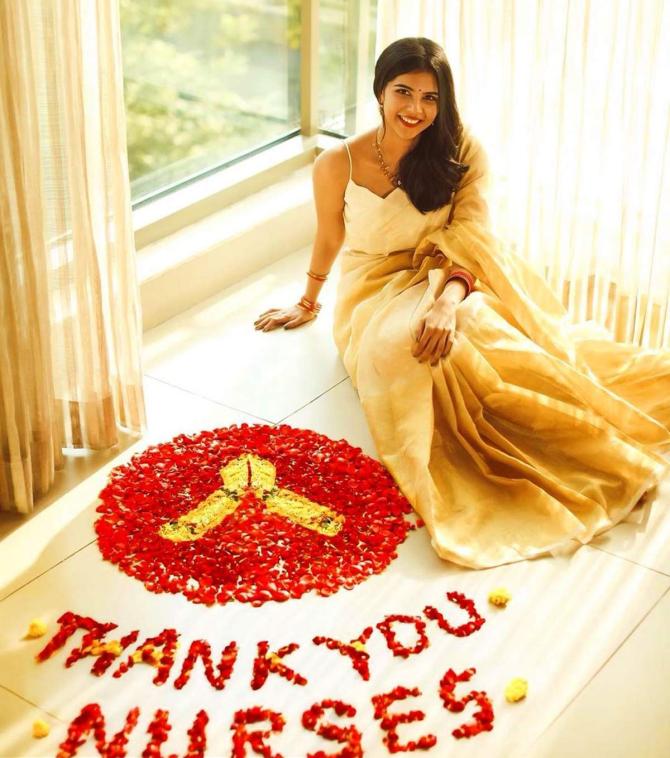 How has the fashion industry in Kerala and your clientele changed in the last few years?
When I started Pranaah, I had little knowledge about the industry or the process of designing. But I was a celebrity and had the mover advantage. I will not deny that.
And Kerala used to be a different market (than what it is today). Most people didn't understand what sustainability was or what it meant.
Brides in Kerala would spend a fortune on a bridal kanjeevaram or lehenga and treat it as a single use outfit.
But the more I learned about the process of designing, how a garment is created from scratch, the sourcing of materials, the hard work and sweat that goes into it, I began to experiment.
Slowly I started passing this knowledge and information on to my clients.
You can't blame them because most of us have grown up to the notion that a white and gold sari or a kanjeevaram is reserved for special occasions. Some would say that there is a certain age to wearing a pattu pavada (a traditional skirt) or that wearing a sari would make you look a certain age.
So I started creating different looks in white and gold -- the pavada got redesigned to look like a lehenga.
If a bride came to buy a wedding sari, I'd convince them to pick up one pavada(skirt) for the pre-wedding event and tell them how they could repurpose an expensive outfit for a different occasion later.
I do it myself. For the first Onam, I turn the sari into a flowy kaftan, then next year, maybe it's a curtain, the following year, it becomes a pillow cover.
Now if you look at social media, you'll see teenagers surprising you with so many ideas every day.
They are wearing saris with tees, with pants and getting all experimental. I love their confidence. Ethnic Indian wear is no longer limited to special occasions nor is it defined by age or gender.
I wish we could all feel a little lighter and younger in our head to be able to embrace these ideas on a daily basis.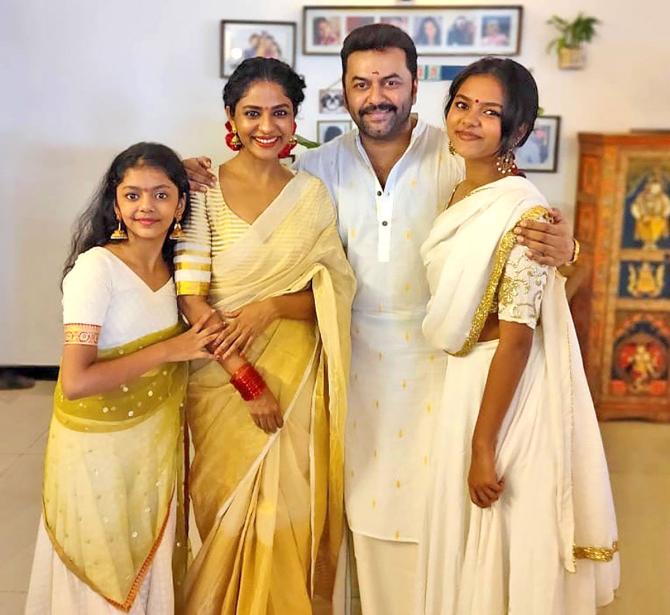 Every year, your Onam collection is different. Tell us how you conceive it.
The Onam collection is always special because every year, I try to introduce a new element through my collection. Even the name of the collection is meant to create some nostalgia.
My first collection Valkannadi was Kerala handlooms. I personally love jacquard and it introduced me to a whole new community of weavers and artisans from Kuthampully to Chendamangalam.
Chamayam and Aana Chandam during which I learned the process of weaving myself. I worked with the Travancore sisters too and did a 3-and-a-half month course with them.
In Chamayam, I introduced colours – peach, mauve because I wanted to experiment beyond the traditional off white and gold.
For Chethi Manjadi, which was inspired by my love for chethi flowers and manjadi kuru (a red and black coloured seed from coral tree found in India and China, botanical name: Adenanthera Pavonina), I had a little struggle.
I wanted to weave manjadi kuru into the garments and people thought I was crazy. So initially I tried doing it myself.
I spoke to a friend who was making jewellery from it to understand the process of how you pick the right beads, then treat them right so it stays longer etc.
This year, because of the lockdown, I planned my Onam collection months in advance. Still, I got my first outfit ready only early last week.
I always like to try out the collection so I can know how it looks and feels and make changes before sending it for production.
The 2021 collection is named Pudava because is very common to Kerala households. It's simple and I wanted to recreate the 1980s era.
If you see the pictures, you'll see a studio set up that will remind you of the '80s.
I didn't want to name the garments with numbers or codes, so I chose to name it after the people I knew.
One of it is named after my mother-in-law Mohamalika, then there is Vasanthakumari, Ragalathika, Hemachandrika, Madhumita and Krishnadevi -- names you longer hear in the new generation, but will instantly remind you of someone like your mother, grandmother or aunt who belongs to Kerala.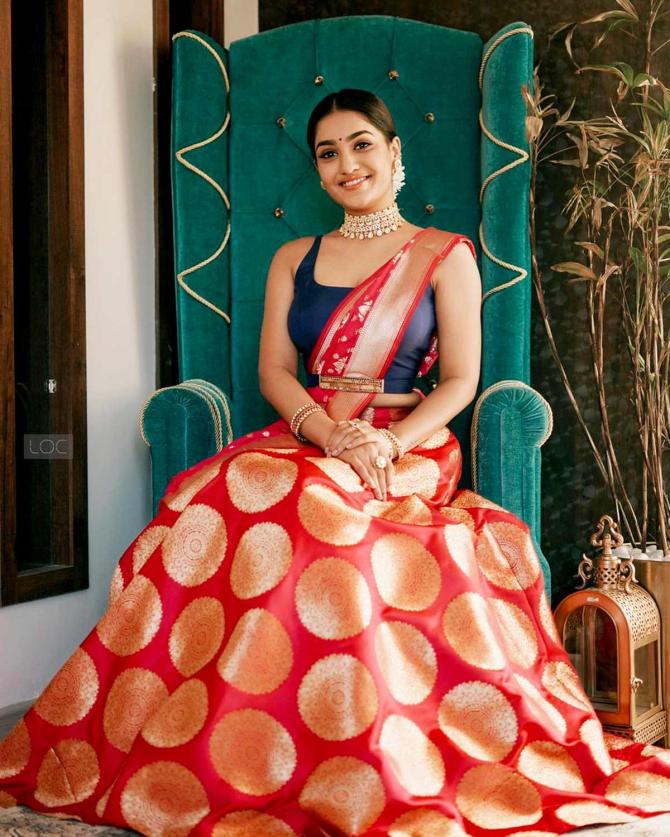 As a first generation entrepreneur, what have been some of your greatest challenges?
As an entrepreneur, the biggest challenge is that your craft has to meet the economics.
Ultimately your brand has to make enough money so you can pay it forward and generate income for those who are dependent on you.
Even though I'd love to promote sustainable clothes, I have realised that the cost of designing and selling them is way too expensive.
So naturally there is a huge demand for powerloom because it is affordable, requires lesser effort and generates quick income.
A major disadvantage also is that most people don't even know the difference between handloom and powerloom.
As an entrepreneur, I have the additional responsibility to balance these two sides -- to create products that do less damage to the planet and at the same time, make it economical.
Over the years, I have learned to give people options to choose. My responsibility is to create awareness and inform the customers.
So you come and see what I have created. If you like it you can buy it, if you don't you can choose what works best for you. I cannot force my ideas or vision, because ultimately everyone has to go home happy.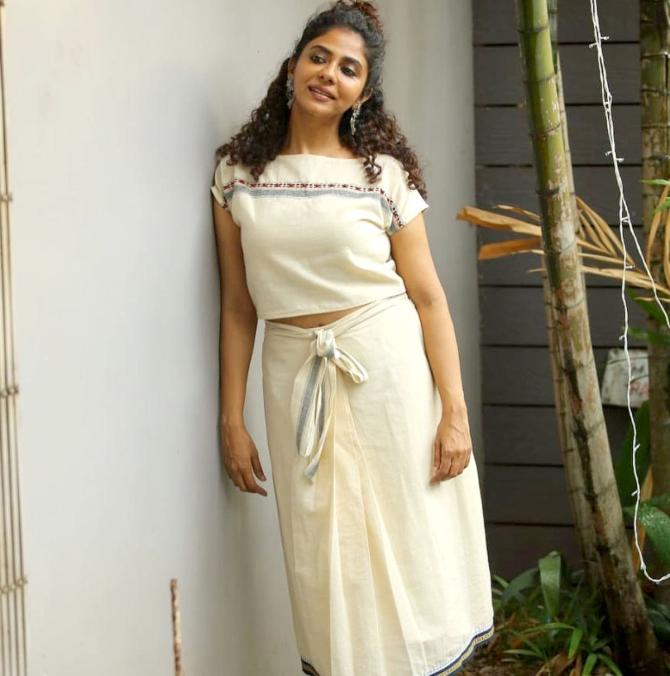 What does fashion mean to you? What's your personal style like?
Fashion, according to me, is an extension of your personality; it's also your identity.
What you wear basically defines who you are and what you believe in.
On a personal note, I believe in sustainable fashion, sustainable clothing. I recycle and upcycle a lot of my clothes. I mix and match, I repeat clothes.
I love handlooms, cotton, mostly Indian fabrics and handwoven stuff.
It's not that I don't buy a Zara. But if you see my wardrobe, it will be 60% cottons and 40% casual, synthetic stuff. I don't do a lot of corporate wear.
Among Indian designers, whose work do you admire?
I love Anita Dongre because she is someone who has been able to create a balance of designing couture for the masses and the elite.
I like Rahul Misra's craft. I like Vaishali's (Shadangule) designs. The way she presented her collection at the Paris Fashion Week this year gives designers like me so much confidence to simply experiment and try out the ideas that are inside our heads.
Obviously I look up to Sabyasachi (Mukherjee). His recent collaboration with H&M is a huge step forward for Indian fashion. The world will know that we are not just another manufacturing nation.
From 'Made in India,' to 'Created and Designed in India' is how the world will identify us now.
Right now, there is a huge hue and cry about the project, but I see it in all in a positive way.
It has opened up a dialogue among common people which is very important today.
Fashion is also a form of art and expression and it must create dialogue, spark a conversation.
Most of the time people speak, wear, live and express based on their limited understanding, knowledge and information.
So, if a designer's collection opens a dialogue we must appreciate it. Ultimately people will be informed and become aware of something they didn't know or pay attention to earlier.
The ultimate goal as designers is for us to create a platform where ideas are exchanged and together we can find ways to make a safe, happy planet where everyone benefits in some way.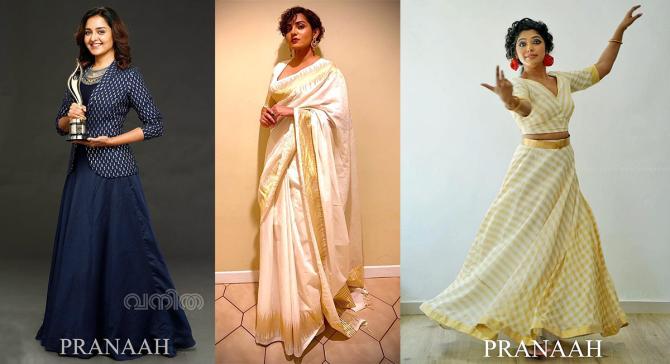 A celebrity whose fashion sense and personality you admire.
Anyone who is confident of himself/herself is a celebrity for me, because you stand up for who you are and that's your identity.
In terms of fashion and as a person, I really like Priyanka Chopra. Whatever outfit she wears, the way she presents and carries herself is commendable.
Over the years she has created a strong identity for herself both in India and internationally which is very inspiring.
Some simple ideas how one can recycle one's wardrobe without spending too much?
I am saying this from my own experience because this is something I do myself too.
You can remodel your mom's old sari into a mundu, a skirt or a kaftan.
You can also turn it into a smart casual top and pair it with pants or wear it a sari, skirt or lehenga. It's only when you experiment you get to learn what works, what doesn't.
Your advice for aspiring entrepreneurs
First and foremost, you must decide why you want to start a business: Are you in it to make money, for your passion or to learn something new?
You will have to constantly ask yourself: What gives me satisfaction? Am I happy doing this? How can I be better at this?
Once you become an entrepreneur, your priorities will keep changing. You will have to find ways to generate income, because you have to pay salaries, make enough money to put it back in the business.
Not everyone wakes up and makes Rs 10 lakh a month in the first year.
So, have you studied the market well? Do you have a support system to back you up in the first few years?
If this is your first business I'd say start small, understand the process. Put yourself first before the business, only then will you enjoy the process. There will be failures, setbacks, and days when you feel defeated.
Entrepreneurship can be a draining process.
During such times, you must know your strengths and assess your weaknesses. Get good people in your team to make up for your weakness.
At the same time, if you enjoy learning and if you can risk the failures, entrepreneurship can be a rewarding, enriching experience too.
It has made me happy because I enjoyed the process of learning, of making mistakes, of sharing my experiences and again going back to creating something I believe in.