'Life has been my greatest teacher.'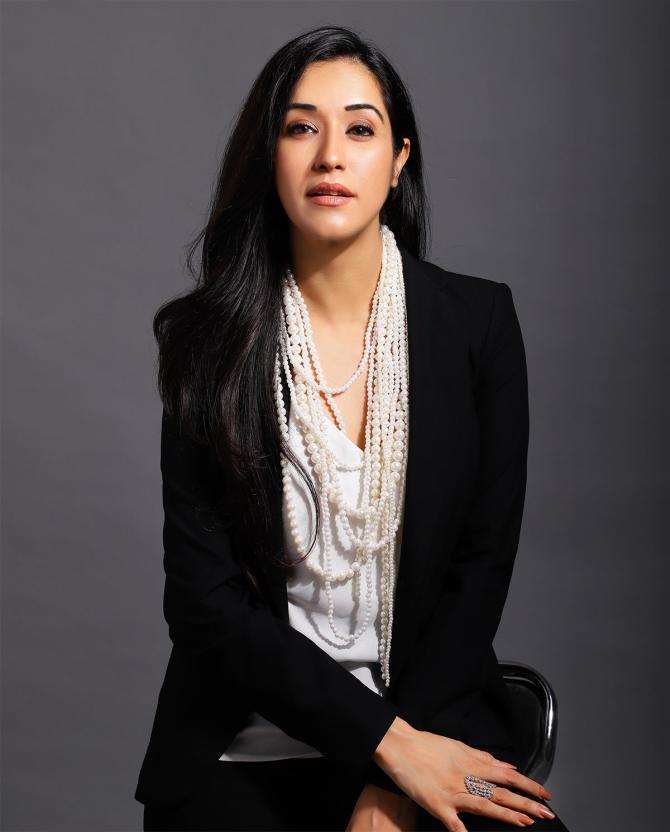 Chinu Kala was 15 when she ran away from her home in Mumbai.
She had Rs 300 in her pocket and no degree or certificate to boast of.
After spending a night at the railway station, Chinu found a job as a sales girl selling coasters and knives earning Rs 20 a day.
The next few years she took up odd jobs to earn an income and pay her rent, while learning survival skills and sustain a career.
In 2004, after her marriage, Chinu shifted to Bengaluru.
In 2007, a decade after she left home, she became a finalist at Gladrags Mrs India Pageant 2008 (She was among the top 10).
Chinu's training in the modelling world inspired her to start her first company Fonte Corporate Solutions, which dealt with corporate merchandising. She worked with clients like Airtel, Sony, ESPN and Aaj Tak to name a few.
In 2014, she shut down Fonte Corporate Solutions and started Rubans Accessories, a jewellery and lifestyle brand with her hard earned savings of Rs 3 lakh.
What began as a 36 square feet kiosk in Bengaluru made a revenue of approximately Rs 3.34 crore (rs 33.4 million) in 2017 and Rs 30 crore (Rs 300 million) in 2020-2021.
According to Chinu, Rubans has been "consistently growing by over 150% year on year and has an ambitious goal to clinch Rs 140 crore (Rs 1.1 billion) by 2024."
"I'm a self-made women entrepreneur," Chinu -- who made it to Business World magazine's 40 under 40 list earlier this year -- tells Rediff.com's Divya Nair.
"My learnings in life have always been on the go; so I don't hold any formal education as such."
"Life has been my greatest teacher and all that I have learned is through the hardships and struggles that came along," shares the 39-year old entrepreneur as she takes us through her inspiring career and life journey so far.
How did you survive after leaving your home and family?
Due to certain differences in the family, I left my home when I was 15, with Rs 300 in hand and a bag of clothes.
I was on my own that night.
I ended up staying at a railway platform.
I managed to find myself a job and I started working as a door-to-door salesgirl selling coasters and knives. This was the only job I could get at that time.
I found a dormitory to stay nearby, that's how my career started.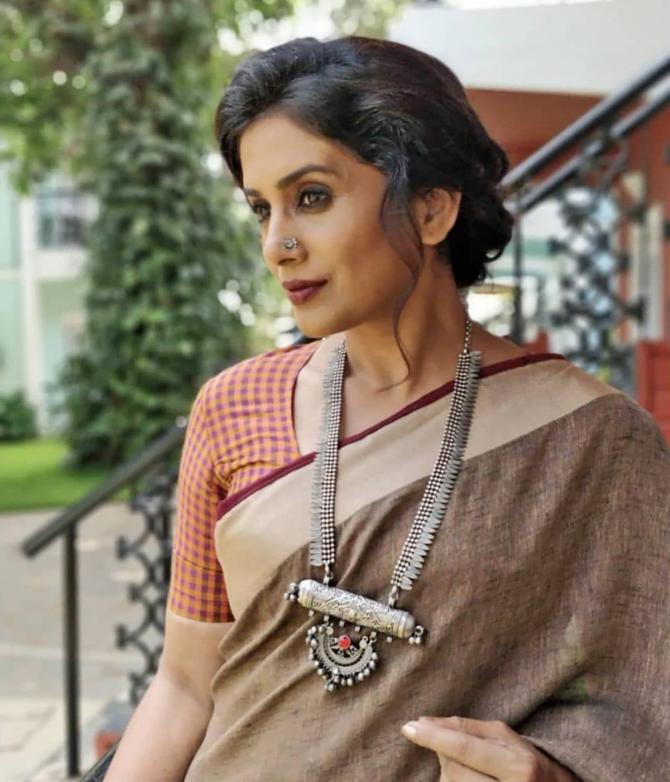 How did Mrs Gladrags India inspire you to be an entrepreneur?
I was passionate about modeling and my friends and peers encouraged me to take part in the Gladrags Mrs India in 2007 contest.
I reached the finals of the event, and post that, I received a lot of offers from various brands for modeling.
During the event, I realised how important jewellery was for the fashion industry, how a good piece of jewelry could enhance the whole look of a person.
In 2014, the Indian jewellery market was totally unorganised and people were not getting the designs they wanted.
Many of them were dependent on their relatives staying abroad for quality stuff or when they themselves travelled for vacations. This was a constant issue that I encountered whenever I interacted with people around and that's when I decided to turn this problem into an opportunity.
With a desire to bridge this gap by making quality jewellery accessible to all at affordable prices, and with the passion of owning my own brand, I started Rubans.
Thus, I combined my flair for business along with my love for fashion and curated my own fashion jewelry brand RUBANS.
What does your brand name Rubans mean?
Rubans, in French, means ribbons, and our brand captures the same free-flowing spirit of a ribbon which ties the gift of life together.
With Rubans, being able to relate to my customers' life and their lifestyle is the ultimate goal of my brand.
As a first generation entrepreneur, what were your initial days like?
I started the brand with my own savings of Rs 3 lakh.
The journey of Rubans has been nothing but extraordinary.
The first milestone for Rubans was the 36 sq ft kiosk at Phoenix Mall in Bengaluru in 2014.
The next store in the Forum Mall was a huge leap for the brand as it was one of Asia's best malls and gave the brand much-needed exposure.
Rubans gained love and admiration among customers and by 2015 the brand had stores across prime locations in the cities of Hyderabad, Bengaluru, and Kochi.
2016 saw a phenomenal growth of the Internet in India. I knew that this was a revolution that was waiting to happen and the retail industry was going to change forever.
By 2017, I started transitioning Rubans to the online space.
Since we did not have any experience of e-commerce it took us some time to understand the space but this move facilitated the growth of the brand to the next level and helped capture the fashion fanatics across the country.
When things seemed to be faring well, an unfortunate fire accident broke out in 2019 at our office premises and wrecked the brand. But the team fought really hard and bounced back making the brand scale bigger heights than it had done before the fire and Rubans went on to set its benchmark in the virtual market space in 2021.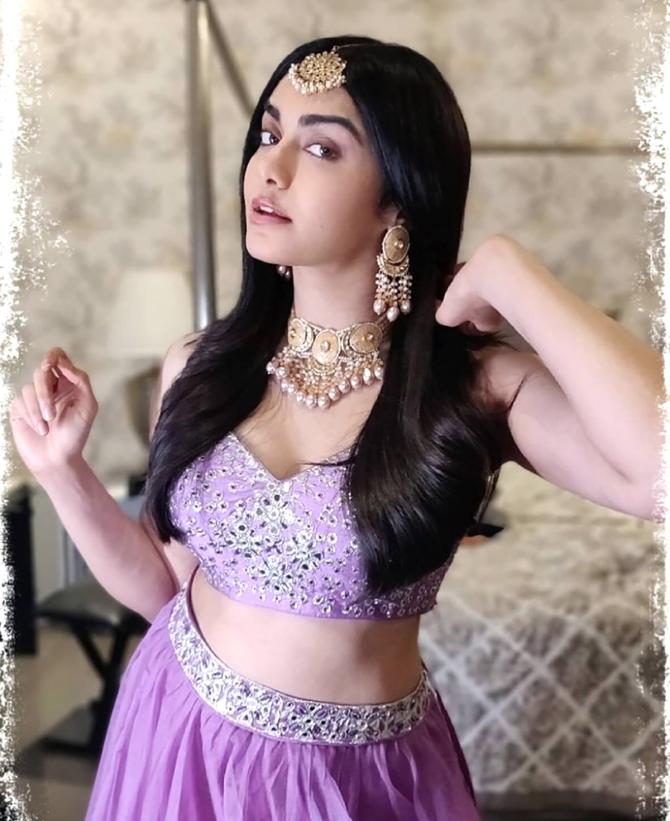 What are your most interesting learnings?
Being a first generation entrepreneur, the whole journey is so intense because you start out with no knowledge of business, but that's the charm of it, to figure out things.
The one thing I did is to not let my curiosity die down, and I still hold it with me like day 1.
Throughout the journey, we have been put to face a lot of challenges and to be honest, I don't remember a day where we celebrated completely, because every day has had its own challenges.
We did make mistakes. Quite a lot in fact.
But we've been quick to learn from them, correct our course and move ahead.
I started the business to build a brand and grow it organically so I have always worked on unit economics and that has helped me sail through tough times.
Do you think it is difficult for women to set up a business in India? What's your experience?
In my opinion, it is not a cakewalk journey for anyone. Especially the ones who do not have the desired educational or financial background, but still aspire to build a brand that can potentially emerge out as a dominant player in the market.
Each business will have its phase of ups and downs, but it's up to the team and the leader to adapt and innovate that can keep one running in the long run.
Now with the business environment and the technological advantages which can be leveraged, the probability of starting a business and building a successful brand is quite high.
It requires the right attitude, a hunger to succeed, and an eye for opportunity. I am glad to see many women leaders making their mark out there.
What factors do you think helped Rubans turn into the 'most desirable brand?
In my opinion, Rubans understands its customers like no other.
We house over 2,000+ designs curated by fine artisans from across the country, appealing to the varied interests of the customers.
A fresh catalogue of collections is updated every 15 days to ensure that even the most regular visitor gets to see and buy from the new launches.
We balance Western and ethnic jewellery designs and that also makes it the most desirable fashion jewellery destination.
After production, I personally wear and check every piece that goes on to become part of our collection.
Any piece that I don't feel good about after wearing will not be sent to our customers as I believe that our customers deserve only the best.
You've seen rejection and failure. What gives you courage?
Rubans, as you see today, is still at its infant stage in my opinion and we have a long way to go.
I have failed many times, but have always stood up, gathered myself with double the vigour and bounced back stronger than before.
And that has happened because I never had a Plan B with me.
From my childhood, success has been my survival mantra as I never had the luxury of going back to someone for help or support.
What is your motivation to success?
Hard work and self-belief.
Maybe it's because I had an unconventional approach towards life since my childhood and learning things on the go.
I believe in myself and my work.
That's my motivation -- the belief that I know I can make it, and I have what it takes to achieve what I want.
Three mantras of your life.
Hunger to succeed.
Eye for opportunities.
Hard work with a belief in one's work.
A few things one should know/be aware of before starting a business in India.
Understanding what your customer actually wants and then compare it to what options are available in the market gives us a fair business idea.
Also, remember businesses that seem easier from the outside are the hardest to crack.
Choose a business where you can add value to the customer or one that can solve a problem statement for the consumer.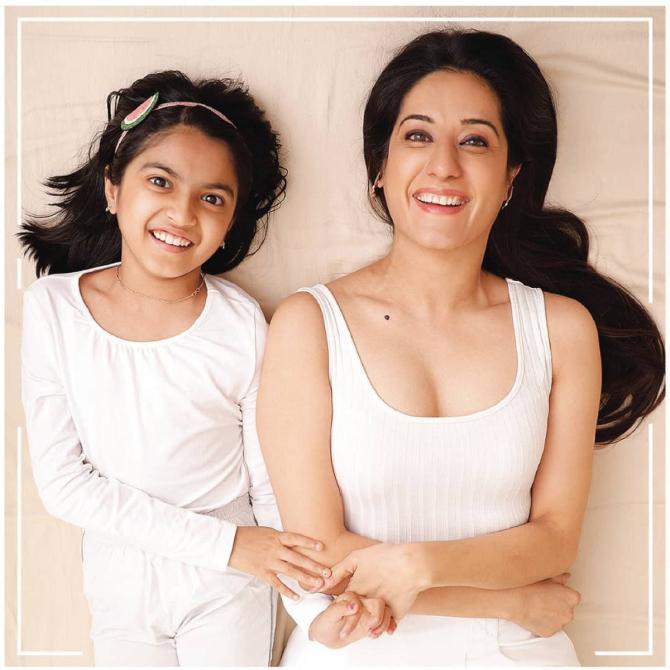 What are some of the latest accessory trends right now?
Our latest minimal accessories collection, ideal for WFH, is gaining a lot of traction from millennials and fashion-loving women.
We have introduced the pastels collection which is doing rounds with our customers.
The pastel bridal collection is gathering momentum as the festive season is approaching.
What's next for you?
Team Rubans is working hard on 'Mission 140 crore' by 2024.
Your tips for budding entrepreneurs?
Whatever be your business, remember that the most important thing is to know your customer.
Invest a lot of time in understanding your customer because if you get this right, trust me, half the battle is already won.