Designer Archana Jaju's brand is focused on bringing India's fine craftmanship into everyday clothing.
She has been working with artisans from 17 clusters across India and some of the crafts you'll spot in her collections include Kalamkari, Bandhani, Lucknowi, ParsiGara, Khadi, Kanjeevaram and Benarasi.
Her latest collection Revival'21 celebrates colours, designs and local art forms.
Inspired by the red-crowned crane, the collection has used natural dyes and is deeply intertwined with nature.
Having completed 25 years in the fashion industry, the Hyderabad-based designer chats with Anita Aikara/Rediff.com about how she is promoting Indian crafts and age-old traditions, her love for Kalamkari and how the narrative of the Indian fashion industry has changed over the years.
What inspired your collection Revival' 21?
Revival'21 embraces the beauty of nature, drawing inspiration from the red-crowned crane.
The collection is the perfect blend of contrasting colours and minimalistic forms, symbolic of the bird's natural grace and beauty.
It features intricate embroidery and embellishments including threads, sequins and mirrorwork.
These details perfectly complement the tranquil colour palette of the collection.
What inspired me the most about these red-crowned cranes is their unity.
This rare bird species is always found in pairs and are never alone.
Another beautiful feature of these birds is their unique appearance, which constitutes shades of black, red and white.
My collection aims at representing these distinctive qualities of the red-crowned crane and I have incorporated similar colours and patterns in the collection.
Your family has a very interesting background when it comes to handloom.
As a child I was always very creatively inclined.
I have redesigned my grandmother's old clothes and given them a new life.
That was one of my first interactions with fashion, and it helped in carving a journey to discover my real aesthetic.
Coming from a family, which was one of the first to weave handloom Chanderi, my love for fashion has been passed down over generations.
After many years of understanding countless design techniques and creative processes, I started my own eponymous label.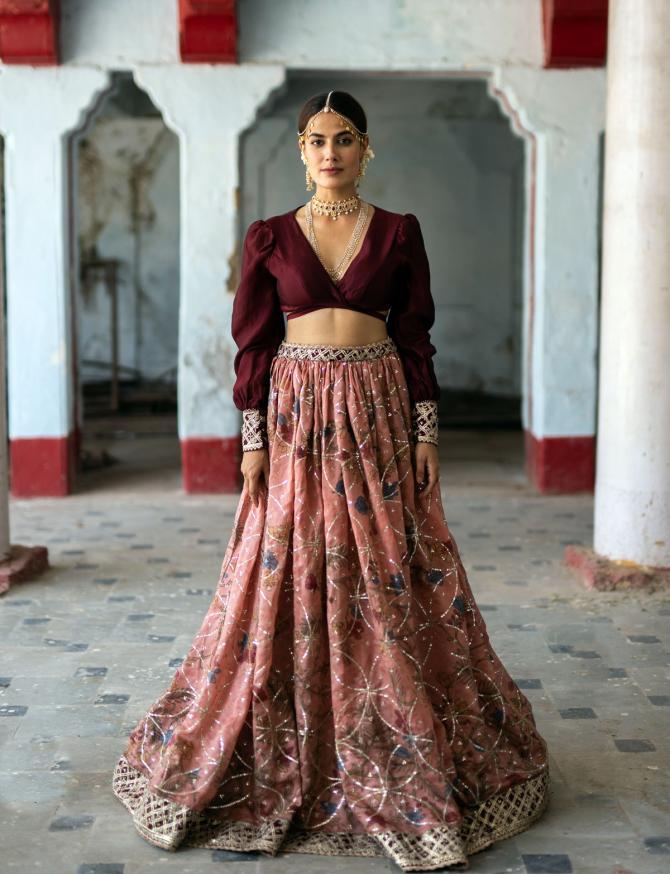 You completed 25 years in the industry. According to you, how has the narrative of Indian fashion changed through the years?
The industry is known for its rich heritage, vibrant colours and profound elegance.
It brings subtlety and beauty in every creation, while at the same time maintaining its Indian roots.
The aesthetic has evolved over the years and definitely gone through multiple transformations.
Now, the advent of modern silhouettes and styles have contemporised Indian clothing and simultaneously made it relevant to the younger audience as well.
What was it like starting off 25 years ago?
Fashion has always been something that I have loved and had a passion for.
I never officially studied fashion, but I always knew it was something I wanted to pursue.
In order to master it, I learnt many creative techniques and skills to understand the process better and in a deeper way.
Being married into a textile family, it was my father-in-law who encouraged me to venture out into the fashion world and follow what I truly love.
When I started my own label, I invested the time which I could've spent with my kids making some precious memories. That for me was a lot of investment.
What has been your biggest career highlight to date?
It has been inspiring my kids into my business.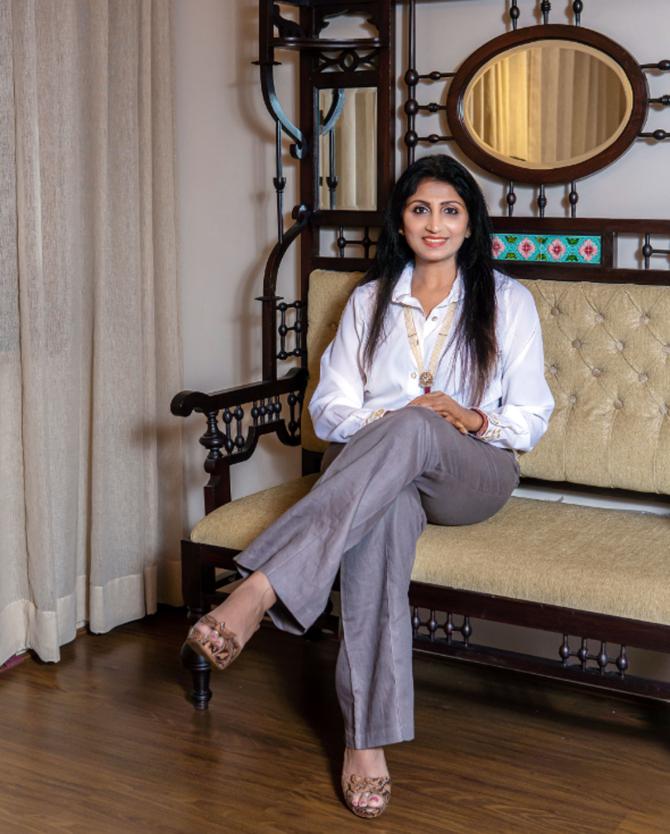 What would you say is your brand's signature style?
The pieces created under my label are an amalgamation of traditional patterns with a contemporary touch.
I have always tried to experiment with different silhouettes and styles, while presenting my own take.
Apart from this, Kalamkari is an art form which is very close to my heart.
My label aims at bringing this traditional art form into fusion wear by adding my signature touch to it.
How does India's rich culture and heritage inspire you as a designer?
The diversity in Indian textiles is unmatched. It is one-of-its-kind.
It holds a special significance in our culture and has acted as a constant source of inspiration for me as a designer.
Among the variety of crafts used under my label, Kalamkari is an integral part.
It is also an inevitable part of the Indian culture.
The motifs in Kalamkari and the techniques used to depict them has always been something I have loved experimenting with to create designs to match with the sensibilities of the modern world.
You have often shifted the spotlight to homegrown weaves.
Why do you think it is so important to showcase Indian fabrics and reassert the power of handloom to Indians as well as people across the world?
Indian crafts are a reflection of our beautiful heritage.
Working with artisans from 17 craft clusters across India, my brand has always focused on bringing India's fine craftsmanship into everyday wear.
A few of these crafts include Kalamkari from Sri Kalahasti in South India, Bandhani from Kutch, Lucknowi from Lucknow, ParsiGara from the remote interiors of Bengal, Khadi from Srikakulam, Venkatgiri, Kanjeevarams from Chennai and Benarasis from Varanasi.
The process in turn, has also helped in providing livelihoods to around 200 families.
The pandemic has created a very difficult period for the artisans and the situation has only worsened.
In times like these, it becomes vital for designers to extend their support to these artisans and provide them with an opportunity to bring in their skills into the brand's creations.
Their techniques and traditions have been passed down over generations and make up the artistic essence of India.
Providing them with opportunities would in turn create a medium for the rich Indian crafts and handloom to be displayed on a global platform.
What are some of your most important learnings through the lockdown?
The pandemic brought with it many challenges for all of us, in ways big and small.
My only motivation in a situation like this was to keep moving forward, no matter the number of obstacles ahead.
I also realised the importance of remaining positive in such times and straying away from anything which could cause stress or a sense of stagnation.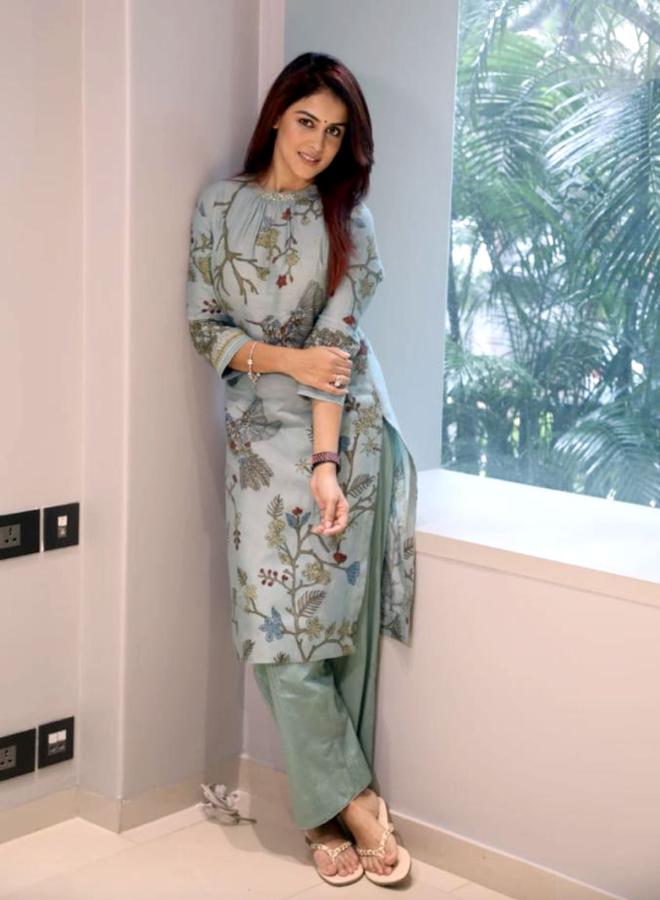 Do you feel that artisans in India often go unrecognised?
I believe that designers who produce in India have been working closely with artisans over a long period of time.
This has provided them with a huge opportunity to showcase their skills and promote their work.
I think we as designers need to ensure that there is a right balance created between the brand and the artisans and provide them with adequate support, as they are the ones who drive the entire brand.
What do you think is the biggest problem that artisans are facing right now?
There has been a massive change at a rapid pace in the fashion industry.
The pandemic has affected the livelihoods of many artisans which were dependent on the industry.
The fall in demand further impacted their situations.
In situations like these, their safety becomes a priority which we as a brand have always ensured.
By involving them in the process and giving them a chance to offer their inputs at a creative level motivates them to put in more effort and display their skills, at the same time providing them with a source of employment.
This also defines the process of bringing forth the age-old traditions of India and making them relevant for today's consumers.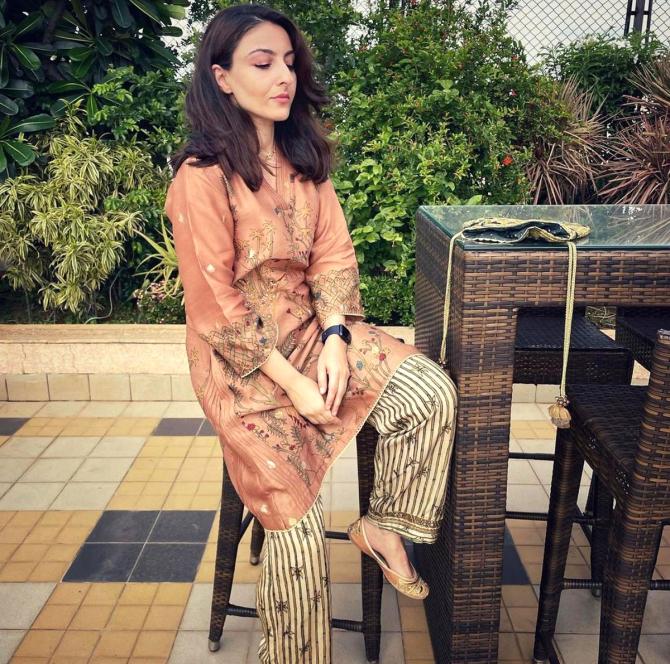 How could handloom be made more appealing to the younger generation?
I always aim at creating designs which are a perfect blend of traditional motifs with a modern style.
The pieces created under my label follow this aesthetic with new variations in cuts and silhouettes, which make the designs even more appealing.
These modern versions of traditional art forms create interest among a considerably younger audience as well, and definitely creates a greater demand for handloom.
The intricate detailing in the embroidery and delicate patterns also appeals to the younger generation and makes them appreciate the idea being conveyed through the designs in these garments.
Which fabrics would you like to revive given a chance?
There are many such textiles which I would love to revive which include Kanjeevaram, Venkatgiri, Banaras, Kota and Paithani.
What can one expect from Indian fashion in a post-COVID era?
People are now opting for more timeless and elegant pieces rather than following ever-evolving trends.
I feel this is a call for bringing classic styles back in fashion.
Silhouettes on the other hand, are now made to look more functional and at the same time match modern sensibilities.
The pandemic has created a shift in the ways we perceive fashion.
It has led to the creation of pieces which are driven by comfort and align with the current mindset of the people.